Endorse This: Morning Joe Crew *Shocked* That Some Trump Supporters Are Racist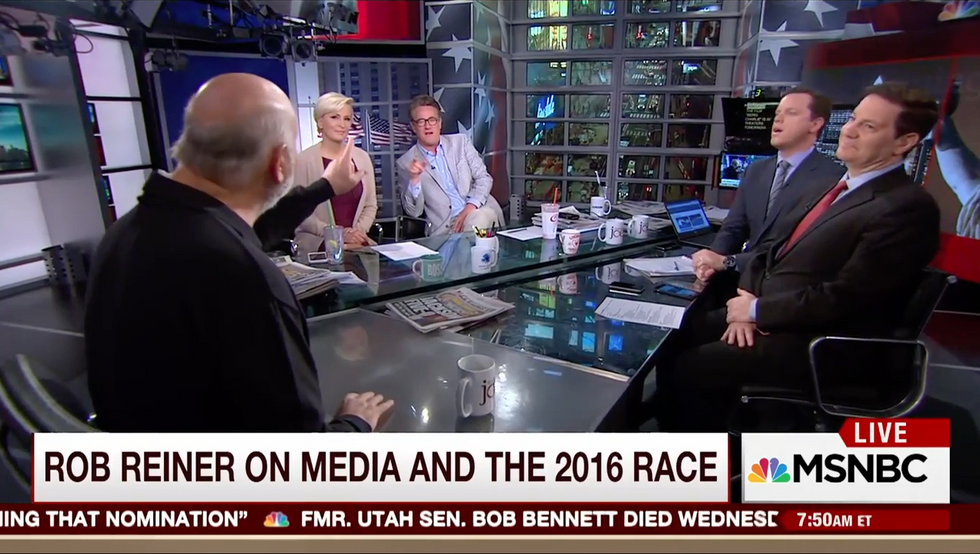 This morning, MSNBC's Morning Joe crew invited director and Hillary Clinton supporter Rob Reiner on for what became a wide-ranging discussion on the media's role in creating Donald Trump, and the success Trump has had with one formally-marginalized segment of the Republican base. Namely: racists. But when Reiner dared to say that treacherous r-word, the show went off the deep end.
"How do you explain the millions and millions of people who do not watch this show who actually like what they hear from Donald Trump," co-host Willie Geist asks Reiner, "and aren't taking messages and orders from us in the media, but they listen to what he says for themselves and vote for him?"
"There are a lot of people who are racists," Reiner responds.
Joe Scarborough, a former three-term congressman from Florida's first congressional district, was shocked — shocked — at Reiner's statement of a fairly plain truth: an alarming number of white nationalists have endorsed Trump, from the start of his campaign to the present, and the Republican frontrunner has barely made an effort to disavow them.
"Oh my God, did you just say that?! You just said that!" Scarborough responds, aghast.
Why? Has Joe forgotten that racism exists in America? Has he ignored Trump's effect on overt expressions of racism? Does he not know that the supremacist website Stormfront was forced to upgrade its web servers to accommodate the enormous boost in traffic it has received since Donald Trump declared his candidacy?
Did Joe hear about the former prison guards (and Ku Klux Klan members) who were arrested at the beginning of April for plotting to kill a recently-released black inmate, just a few hours' drive away from his former district?
What's worse: saying that Trump's campaign is differentiated by support from a large number of racists, or pretending ignorance of that fact?