Endorse This: Donald Trump, The Bible, And The 'Two Corinthians'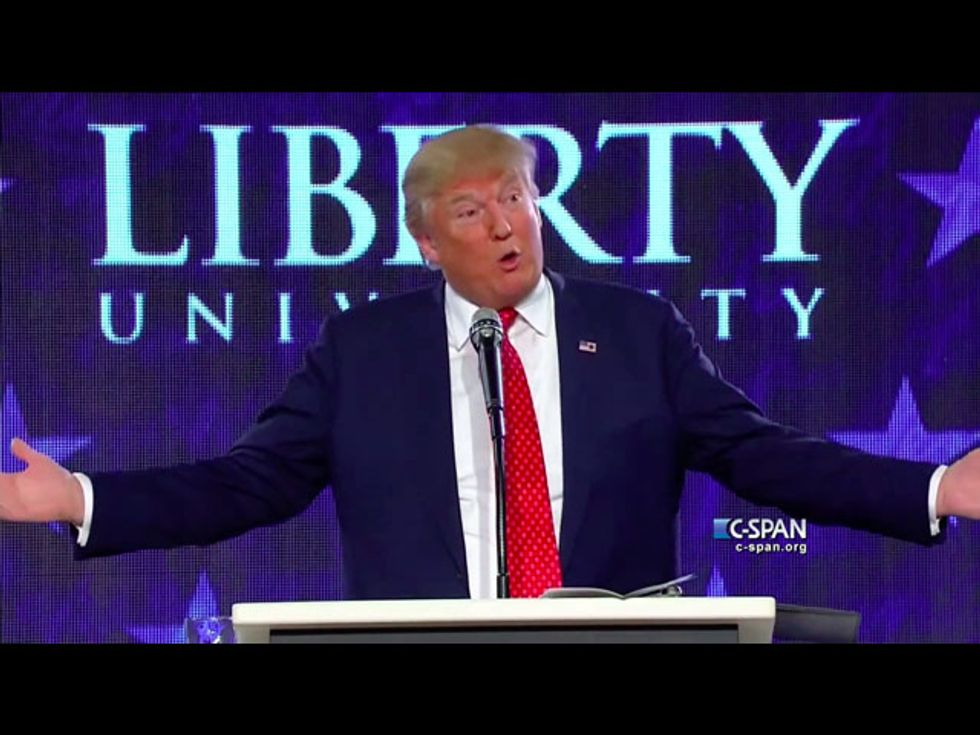 Donald Trump went Monday to the hard-right Liberty University, reaching out to voters in this bastion of the religious right and to show his own dedication to Christianity — even if he doesn't quite know the names of books in the Bible.
"And we're going to protect Christianity. And I can say that — I don't have to be politically correct — we're going to protect it," The Donald proclaimed. "And I asked Jerry (University chancellor Jerry Falwell, Jr.), and I asked some of the folks, because I hear this is your major theme right here, but Two Corinthians — Two Corinthians 3:17, that's the whole ballgame. 'Where the spirit of The Lord is, there is liberty.' And here there is Liberty College – Liberty University."
Note: The book of the New Testament that Trump referenced here, often written as "2 Corinthians," is in fact pronounced "Second Corinthians," from its actual formal title, "Second Epistle to the Corinthians."
Trump continued, undeterred: "But it is so true, when you think. And that's really — is that the one? Is that the one you like? I think that's the one you like, 'cause I loved it!"
Video via C-SPAN.
Get More to Endorse Delivered to Your Inbox
[sailthru_widget fields="email,ZipCode" sailthru_list="Endorse This Sign Up"]