Endorse This: John Kasich's Odd Praise For Women In Politics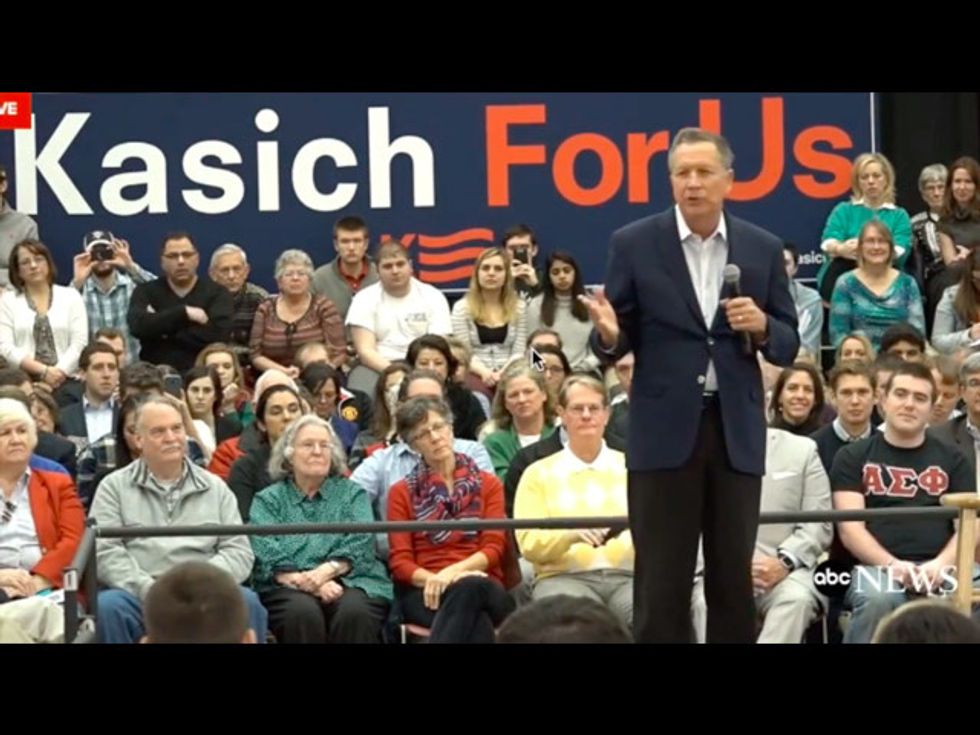 This post has been updated.
John Kasich had a very unfortunate moment Monday at a town hall event in Virginia, when he reminisced about how he first got elected to the Ohio state Senate at the tender age of 26 — but even this story of youthful vigor showed how culturally dated he can still be.
"How did I get elected? Nobody was — I didn't have anybody for me," he recalled. "We just got an army of people who — and many women, who left their kitchens to go out and go door-to-door and to put yard signs up for me."
Now here's the thing: It's very likely that Kasich is honestly telling the story of his political career in the 1970s, and accurately describing that era. In decades past, the "little old lady in tennis shoes" was a common stereotype of Republican women volunteers (especially the very right-wing ones).
With that said, though, it's probably not a good idea in the year 2016 to reminisce about those bygone days. And Kasich found this out, when a younger woman got up later to speak to him.
"First off I want to say, your comment earlier about the women [who] came out of the kitchen to support you," the woman said. "I'll come to support — but I won't be coming out of the kitchen."
Kasich responded: "I got you!"
Update: The Kasich campaign has responded to the controversy, in a statement to NBC News:
John Kasich's campaigns have always been homegrown affairs. They've literally been run out of his friends' kitchens and many of his early campaign teams were made up of stay-at-home moms who believed deeply in the changes he wanted to bring to them and their families. That's real grassroots campaigning and he's proud of that authentic support. To try and twist his comments into anything else is just desperate politics.
Video viaLauren Michaels/YouTube/ABC News.
Get More to Endorse Delivered to Your Inbox