Endorse This: Kasich Says 'Of Course' — Anybody Would Be Offended By Me!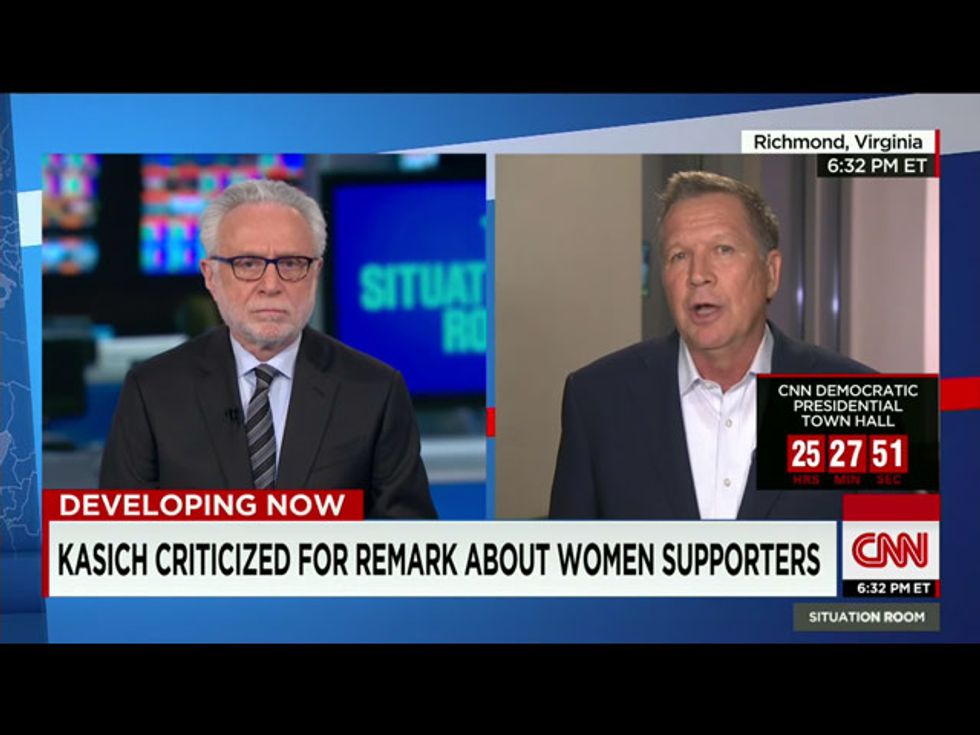 This is not the kind of publicity John Kasich needs.
The Ohio governor and underdog Republican presidential candidate appeared on CNN last night, in order to clarify his statement earlier that day praising the women "who left their kitchens" to campaign for him in his first run for public office in the 1970s. (As we pointed out, this was actually true of how many campaigns worked in decades past — but it does get a bit dated to reminisce about it in the year 2016.)
But in his effort to bring this controversy under control, Kasich just couldn't stop being really awkward about it.
"Well, you know look, Wolf, I mean, anybody'd be offended — of course," Kasich sputtered out. "Sometimes when you operate on the high wire without a net, sometimes you know, you'll fall off and not say things exactly the way you want to.
"But let me be clear: In the beginning of my campaign for public office, I did town halls — except they were in people's homes, they were at breakfast tables, they were during — at evening, when we had coffee, and I recruited people. And I want to be clear, we had a lot of women that played a major role in my political campaign, political life, and they still do."
Indeed, he touted that his chief of staff when he became governor was a woman, who is now running his campaign; his lieutenant governor is a woman; he appointed a woman to the Ohio Supreme Court; and many other women serve in his cabinet and other high-level government positions.
"Look, governor," Wolf Blitzer responded, "a lot of women think it was insulting. Why not just say, 'I made a mistake, I'm sorry.'"
"Sure, I'm sorry — anybody who's offended, of course. I'm not — look, it's not — of course. I'm more than happy to say I'm sorry if I offended somebody else out there. But it wasn't intended to be offensive, and if you hear the whole thing you'll understand the context of it.
"But look, all I'm saying to you, Wolf, is that without the power of the women who helped me out early in my career, to give me a chance to hold public office, I wouldn't have made it, and I'm very grateful to all the work that they put in for me, and many of them that still do."
Video via CNN.
Get More to Endorse Delivered to Your Inbox