Endorse This: Peter King On Ted Cruz: 'I'll Take Cyanide If He Wins The Nomination'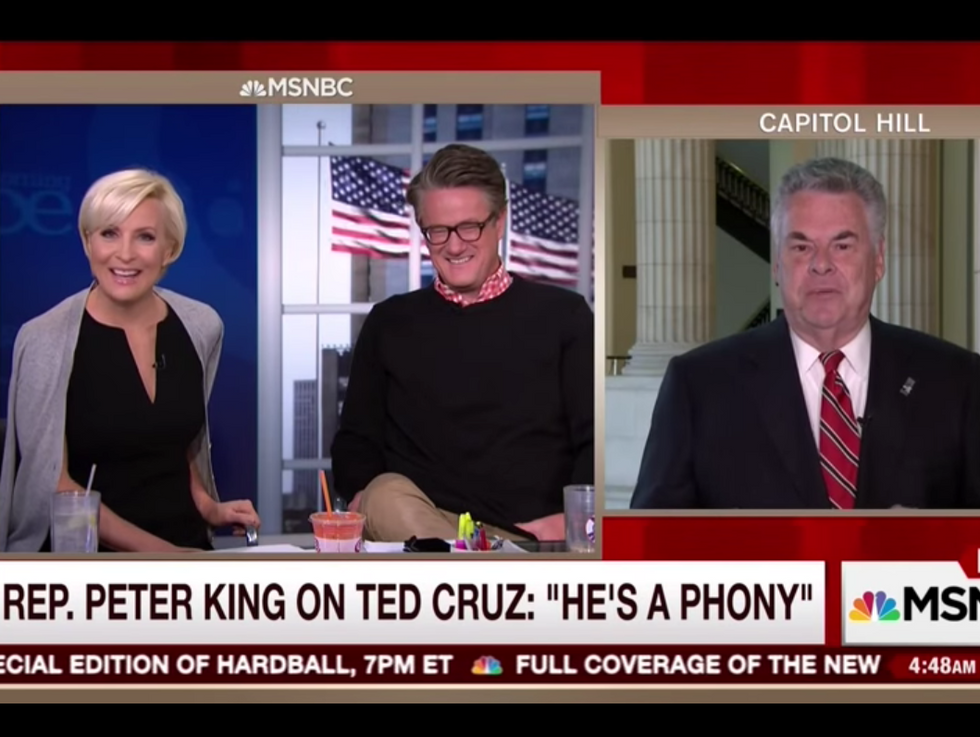 In an interview yesterday on MSNBC's Morning Joe, Congressman Peter King made his opinions known on Texas Senator Ted Cruz, who later failed to pick up a single delegate in King's state of New York:
"Well, first of all, in case anybody gets confused, I'm not endorsing Ted Cruz. I hate Ted Cruz. And I think I'll take cyanide if he got the nomination," King said.
King had previously said of a potential Cruz nomination, "I will jump off that bridge when we come to it."
Nassau and Suffolk counties, whose voters elected King to his 12th term representing New York's second congressional district in 2014, both voted for Donald Trump by wide margins.
King said he'd voted for John Kasich, "to send a message," but recalled how his constituents on Long Island couldn't stop talking about Donald Trump. In early March he joked that "Maybe I'll become a reporter for the Daily News," if Trump were the Republican nominee in an interview with that paper.
King said later in the same Morning Joe interview that he wasn't endorsing John Kasich because he wanted "to keep my powder dry" for a convention endorsement.
Given Kasich's — or anyone else's — slim chances at wrestling this nomination away from either Trump or Cruz in Cleveland, Congressman King may have an unenviable choice to make in a few months.
Video and photo: MSNBC/ Washington Free Beacon.