#EndorseThis: In Anderson Cooper Interview, Trump Improvises Immigration Stance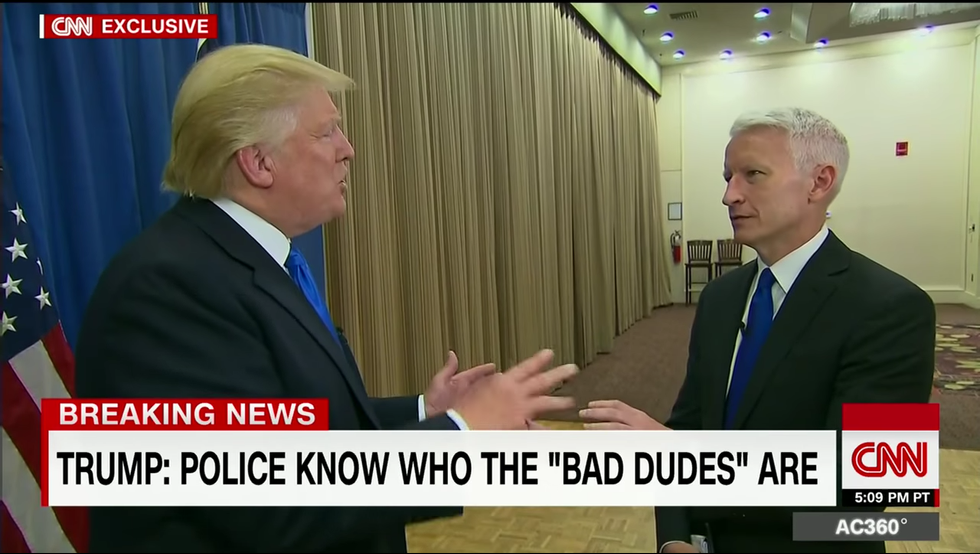 Reporting on Donald Trump's attitude toward undocumented immigrants of late has felt like a slow-motion car wreck: In the course of a week, he has managed to alienate his newly-famous "alt-right," nativist base while at the same time failing to meaningfully reach out to anyone who might otherwise have been repulsed by his ideas.
A week ago, Trump indicated that he might have to "soften" his position on immigration — as it happens, telling voters for 15 months that you will employ a deportation force to eject 11 million people from the country is horribly unpopular.
But Trump's "softening" has been anything but, as seen in interview Thursday night with Anderson Cooper. Trump emphasized that, within the first hour of his presidency, he would sign an order ejecting hundreds of thousands (or maybe millions) of people from the country. (President Obama has deported more people than any other president, at around 2.5 million over his two terms.)
And for undocumented immigrants with no crime to their name except for their immigration status?
Another flip-flop: undocumented immigrants will have to leave the country in order to begin a path to citizenship, apparently, a reversal from the Hannity town hall just a day ago. Then: "We're going to see," just a few seconds later.
Oh, and also: "Tunnel technology," a novel term even for Trump. And another flip-flop
It reads like a strange triangulation between a rabidly anti-immigrant segment of his base, to whom Trump has been speaking almost exclusively for a year, and… most of the rest of the country, which supports a path to citizenship for immigrants without a criminal record.
Watch this space: Trump has created a tricky political problem for himself. "When you're in a hole, stop digging," the saying goes. Someone let Donald know!
Video: CNN.