U.S. Presses Arabs For Support As Obama Vows To Hit ISIS
@AFP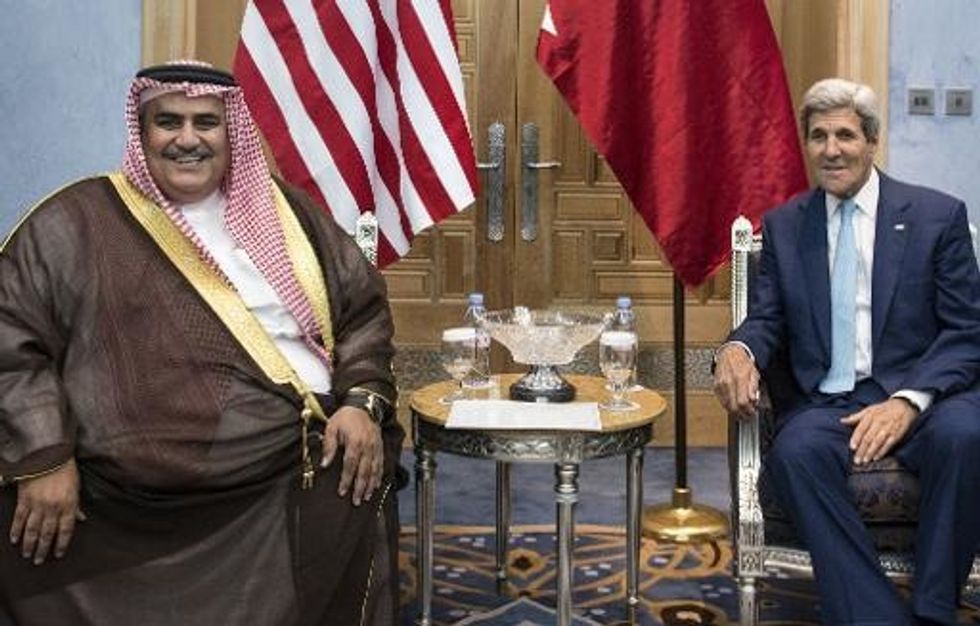 Jeddah (Saudi Arabia) (AFP) – Secretary of State John Kerry pressed key Arab states Thursday to support an expanded American military campaign against Islamic State jihadists including U.S. air strikes in Syria.
The top U.S. diplomat arrived in Saudi Arabia's Red Sea port city of Jeddah and said "I'm confident" as he was greeted by the kingdom's foreign minister, Prince Saud al-Faisal.
Kerry will hold talks with counterparts from ten Arab nations and Turkey hours after U.S. President Barack Obama outlined his new strategy to confront the jihadists in a prime-time television address.
Steeling his nation for another foreign conflict, Obama pledged to expand U.S. military operations against IS, a radical Islamist group that has seized a swathe of Iraq and Syria and committed horrifying atrocities.
"Our objective is clear: we will degrade, and ultimately destroy, ISIL through a comprehensive and sustained counter-terrorism strategy," Obama said, using an alternative acronym for the group.
"I will not hesitate to take action against ISIL in Syria, as well as Iraq."
Obama announced the dispatch of another 475 military personnel to help train Iraqi forces to take on the Islamic State, bringing the total number of U.S. troops in the country to 1,600.
But he made clear in the 14-minute address that the campaign will not be a repeat of the exhausting ground wars fought by U.S. troops in the past decade.
"I want the American people to understand how this effort will be different from the wars in Iraq and Afghanistan," Obama said, speaking on the eve of the anniversary of the September 11 attacks in 2001.
"It will not involve American combat troops fighting on foreign soil."
Washington is instead looking to empower partners on the ground like the Iraqi forces, Kurdish fighters and Syrian rebels, to fill in territory opened up by U.S. air power.
Key to that strategy will be improving the effectiveness of Syrian rebels, and Obama called on Congress to swiftly authorize an operation to train and equip moderate Syrian fighters.
Kerry was to seek crucial backing for the U.S. campaign in Jeddah, meeting with his counterparts from the oil-rich Gulf monarchies, Lebanon, Egypt, Iraq, Jordan and NATO member Turkey.
"Many of the countries are already taking action against ISIL," a State Department official said.
"But the trip by the Secretary is going to broaden the coalition and bring it into more focus and intensify the lines of effort."
The official said Saudi Arabia would be especially important to the effort "because of their size and economic importance but also because of their religious significance with Sunnis."
The "train and equip program" for Syria's rebels would be a particular talking point with the Saudis, the official added.
Syria's opposition welcomed Obama's statement, but urged the United States to take action against President Bashar al-Assad as well as jihadists.
The opposition National Coalition said it had "long called" for action against IS and "warned time and again of the growing threat of this extremist group".
"We urge the U.S. Congress to approve the president's policy as soon as possible, and allow the training and equipping of the Free Syrian Army," it said.
The moderate Free Syrian Army "can succeed, but it needs the necessary support that would enable it to form a reliable and well-equipped force," the Syrian Coalition said.
It warned however that it was key to "realize that the Assad regime represents the root cause of the violence, brutality and sense of impunity prevailing in Syria".
There was no immediate reaction from Assad's regime to the U.S. threat of carrying out strikes for the first time in Syria, after a three and a half year conflict that has cost more than 180,000 lives.
Assad held talks Thursday with the new UN envoy on the conflict, Staffan de Mistura, who was on his first visit to Damascus.
"The terrorist groups need to be confronted" through both security measures and an "all-inclusive political process," the Italian envoy said afterwards, without elaborating.
The growing threat from IS was made clear after the group seized large parts of Iraq in a lightning offensive in June, sweeping aside ineffective Iraqi forces.
It declared an Islamic caliphate in parts of Syria and Iraq under its control and has been accused of widespread atrocities, including beheadings, crucifixions, rapes and selling women into slavery.
Two captive U.S. journalists, James Foley and Steven Sotloff, were beheaded in recent weeks in videos released by the jihadists.
Kerry made an unannounced stopover on Wednesday in Baghdad where he expressed support for the new government of Prime Minister Haidar al-Abadi, a Shiite regarded as far less divisive than his predecessor Nuri al-Maliki, who was criticized for driving many in the Sunni minority into the arms of IS.
French President Francois Hollande will also head to Iraq on Friday for talks ahead of an international conference on Iraqi peace and security that Paris will host on Monday.
AFP Photo/Brendan Smialowski