#EndorseThis: "Are You Calling Him A Liar?" Kellyanne Conway Defends Trump Against Questions About Taxes And Charity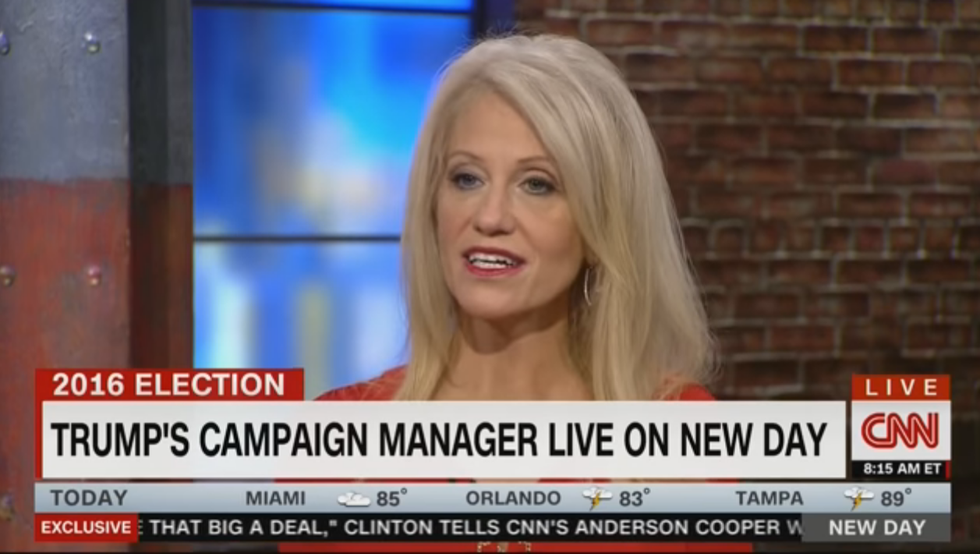 It started with a simple question: Would the Trump campaign, as the candidate continues to refuse to release his tax returns, release any form of proof that he is actually under audit from the IRS?
"Why? Are you calling him a liar?" campaign manager Kellyanne Conway retorted, seeming to forget that she was in an interview with a journalist.
And so it went, for nine excruciating minutes. CNN's Alisyn Camerota posed questions about Trump's missing tax returns and his alleged, yet completely unproven, donations to charity, and Kellyanne Conway dodged every one of them.
Conway, heralded by pundits as the "political professional" Trump needed to level his staggering campaign, has found herself again and again in a situation that so-called political professionals despise — reacting to their candidates' constant flip-flopping. For Trump, that means lying about his personal finances.
For nearly as long as he prepared to enter the 2016 presidential race, Donald Trump used his tax returns to apply pressure to his political enemies. He would release his returns, he said, once Barack Obama released his birth certificate. Well, the birth certificate is out, the taxes aren't. Then he called for Hillary Clinton's emails. Then he said he would wait for the IRS's audit to end. Here's every time Donald Trump said he would release his tax returns. It's a long list, and it's fascinating to watch the lie evolve.
And his charitable foundation, the Donald J. Trump foundation, spent exclusively other people's money (not Trump's!).
The Washington Post's David Fahrenthold has been digging into Trump's charitable giving for months. And what he's found is astonishing:
[T]ax records show Trump has not given any money to his namesake foundation since 2008. Instead, Trump retooled his foundation to give away other people's money: Since 2008, Trump has taken in millions from donors and given it away under his foundation's name.
And those millions of other people's money didn't just go to charity: Trump paid an illegal campaign donation to Florida attorney general Pam Bondi with that money, immediately before she chose not to join a lawsuit against the Trump University wealth seminars. He also used the money in charity auctions, purchasing a signed Tim Tebow helmet and a life-sized, $20,000 portrait of Trump.
So, yes, these questions deserve not only to be asked, but to be answered. Don't hold your breath.