#EndorseThis: Chris Cuomo Grills 'Extreme Vetter' Congressman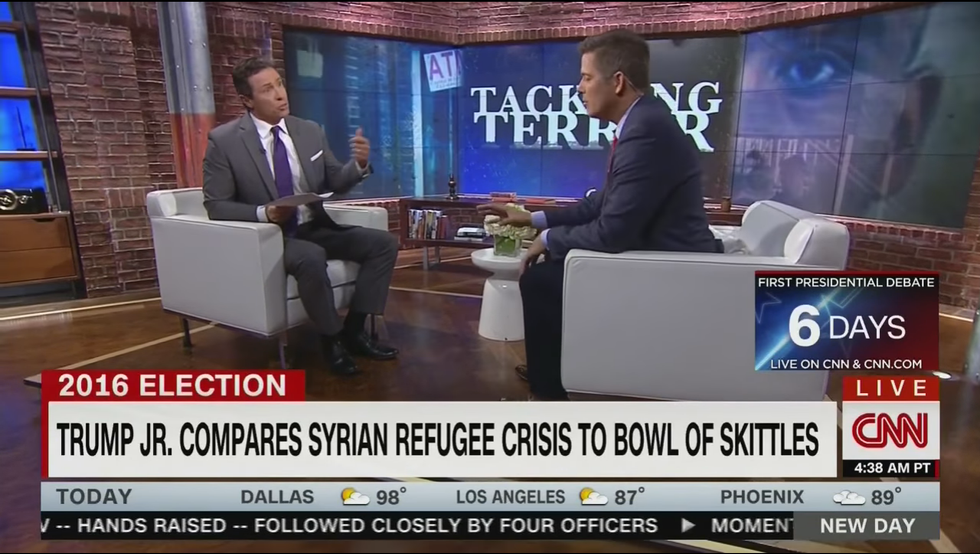 After the bombing Saturday night of New York City's Chelsea neighborhood and subsequent discovery of many more bombs around New York and New Jersey, Donald Trump and his klan have been out in force, calling again for shutting down immigration from entire religions and regions of the world.
Donald Trump Jr., for example, who is openly buddies with a white supremacist, recently Tweeted a picture of a bowl of skittles, with the caption, "If I had a bowl of Skittles and I told you just three would kill you. [sic] Would you take a handful? That's our Syrian refugee problem."
It's wrong on its face: many more terrorist acts are committed by Americans than refugees or immigrants, and the bowl of Skittles, as reported by the Washington Post (and mentioned by Chris Cuomo this morning) would have to be one and a half olympic swimming pools large to accurately represent the risk of an attack. Also, though a poisonous Skittle may kill you, personally, there is no terrorist attack large enough to kill all of America, and deaths from terror attacks are a minuscule threat relative to things like heart disease or unstable living room furniture.
But when Chris Cuomo interviewed Trump surrogate Rep. Sean Duffy this morning, it was a bizarre display of just how irrelevant these facts have become.
No matter how frequently and accurately Cuomo insisted that our vetting system for refugees has been thoroughly effective (no Syrian refugees have attacked the United States), Duffy changed the conversation.
Ultimately, without the facts on his side, Duffy tuned to public opinion about "hot regions," which we can assume from his description means any country with brown people in it. "America wants you to keep them safe," he said, abdicating responsibility for his policy decisions to reflect reality.
It sure would be helpful if politicians like Duffy stopped letting the blind, politically-potent fear of their constituents drive America's immigration policy.