#EndorseThis: CNN Video Exposes Saudi 'Body Double' In Khashoggi Killing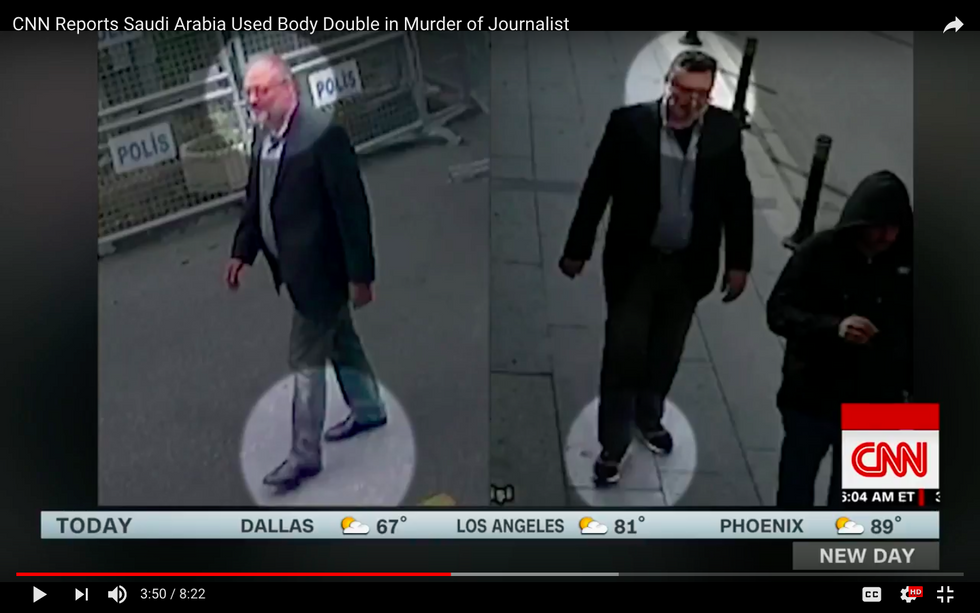 A new report from CNN early Monday utterly destroys the Saudi cover story for the killing of Jamal Khashoggi with video evidence. Among the members of the hit team from Riyadh was a "body double" for the journalist who strongly resembled him – and who apparently changed into Khashoggi's clothes and left the consulate after the murder.
Closed-circuit TV tape and surveillance video recorded by Turkish police – and obtained by CNN correspondent Clarissa Ward — show exactly how this aspect of the plot unfolded in real time.
If the body double's image was to provide "proof" that Khashoggi had left the consulate unharmed, as the Saudis originally insisted, they never played that gambit. Presumably the Saudi authorities realized early on that the Turks were onto them, as Ward suggests.
Khashoggi's death was no brawling "accident," but a premeditated and grisly assassination. But you already knew that.
Just click.