#EndorseThis: Comic Cur Triumph Pooping On Trump's Parade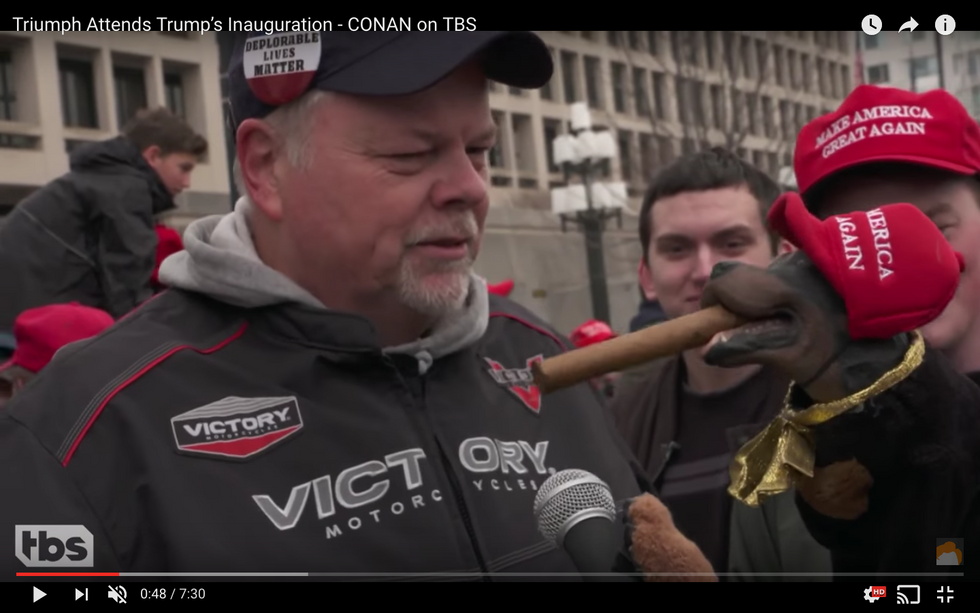 If you're a longtime fan of Triumph the Insult Comic Dog, you know that like every comedian, he has been waiting for the material offered by "President Trump" all his life. (Even though Triumph can't actually utter that phrase without throwing up.) He showed up on the National Mall for the Inauguration, eager for a chance to berate the new chief executive and his supporters. The cranky cur sank his fangs deep and didn't let go.
Unfettered by politically correct sensitivity to the "white working class," the barking mad dog started gnawing on the background, habits, and appearance of Trump's supporters right away: "Yes, if a Walmart could vomit," he growled, looking around at the crowd, "this is what it would look like…It's like a pickup joint for seniors…Last time I saw this much white hair, Madonna was getting out of a limo without panties."
Nor did he hesitate to mock the elderly and hefty Bikers For Trump. "I guess those aren't exercise bikes!" And he had choice words for the Trump sons, Mike Pence, Melania, and many, many defamatory comments about the new president's supporters, which of course he barked in their faces.
The chortling canine pooped heartily on them and their man — all in good fun, of course.