#EndorseThis: Jimmy Kimmel Calls Out Cassidy Over Health Bill "Scam"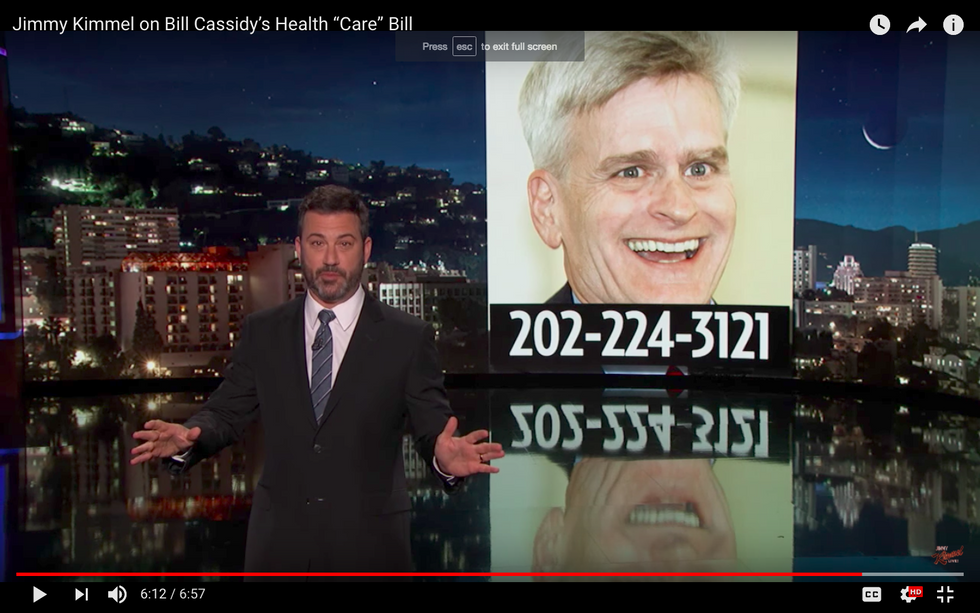 Jimmy Kimmel is usually a sunny, funny guy. But at the moment, he's very, very angry. So angry, in fact, that the comedian and late-night host devoted his Tuesday night monologue to a rant about Senator Bill Cassidy (R-LA), co-sponsor with Lindsey Graham (R-SC) of the latest Republican attempt to gut the health care system.
You may recall that during last spring's debate over Republican efforts to "repeal and replace" Obamacare, Kimmel argued passionately that every family in America should have the same benefits that saved his newborn son from a congenital heart defect.
Although conservatives attacked the comic for "politicizing" his son's ordeal, Cassidy seemed supportive. He appeared on the show to present his "Jimmy Kimmel test" for health legislation, promising full coverage for every needy child and family, much to Jimmy's delight.
But now he understands that Cassidy's actual bill not only fails to provide any of the protections they agreed are so vital, but is even worse in some ways than previous Republican proposals (as he explains clearly and succinctly).
Furious that Cassidy lied to him on live TV, Kimmel is calling him out. And he has sarcastically invited the Louisiana senator to take a new "Jimmy Kimmel test."