#EndorseThis: John Oliver Delivers Dire Warning On 2020 Election Security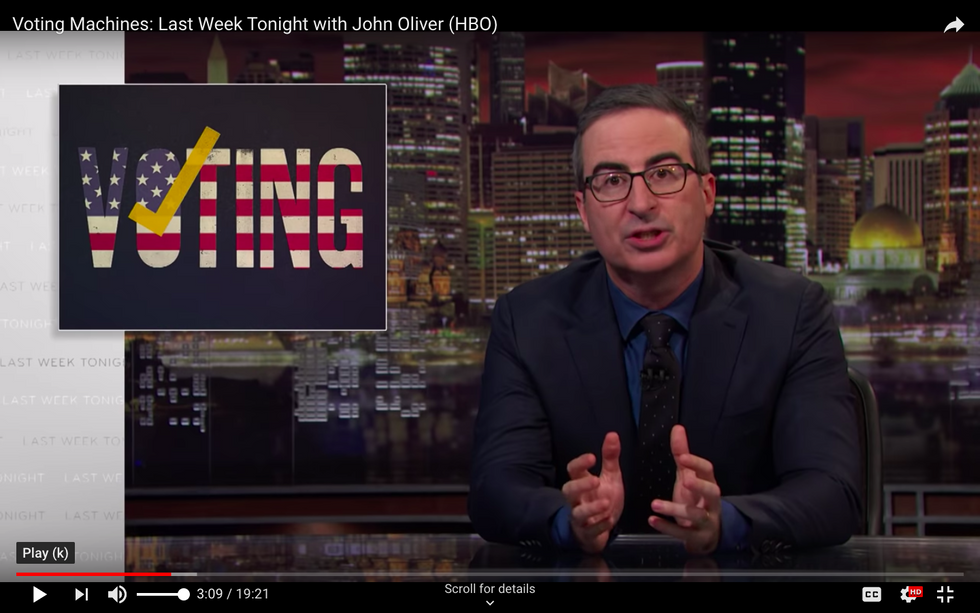 John Oliver exists to warn us about scary threats to our country — and as he points out this week, no threat is scarier a year before November 2020 than the sorry state of our election system. Republican resistance to the modernizing steps that would protect US elections has aroused Oliver's suspicions. Their party is led, after all, by a president who encouraged foreign interference in 2016 and faces impeachment now for doing the same thing again.
Evidently the Republicans oppose basic safeguards like maintaining a paper audit trail (although that is endorsed by Trump himself) and keeping voting machines off the Internet, where tampering is so easy — or, as Oliver bellows, so effing easy.
Don't miss his little video clip of Vladimir Putin, boasting with a smile that Russian intelligence services are actively intervening in next year's presidential race, presumably to boost his puppet pal in the White House. And as Oliver says, don't forget to vote tomorrow if you live in a state with an off-year election.
Only Last Week Tonight can make a subject so terrifying so funny. Click, laugh, and learn.