#EndorseThis: Kimmel Debuts His Own Trump-Romney Campaign Ad – And It's Beautiful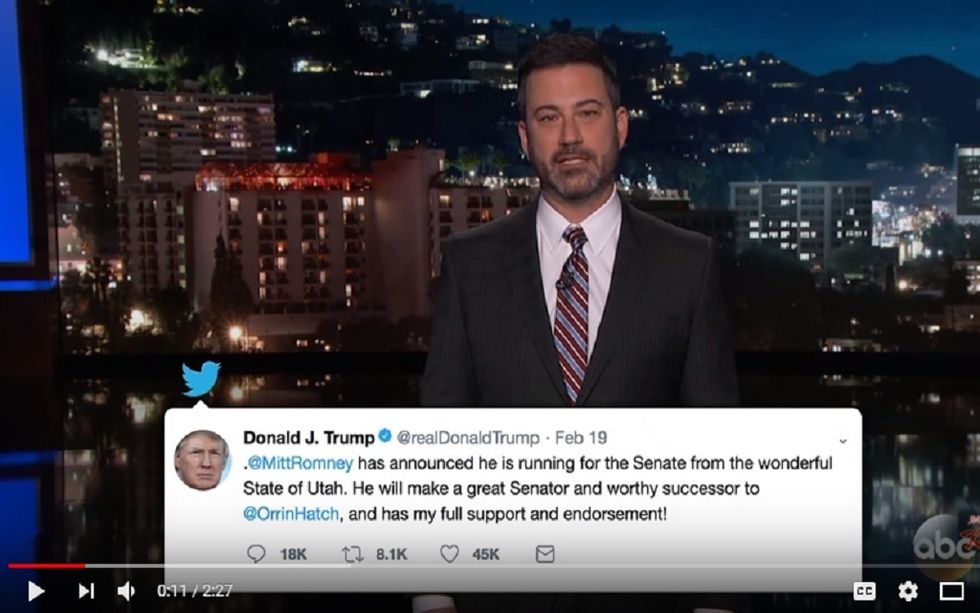 Every politician reverses herself on a topic sooner or later. Smart leaders measure words carefully on each issue, knowing that foes will cast any minuscule change as a waffle. "Actually, what I said was…" is a popular quote during debates. Even if a candidate seems to have moved her position slightly, it's not spelled out in black and white.
Enter President Trump, who shamelessly contradicts himself on a daily basis. Worse, typically-sane GOP candidates are taking Trump's example and joining in.
In today's clip, Jimmy Kimmel pokes a pachyderm-sized hole in The Donald's laughable endorsement of Mitt Romney for U.S. Senate. The late night host debuts his version of a Trump-endorses-Romney campaign ad highlighting all of the terrible things the duo said about each other in 2016. That is, before it became expedient to pretend 2016 never happened.
From "worthless as a degree from Trump University" to "thank you Mr. President?" Not smart, Mitt. Very, very not smart.