#EndorseThis: Kimmel Laughs At Trump's Infantile Attack On Acosta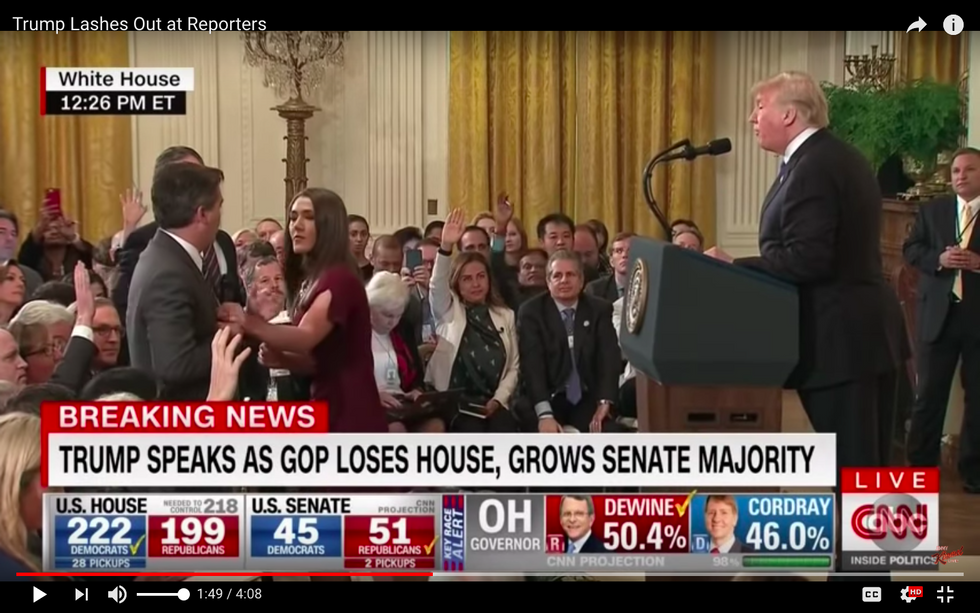 As Jimmy Kimmel demonstrates amusingly, the president's ill temper yesterday belied his claim that the midterm results represented a "total victory" for him and his party.
Not only did Trump trash the Republicans who kept their distance from him, but he often verged on losing it altogether during his weird press confrontation (not "conference").
The verbal scuffling between Trump and CNN correspondent Jim Acosta — since barred from the White House by Sarah Huckabee Sanders — is a highlight. The videotape shows clearly that Acosta did nothing except ask questions, even as a young woman on the White House press staff aggressively attempted to seize the mic. But today Sanders tweeted out a doctored video of that moment from the Infowars lunatics, then falsely claimed that Acosta "put his hands" on the young woman.
Acosta rightly denounced Sanders' tweet as a lie — but what she did is worse than the quotidian mendacity that emanates from the press podium and the presidential pie-hole. This is a brazen attempt to manipulate the news more typical of a totalitarian regime. As a CNN executive warned Sanders: "History will not be kind to you."
Meanwhile Jimmy will make you laugh, so just click.