#EndorseThis: Morning Joe: Trump Will 'Never Win A Fight With A Gold Star Family'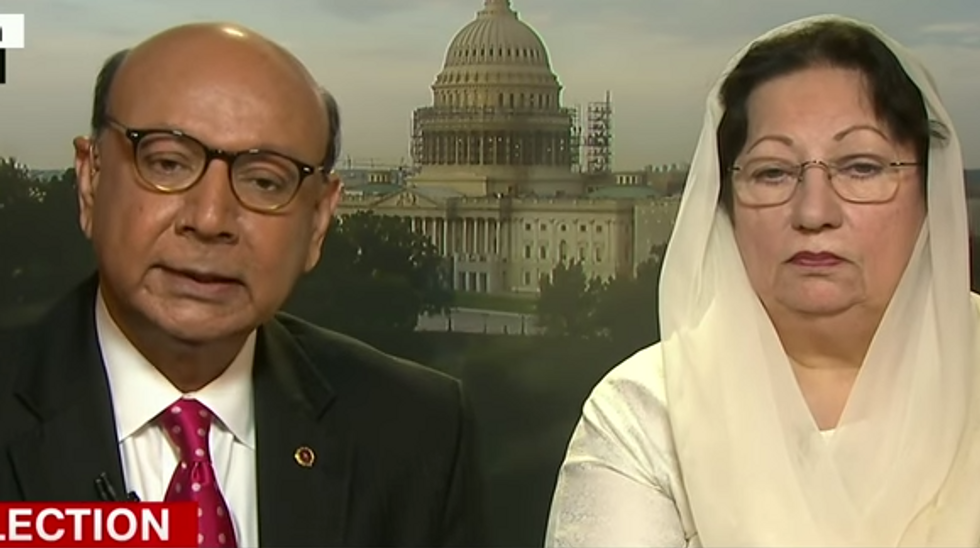 Today on MSNBC's MorningJoe, panelists and host Joe Scarborough excoriated Donald Trump for his remarks against Gold Star parents Khizr and Ghazala Khan, whose son, U.S. Army Capt. Humayun Khan, was killed by a suicide bomber in 2004 in Iraq.
"When you're in a hole, stop digging," said panelist Richard Haass, the president of the Council on Foreign Relations. "And this is not just digging with a small shovel. This is digging with one of those big earth movers."
While other commentators and politicians have criticized Trump's comments as highly disrespectful, the Morning Joe panelists added that what he was doing was just plain dumb.
The two bereaved parents first appeared publicly at the Democratic National Convention last Thursday, where Khizr held up a pocket copy of the Constitution as his wife stood next to him. "Let me ask you: Have you even read the US Constitution? I will gladly lend you my copy," he said. "In this document, look for the words 'liberty' and 'equal protection of law."
Trump responded by pointing to Ghazala Khan's silence in interviews with the New York Times's Maureen Dowd and ABC News' George Stephanopolous, suggesting that she was not allowed to speak because of her Muslim faith. Ghazala Khan quickly responded by appearing on The Last Word with Lawrence O'Donnell on Friday, explaining that she had been unable to speak because the sight of her son's photograph made her too emotional.
Ghazala Khan then published an op-ed in Sunday's Washington Post. Referencing Trump's ABC interview, where he claimed that his business and construction experience had involved him making many sacrifices, she wrote, "Donald Trump said he has made a lot of sacrifices. He doesn't know what the word sacrifice means."
A queue of veterans' families, Democrats, and Republicans have criticized Trump since his remarks. This morning, Sen. John McCain released a harshly-worded statement condemning Trump's remarks. Other groups, like the Veterans of Foreign Wars and the left-leaning VoteVets.org have published statements rebuking Trump. And Indiana Gov. Mike Pence, Trump's running mate, has been rushing to clean up the mess.
But the Morning Joe crew is right. Apart from the issues of morality and respect for American troops and their families regardless of religion, Trump's bizarre determination to continue responding to the Khan storyline is an asinine campaign strategy. There is no winning battle against Gold Star families, because the sacrifices that they have made are unimaginable, and because of the respect that they have (and deserve) from Americans (just look at the high-profile speaking slots given to veterans who do not hold political office in both parties' conventions). And Trump's actions over the past few days only fortify the Clinton campaign's narrative that he is temperamentally unfit to be president.
Trump tweets: Khan 'viciously attacked me'… @JoeNBC: Stop tweeting at a Gold Star mother and a grieving father https://t.co/UOtpjpm6C3

— Morning Joe (@Morning_Joe) August 1, 2016
Photo: YouTube/CNN