#EndorseThis: Netanyahu's All-Time TV Fail Gets Roasted By Stephen Colbert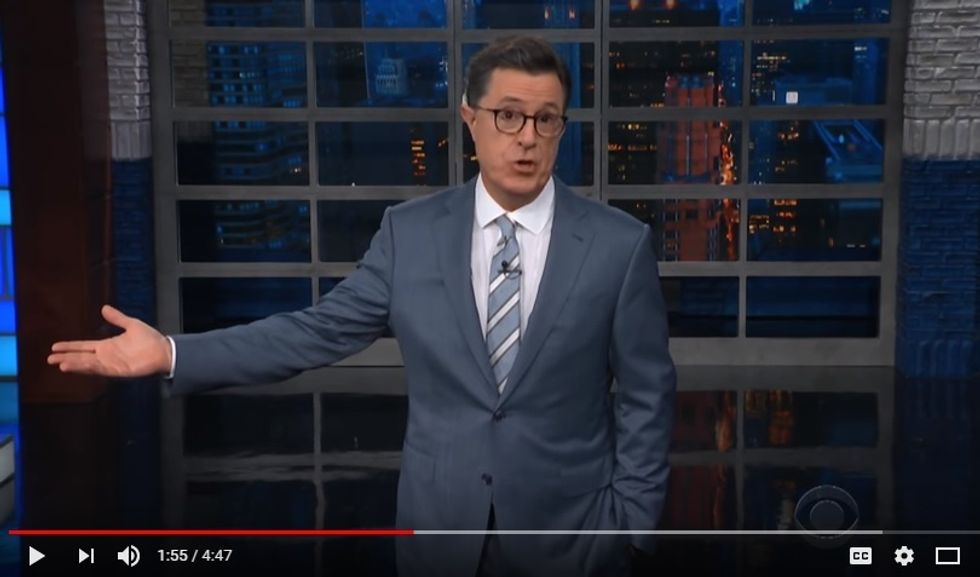 A few rising stars in comedy and political satire seem to be taking over YouTube. The epic Trumpworld take-downs of Samantha Bee, the progressive ranting of Jimmy Dore. Any clip from Trevor Noah and The Daily Show. 
Oh yeah? "Step aside, kindly," says Stephen Colbert.
Colbert makes an absolute buffoon out of Israel's Benjamin Netanyahu after he broadcasts a live TV "reveal" to President Trump and the American people, supposedly with hard proof as to why we should drop out of the Iran nuclear deal. Netanyahu begins by showing off an ominous corridor that just screams "nuclear experiments." To give away what happens next would be doing a bad turn to you and your family. Seriously, it's that epic. But the humiliation of Israel's unpopular leader, and the total Young Frankenstein vibe he puts out while failing worse than Geraldo with the vault? Priceless.
As for Colbert, he is so funny that by the 1:30 mark of this clip, you can hear band members literally honking trying not to laugh too hard. Backbone strikes again, and he follows-up by nailing Team Trump. Game, set, match, no comic is consistently better.
Click for uncontrollable giggles.