#EndorseThis: 'The Daily Show' Shows Trump Voters What 'Extreme Vetting' Looks Like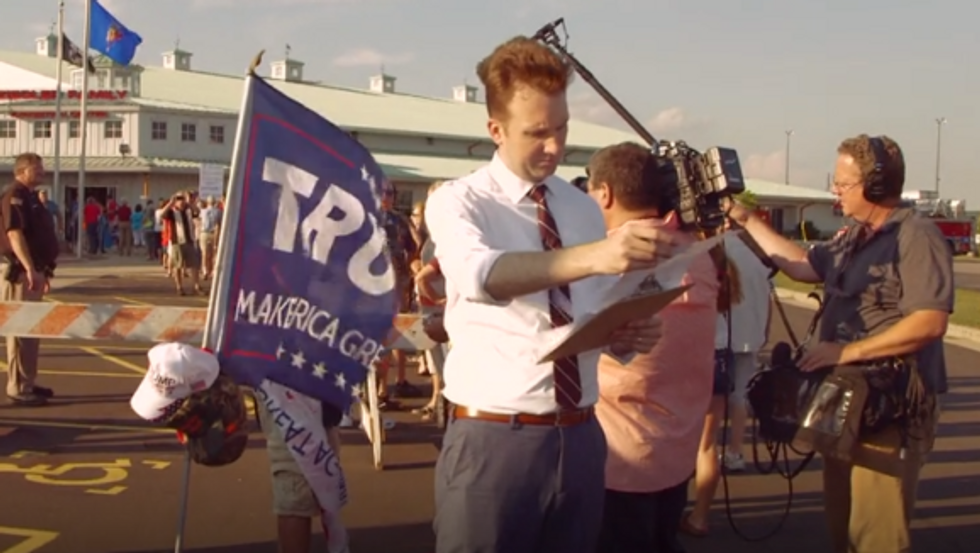 On Monday, Donald Trump proposed a system of "extreme vetting" to screen immigrants hoping to enter the United States. "We should only admit into this country those who share our values and respect our people," he said, proposing an ideological screening test inspired by Cold War measures designed to block the entry of communists and anarchists.
But a special report by The Daily Show illustrated that some Trump supporters would fail the test their candidate laid out.
Currently, Trump's criteria for blocking immigration is pretty vague. However, he did specifically call out "extreme views about religion such as its oppression of women, gays, and non-believers." That's where The Daily Show's Jordan Klepper started out. You can probably see where this is going.
Standing outside of a Trump rally in Wisconsin, Klepper found one supporter who called same-sex marriage "disgusting." Another said that women are not qualified to be president because "a female has more hormones." Not exactly what you'd hope for among voters who purport to be against the oppression of women, gays, and non-believers.
This man-on-the-street style is not an accurate representation of the average Trump supporter. However, it does point to an inherent contradiction in the GOP candidate's rhetoric: though he purports to defend these groups which he alleges are under attack, he has also made and encouraged disparaging remarks about many of those same groups.
Trump's description of "extreme vetting" does sound eerily similar to his proposed bans on immigration. As liberal Washington Post blogger Greg Sargent puts it:
It's pretty obvious what this "new" plan is really about. Trump wants to basically repackage his proposed Muslim ban — which has been widely denounced as fundamentally at odds with American values — by somehow making it seem in sync with American values such as pluralism and tolerance.
But the United States does have experience with ideologically screening prospective immigrants, beginning in the 18th century and continuing through the Cold War. Even today, immigration applications include several ideology-related questions: for instance, current applicants are asked whether they are affiliated with Communist or totalitarian parties. While the ethics of these measures can be up for debate, it has historical — and maybelegal — precedent.
Photo: Comedy Central/The Daily Show with Trevor Noah