#EndorseThis: 'The Daily Show' Takes On Trump's Relations With Workers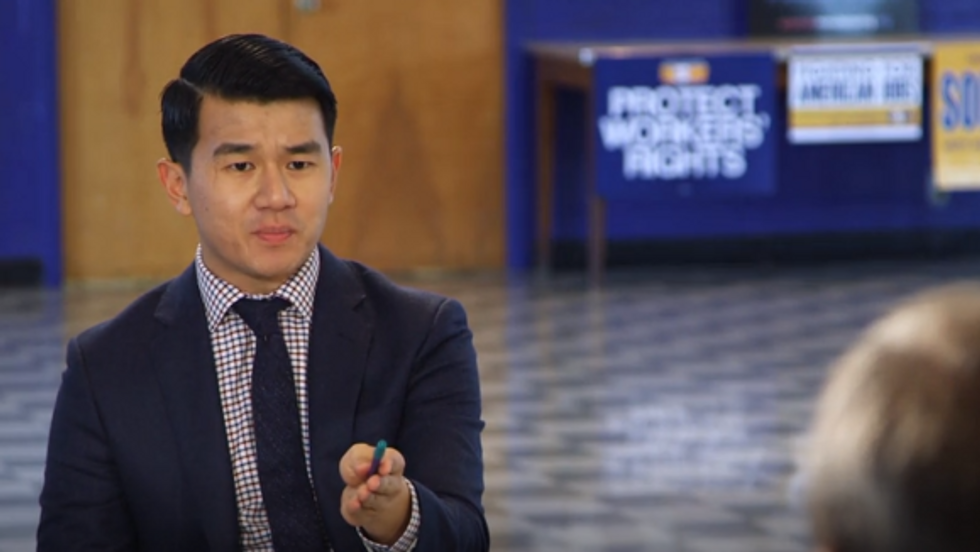 A central narrative of the presidential campaign thus far been that Trump's populist message is resonating with working-class white voters. He's been dubbed a "blue-collar billionaire" and makes appeals to trade grievances and protections that appeal to many blue-collar voters. His best bet at the White House increasingly lies in winning a large swath of the Rust Belt. But as The Daily Show's Ronny Chieng showed in a segment last night, his support among working class voters is far from universal — and for good reason.
The Daily Show focused on two stories involving Trump and workers. The first had to do with one of Trump's stump speech talking points: the outsourcing of 1,400 Carrier jobs to a plant in Mexico. As Adam Wren reported in POLITICO Magazine in May, the laid-off workers in the Indiana plant actually don't like Trump very much: they saw him as an "opportunist" and a "fraud", and their union endorsed Bernie Sanders.
When Chieng asked a focus group of workers from the plant if they loved Trump, they laughed in his face.
Chieng then turned to the battle for unionization between workers and management at Trump International Las Vegas, jointly owned by the Republican nominee's company and businessman Phil Ruffin. Although Trump has spoken and written in support of unions in the past, management spent more than $550,000 on  consultants who attempted to discourage workers from unionizing. Even after the vote to unionize went through, the company took the dispute to the National Labor Relations Board, and a few weeks ago it reached a settlement with workers who alleged they were punished for their involvement in the effort to unionize.
But, as Chieng's interviewees implied, there are still lots of grievances at the hotel.
Photo: Comedy Central