#EndorseThis: Trump Surrogates Explain Away 'Second Amendment' Comment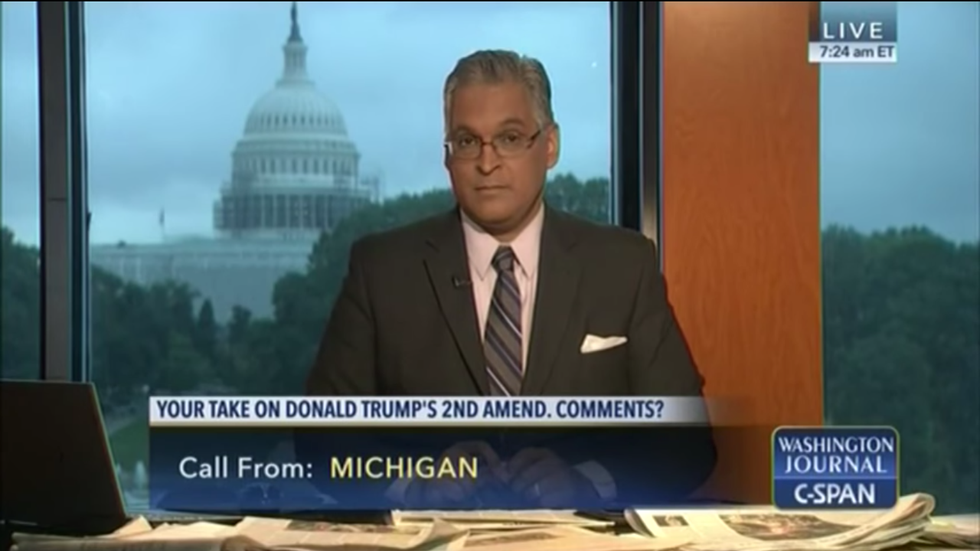 Donald Trump's thinly-veiled threat on Hillary Clinton's life yesterday was yet another in his increasingly desperate attempts to bait his supporters against the "dishonest media." Trump's suggestion that supporters of the Second Amendment "can do" something about Hillary Clinton appointing pro-gun control justices to the Supreme Court was just vague enough for the Trump campaign to immediately insist that he was talking about gun advocates' "political power."
But the message was clear: This woman wants to take away your guns. Do something about it.
The threat left many of his campaign's highest-profile surrogates in an awkward position: How can one defend the indefensible?
Luckily, that's about the only one of the media's questions the Trump campaign has succeeded in answering this election cycle — over and over again — and Trump's supporters are well-versed in the art of the word-twist. Here are some highlights.
Rudy Giuliani said that if Trump wanted someone killed, he would just openly call for it.
Katrina Pierson, Trump's national spokeswoman, started by referring Jake Tapper to the Trump campaign's clarification of his remarks. She then tried to say that what Trump "said" isn't really what he said. Or something like that.
But a day later, on MSBNC, she said the story had only picked up weight because of the "liberal media."

Corey Lewandowski, Trump's former campaign manager who is now being paid a severance package from the campaign while commenting on the election as a paid CNN contributor, claimed he didn't "know what he meant" by the remarks (though he also said Trump "understands what he's saying"), contradicting Trump himself, who said in response to criticism that "there can be no other interpretation" of what he meant, other than that it was a reference to "political power."
"What you have is Donald Trump talking stream of conscious" @CLewandowski_ on Trump's 2nd Amendment remarks https://t.co/FKyPbfENW0

— New Day (@NewDay) August 10, 2016
Dan Bongino, a former Secret Service agent who supports Trump, called the remark "imprudent" but then called out media and commentators who interpreted it as violence for supposedly imagining their own version of what Trump said. It's the "he who smelt it dealt it" of political commentary.
Of course, all it takes is one real person outside the Trump surrogate bubble to explain what Trump actually wanted his supporters to hear. Take one CSPAN caller, who reported that Trump wanted him to "defend our rights with… guns."

Photo and video: CNN, MSNBC, CSPAN.