#EndorseThis: 'We Got Played, Again' — Media Furious After Trump's Birther Press Conference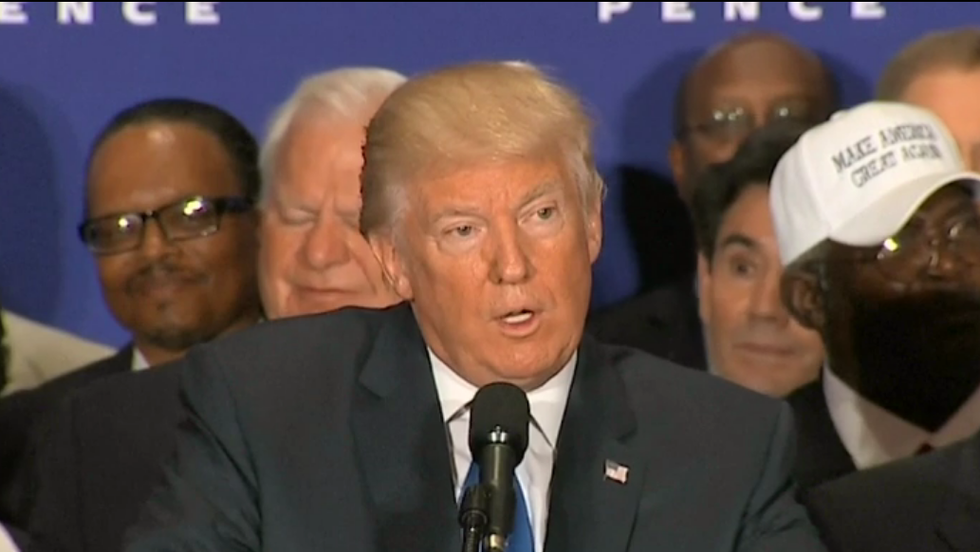 The immediate media reaction to Donald Trump's advertised press conference on birtherism today can be described in three words: "We got played."
After Trump and his surrogates repeatedly dodged questions all week about whether or not the Republican candidate for president was still a birther, building up to this very event, the media was instead tricked into broadcasting a different scene: For 20 minutes, from Trump's own recently renovated hotel in Washington, D.C., a series of military veterans including multiple medal of honor recipients endorsed and praised Trump.
After that, for about 30 seconds, Trump turned his attention to his birther history, blaming Hillary Clinton for "starting" it (not true), and then congratulating himself for forcing the president to release his birth certificate.
Of course, such a release would not have been news at all if Trump had not hammered the question into the news cycle for years and years — he, more than anyone, used his public prominence to indulge what would otherwise have been one of many ramblings of the internet's fringe.

Then, he left. Members of the media, who had been promised a press conference — time to ask the candidate questions about his years and years of bogus "investigation," which he has avoided this whole election — yelled angrily at Trump as they realized they had been tricked.
Members of the press shouting angrily after Trump exits room pic.twitter.com/KAIfdTJUTO

— Anthony Zurcher (@awzurcher) September 16, 2016
Jake Tapper called it "A political Rick Roll" — Trump promised a speech on birtherism, but instead we got 20 minutes of endorsements.
John King said it plainly: "We got played, again, by the Trump campaign, which is what they do."
.@JohnKingCNN: "We got played again by the Trump campaign" pic.twitter.com/gKqkTsDDhA

— Colin Jones (@colinjones) September 16, 2016
What do military endorsements have to do with Trump's 5-year advocacy of the birther conspiracy theory? Nothing. But the Trump campaign had been building up to this press conference all week, with no mention of anything except a statement on the president's birth.
In an interview with the Washington Post the day before his birther press conference, Trump said of his support of the conspiracy theory, "I'll answer that question at the right time… I just don't want to answer it yet."
That same day, Megyn Kelly accused Trump spokeswoman Katrina Pierson of dodging the question of Obama's birth after she said "he has said that he does not talk about that anymore."
So it goes. The media continues, for some reason, to believe that Trump will eventually tell the truth. Today, he used them to bury the political story of the year (his birtherism and subsequent racial dog-whistling) after 20 minutes of a campaign advertisement that would otherwise have not been aired on live TV.
At least one person did the right thing (or was told to): After the press conference, and after producers and journalists were physically stopped from joining him, the pool videographer for the event stopped his tour of Trump's new hotel and deleted the tape, in protest.
As the designated pool producer; attempted to go on pooled tour, as is customary. Was physically restrained from accompanying the camera.

— Candace Smith (@CandaceSmith_) September 16, 2016
Can confirm Trump broadcast pool erased the tape of his tour of the hotel

— Ben Jacobs (@Bencjacobs) September 16, 2016