Eric Garner Offers Boehner A Path To Redemption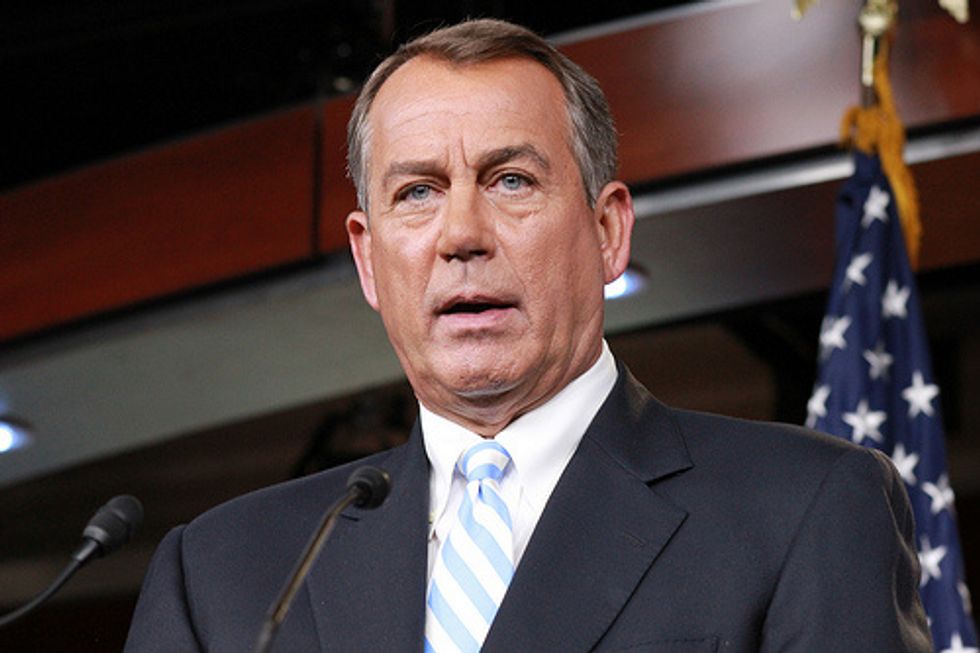 Dec. 4 (Bloomberg View) — What does the death of Eric Garner, following a police chokehold, have to do with immigration? For House Speaker John Boehner, perhaps quite a lot.
Boehner has been trying to contain the Republican  reaction to President Barack Obama's recent executive action on immigration. Boehner's hopes of passing comprehensive immigration reform were dashed long ago. But he would still like to mute his conference's most virulent anti-immigration voices — call it the Steve King caucus — to keep his party from becoming further identified with intolerance. (Thursday's debate on the "Preventing Executive Overreach on Immigration Act of 2014," a bill sponsored by Republican Representative Ted Yoho, won't help. It essentially puts the party on record in favor of mass deportation. And the House passed it.)
Republicans are quick to mount the barricades against Obamacare or taxes on high incomes. When it comes to protesting injustice against the poor and marginalized, their reflexes can be unnervingly slow.
Senator Rand Paul shrewdly (and even bravely, despite some dissembling) has tried to shift perceptions that Republicans don't care about racial minorities, speaking before black audiences and citing his belief,  however unreal, that the Republican coalition can bring in a substantial number of black voters in 2016. Confronted by the news of a grand jury's refusal to bring charges against a police officer who put Garner in a chokehold, however, Paul whiffed. In effect, he focused his outrage on the supreme injustice of New York's cigarette taxes rather than the loss of a man's life in police custody.
Boehner's reaction was both smarter and more humane. Asked about the grand jury decision, Boehner said, "The American people deserve more answers about what really happened here." Significantly, Boehner also "hasn't ruled out holding congressional hearings on the matter," according to BuzzFeed.
Hearings chaired by Republicans would be good for the country and good for Republicans. They would establish precisely what protesters say they are fighting for: an assertion that "black lives matter" to the nation's leaders and political institutions. At the same time, they would show that Republicans know how to be a party of all Americans, not just the white parts. And they would showcase Republicans grappling with a complex problem instead of unleashing the party demagogues on Benghazi for the umpteenth time.
The timing is auspicious. The Republicans' aggressive turn against immigrants is highly unlikely to sit well with Hispanics and Asians. Black voters already shun the party by embarrassingly large margins.
It's not all about political opportunism. Plenty of conservatives are genuinely appalled at the circumstances of Garner's death. Thursday's Department of Justice report on the Cleveland police department, released in the wake of a police officer's fatal shooting of a 12-year-old boy there, underscores the need for a serious federal inquiry. Hearings would be good for everyone. Go for it, Mr. Speaker.
Photo: Talk Radio News Service via Flickr