Eric Trump Roasted For Claiming Draft-Dodger Dad 'Fought For This Country'
@next2godwin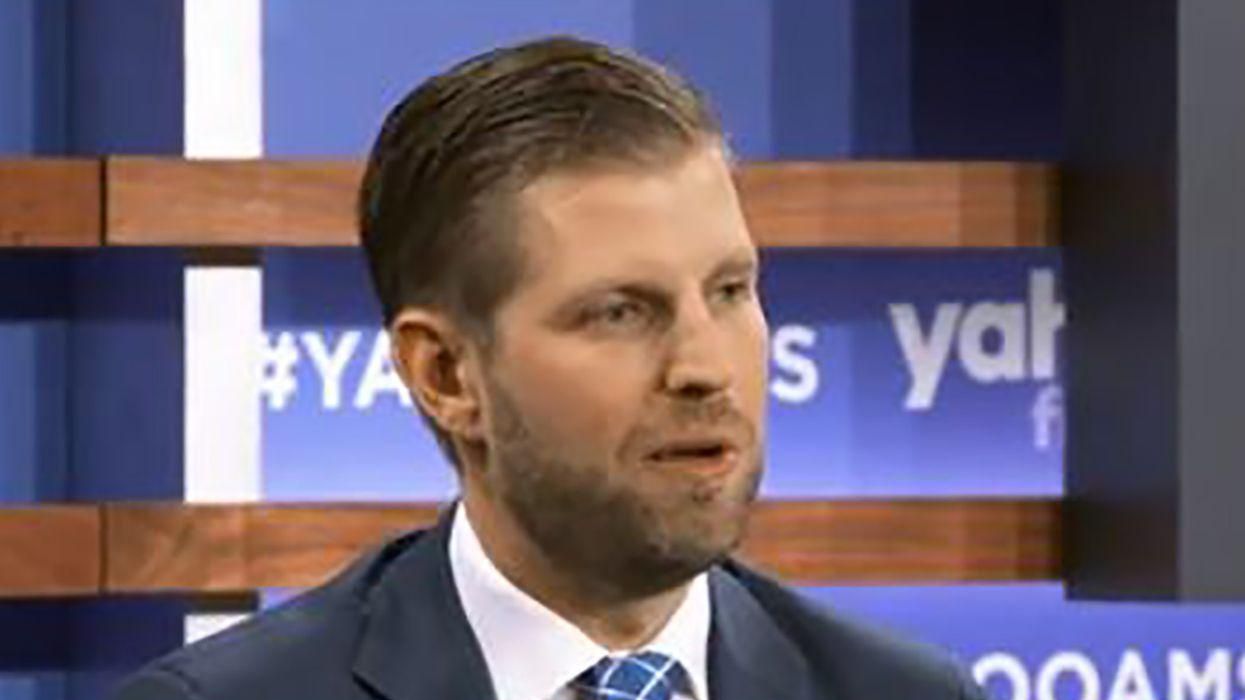 Eric Trump, the second son of former President Trump, was mocked on Twitter after a video post to the social media platform showed him making the audacious claim that his twice-impeached father, who dodged the military draft several times, "fought for this country."
The Trump offspring made the claim remotely in an interview ahead of scheduled tours for ReAwaken America, a right-wing roadshow that features the most-prolific hoax merchants in the MAGA sphere and spreads the gospel of Trump.
"My father fought for this country. Tom Brady always fought and played for his team. My father's playing for 'Team America,'" Eric told the interviewer.
It was unclear if Eric intended to convey that his father, a self-acclaimed "jobs president" "fought" for the country when he left office with unemployment at a 50-year high, the worst jobs record since president Herbert Hoover.
Or when Trump and his congressional allies passed a tax cut act that economic experts said gave "trillions of dollars to the wealthy" while leaving the poor and middle class behind.
Or when Trump — incensed by his landslide defeat in the 2020 elections — incited an irate mob of his supporters into storming the U.S. Capitol on January 6, 2021, as part of a far-reaching Republican effort to subvert the will of the people and demolish democracy as we know it.
Or when Trump made away with thousands of government documents, over a hundred of which were marked classified, stashed them at his Mar-a-Lago estate and lied about it, and sued to block the Justice Department from reviewing the documents, which the FBI seized from his Florida estate.
Even when considering the literal meaning of the word "fought," Eric's claim would still be erroneous because his father evaded the Vietnam war draft four times in college, according to the New York Times.
After graduating college as an athletic 22-year-old in the spring of 1968, Trump obtained a bone spurs diagnosis to dodge the draft again, allowing him to go into business with his father, Fred Trump.
Michael Cohen, Trump's former lawyer and fixer, told the House Oversight Committee in 2019 that Trump had admitted to his advisors that he had made up a fake injury to evade military service.
"Mr. Trump claimed (his medical deferment) was because of a bone spur, but when I asked for medical records, he gave me none and said there was no surgery," Cohen testified. "He told me not to answer the specific questions by reporters but rather offer simply the fact that he received a medical deferment."
Cohen added, "He finished the conversation with the following comment: 'You think I'm stupid? I wasn't going to Vietnam.'"
Despite his spate of draft deferments, Trump has repeatedly mocked military veterans, allegedly calling fallen soldiers "losers" and "suckers" and branding the late Sen. John McCain (R-AZ), an ex-prisoner of war in Vietnam and military hero, a "dummy."
"He was horrible," Trump said of McCain in a 2019 interview with Fox News. "I'm not a fan of John McCain, and that's fine."
Tom Brady, whose historic feats on the field Eric had outrageously sought to tie his father to, has since dismissed reports of a deep friendship with the ex-president, tellingVariety in July that his past friendship with Trump had been "mischaracterized a lot" and that he hadn't spoken to Trump in "a lot of years."
Netizens on Twitter have relentlessly dragged Eric Trump for his shoddy comparison and audacious claim.