Eric Trump Attempted To Trade Gun Online, May Have Violated State Law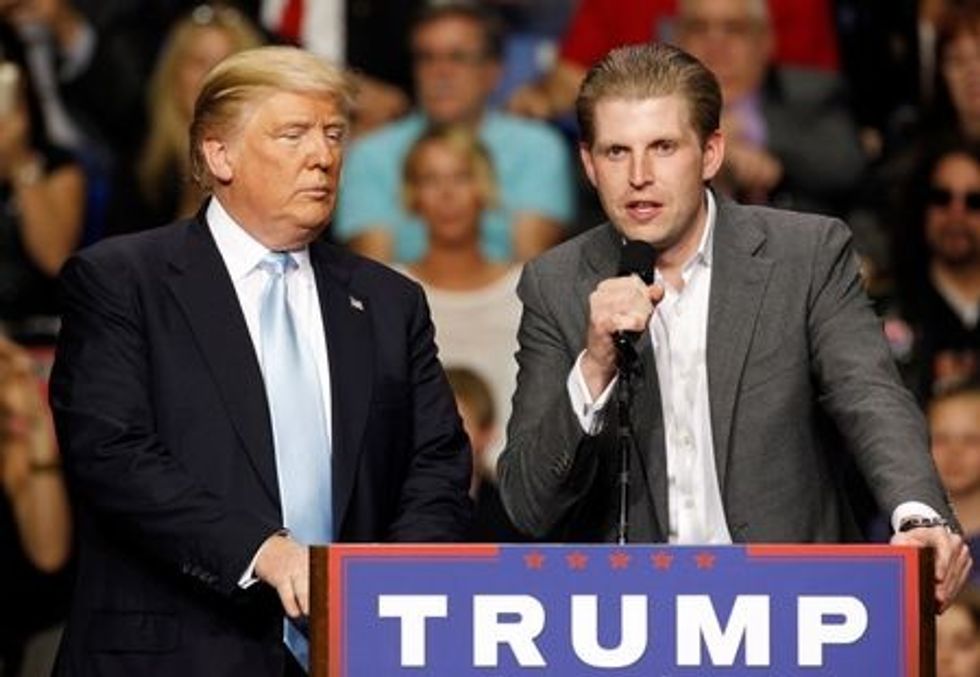 Reprinted with permission from AlterNet.
When the Ku Klux Klan endorsed his father's presidential campaign, Eric Trump still managed to top the announcement in shock value.
After being baited by 630 KHOW Denver radio host Ross Kaminsky about Donald Trump's support from white nationalists, the Trump son, 32, remarked that David Duke, a U.S. Senate candidate and former Ku Klux Klan leader, "deserves a bullet."
The controversial response raised eyebrows, prompting Eric Trump to "lay low."
"Listen, I'm not talking about any more bullets," the son of GOP nominee Donald Trump said. "I'm laying low."
However, evidence has just surfaced detailing how prior to the heavily anticipated GOP convention, where Trump dubbed himself the "law and order candidate," his son was attempting to trade guns online.
At 1:48am on Monday, July 11, Eric Trump posted a message to the popular hunting website Long Range Hunting:
"Want to trade my Remington 40X in 22-250. The gun is a lazer (sic) and shoots small little groups using 50gr V-Max bullets and 37.0 gr H-380. Im looking for a new Ruger Precision Rifle, Accuracy International AE MIII Folder (ill add cash)… "
Four photos of the Remington rifle, which could retail for up to $5,000, were included in the post.
"What's missing from Trump's post is any indication of how the trade or sale would take place. The state of New York has very strict gun laws and requires, with few exceptions, that any trade or sale of firearms take place through a federally licensed firearm dealer," New York magazine noted.
"This election is for every gun owner," Eric Trump said in August. "It really will be the difference between having our Second Amendment freedoms versus not having our Second Amendment freedoms."
IMAGE: Eric Trump, son of Republican presidential candidate Donald Trump, speaks at a campaign rally for his father in Fayetteville, North Carolina March 9, 2016. REUTERS/Jonathan Drake