European Stocks Dip On Poor Data
@AFP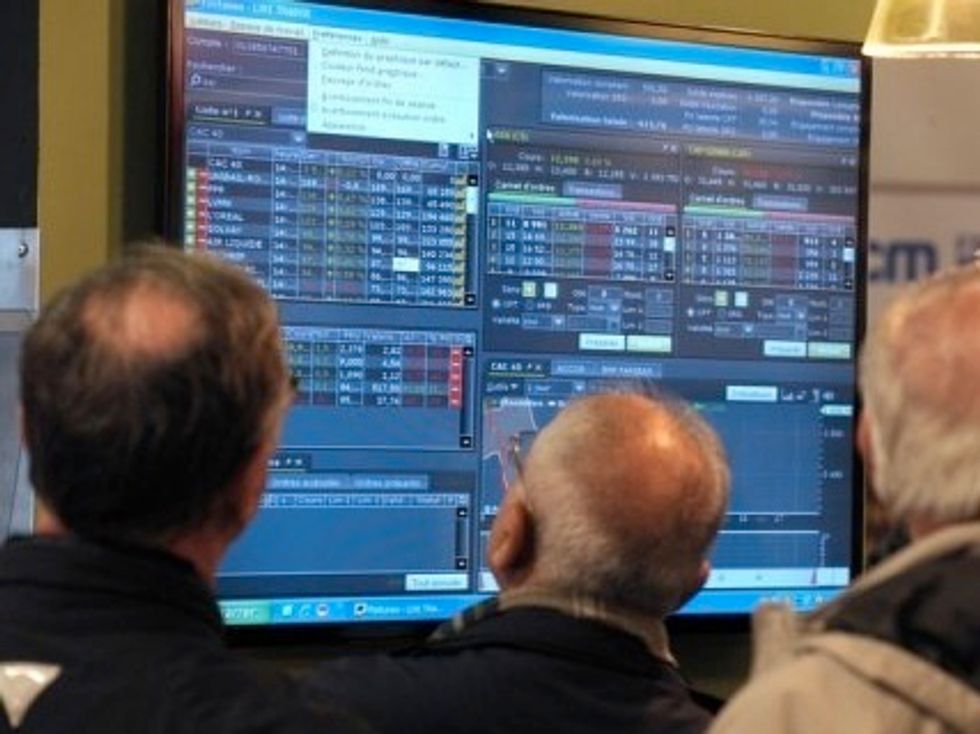 London (AFP) – European stocks fell on Wednesday, with sentiment weighed down by disappointing U.S. data, while the London market was also hit by news of a growth downgrade.
The ruble fell to a record low level against the euro on concerns about growth in Russia and financial crisis in Ukraine.
London's benchmark FTSE 100 index fell 0.31 percent to 6,809.32 points in midday deals, after Britain's 2013 economic growth was downgraded to 1.8 percent from 1.9 percent previously.
Frankfurt's DAX 30 slid 0.20 percent to 9,679.83 points and the CAC 40 in Paris dipped 0.34 percent to 4,399.59 points, compared with Tuesday's close.
"Market participants (are) unenthused by performance of Asian and U.S. markets overnight," said analyst Ishaq Siddiqi at trading firm ETX Capital.
"Data out of the U.S. was again damp — consumer confidence slipped this month and although S&P Case-Shiller home prices rose month on month, the year on year rate of growth did slow."
In Zurich, shares in Credit Suisse bank fell by 2.38 percent to 27.53 Swiss francs after a U.S. Senate report estimated that about 19,000 US nationals had secret accounts worth about $5.0 billion (3.6 billion euros) at the bank.
In Paris, shares in Iliad, the parent of low-cost mobile phone company Free, plunged by 8.77 percent to 161.75 euros.
Free has thrown French operators SFR and Bouygues Telecom into deep trouble with recent low-cost tariffs, but in a results statement on Wednesday, Bouygues said it was also launching a price-cutting war, against a background of manoeuvres between key players which would re-draw the French mobile landscape.
Wall Street fell on Tuesday as investors reacted badly to downbeat housing and consumer data in the United States.
The Case-Shiller index for home prices in 20 leading U.S. cities fell 0.1 percent in December, the second straight decline, while the Conference Board said its consumer confidence index fell to 78.1 in February from 79.4 in January.
On Wall Street the Dow slipped 0.17 percent, the S&P 500 fell 0.13 percent and the Nasdaq lost 0.13 percent.
"A surprise drop in U.S. consumer confidence dented investors' optimism, keeping any attempt to move higher in close check," added Capital Spreads dealer Jonathan Sudaria.
Asian markets mostly aimed higher overnight, but Tokyo fell 0.54 percent in value.
Shanghai stocks added 0.35 percent after recent losses caused by liquidity fears and concern about possible moves to rein in property prices.
Hong Kong gained 0.54 percent, Seoul rose 0.30 percent, while Sydney closed flat.
"It's been a mixed session for Asian markets, although Shanghai and Hong Kong both found support after recent losses, whilst the Nikkei came under pressure after gains for the yen," said analyst Joao Monteiro at Monex Capital.
"There does however appear to be a general sense of relief over the fact that he headwinds we've seen from emerging markets of late do appear to be abating, although there's clearly a degree of concern over the state of the Chinese economy."
With no market-moving news expected in Asia until the weekend, investors are now awaiting Friday's key US fourth-quarter economic output data.
In foreign exchange deals on Wednesday, the European single currency stood at $1.3744, unchanged from late in New York on Tuesday.
The euro eased to 82.34 British pence from 82.38 pence on Tuesday. The pound firmed to $1.6691 from $1.6680.
On the London Bullion Market, the price of gold hit a four-month high at $1,345.45 an ounce. It later stood at $1,341.08, compared with $1,339 on Tuesday.
The Russian ruble fell to a new record low against the euro amid concern about a possible default by Ukraine, and a slowdown in the Russian economy.
The euro surged to 49.42 rubles at around, with the ruble dropping below the record set last week of 49.35 rubles.
The dollar has risen to 35.94 rubles, its highest rate since 2009.
The ruble has lost more than eight percent against the euro since the start of the year.
AFP Photo/Eric Piermont