Ex-Obama Officials Slam Grisham 'Lies' About Insulting Notes Left In White House
@alexvhenderson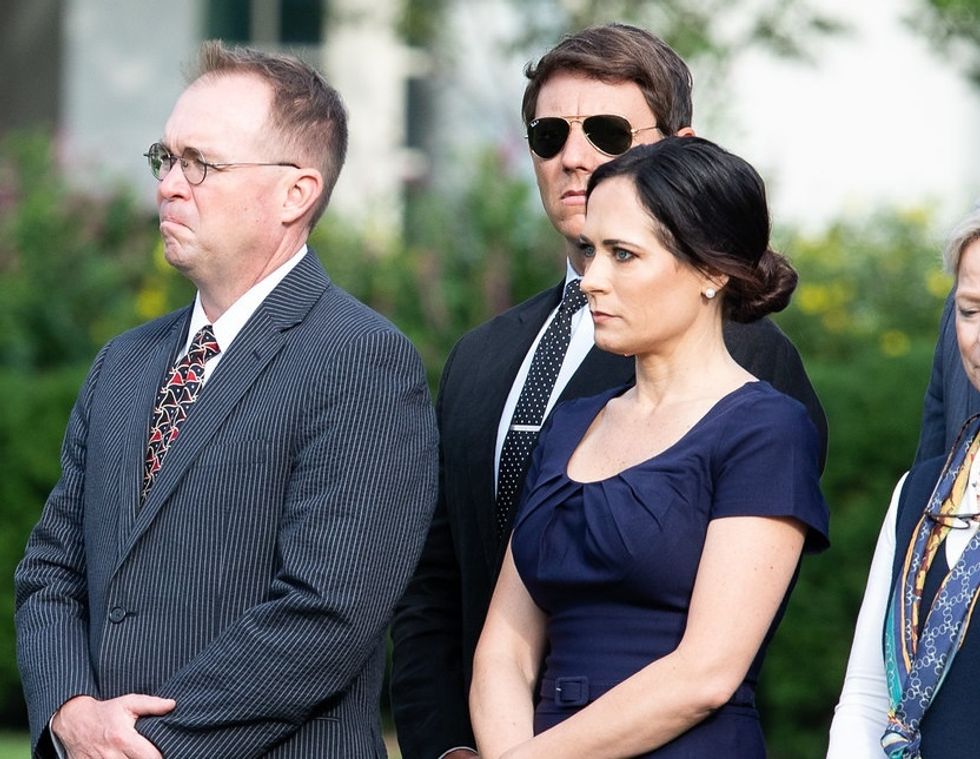 Reprinted with permission from Alternet
Stephanie Grisham, White House press secretary for the Trump Administration, has alleged that members of the Obama Administration left behind some insulting notes during the late 2016/early 2017 lame duck session — when Obama was on his way out and Trump's administration was on its way in. But former Obama staffers have been pushing back on her claims, asserting that they are absolutely untrue.
Grisham claimed that Obama staffers left behind notes saying things like "you will fail" and "you aren't going to make it." But Peter Boogaard, who served as a spokesman for the U.S. Department of Homeland Security (DHS) under Obama, said of Grisham's claims, "l worked in lower press for the last 2 years of the Administration. This absolutely did not happen."
Daniel Jabobson, former White House lawyer under Obama, was equally forceful —tweeting, "I was there. This is a complete and utter lie. Quite the opposite: we left them briefing books to try to help with the transition as much as possible."
Chris Lu, who served as White House cabinet secretary and deputy secretary of labor under Obama, was also part of the Obama-to-Trump transition — and is asserting that in late 2016/early 2017, outgoing Obama staffers went out of their way to be helpful to the incoming administration.
Lu said of Grisham's claims, "This is absolutely not true. Obama repeatedly and publicly praised Bush cooperation during 2009 transition, and pledged we would provide same cooperation to whoever followed us. And that's what we did. If Grisham is correct, why has it taken 3 years to come out?"
Liz Allen, former deputy White House communications director under Obama, tweeted that the notes she left behind were the opposite of insulting. Allen said of Grisham's claims, "100% false. I left a note wishing them good luck serving the American people and offering to be a resource."
Cody Keenan, a former Obama speechwriter, asserted that members of the outgoing Obama Administration — far from trying to undermine Trump — went out of their way to offer helpful advice, which unfortunately, wasn't followed.
Grisham, following the backlash from former Obama staffers, is walking back her claim somewhat.
"I'm not sure where their offices were, and certainly wasn't implying every office had that issue," Grisham stated. "In fact, I had a lovely note left for me in the East Wing. I was talking specifically and honestly about our experience in the lower press office —nowhere else. I don't know why everyone is so sensitive."
Grisham added, "At the time, we saw it as kind of a prank — and something that always happened. We were so busy trying to learn where the bathrooms were and how to turn on the lights — it wasn't that big of a deal."
Prior to replacing Sarah Huckabee Sanders as White House press secretary earlier this year, Grisham served as press secretary for First Lady Melania Trump.