Exchange Of Idaho Soldier Bowe Bergdahl For Taliban Detainees Sets Off Debate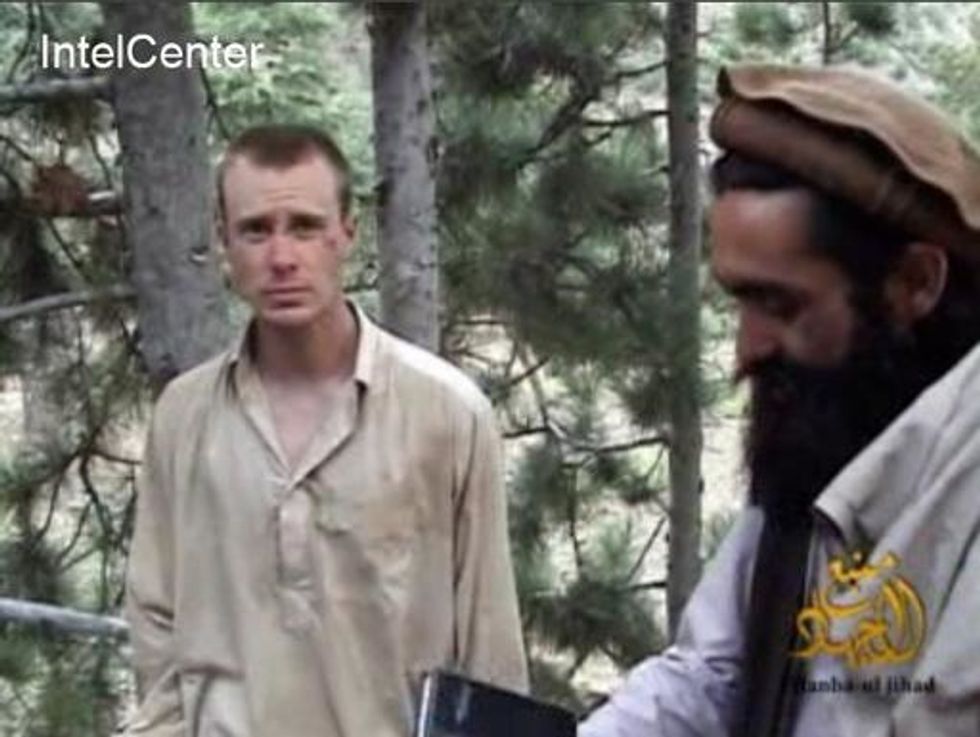 By Hannah Allam and James Rosen
McClatchy Washington Bureau
(MCT)
WASHINGTON _ An American soldier who spent nearly five years in Taliban captivity was freed Saturday in exchange for five members of the Taliban who'd been imprisoned for years at the U.S. detention center at Guantanamo Bay, in an unprecedented prisoner exchange that sparked both jubilation and controversy.
Army Sgt. Bowe Bergdahl, 28, the only U.S. soldier taken captive by the enemy in 12 years of the Afghanistan conflict, was turned over to a U.S. military task force in eastern Afghanistan at about 10:30 a.m. Eastern Daylight Time, U.S. officials said. Less than four hours later, the five Taliban detainees took off from Guantanamo headed for the Persian Gulf state of Qatar, which brokered the deal. Under the terms of their transfer, the five are to remain in Qatar for at least a year.
President Barack Obama, flanked by Bergdahl's parents, made brief televised remarks Saturday evening, thanking the foreign governments, American diplomats and U.S. military personnel who were behind the release effort.
"Sergeant Bergdahl has missed birthdays, and holidays and simple moments with family and friends which all of us take for granted," Obama said. "But while Bowe was gone, he was never forgotten."
Bergdahl's parents, Jani and Bob Bergdahl, echoed the president in short, emotional remarks of their own in which they suggested that their son faced a long recovery after his years under Taliban control. Bob Bergdahl said he son was having trouble speaking English. Then, he addressed his son directly in Dari, one of the languages spoken in Afghanistan. "I am your father," he then translated.
The deal resolves the question of whether the U.S. military would withdraw from Afghanistan without Bergdahl, who went missing from his base on June 30, 2009. But it also immediately sparked controversy.
For one, the Obama administration failed to notify Congress that it was transferring the five Taliban detainees from Guantanamo 30 days in advance, as U.S. law requires. U.S. officials explained the decision to notify Congress only as the detainees were turned over to Qatari diplomats by saying Obama was acting in his capacity as commander in chief.
"This is a case of the commander in chief exercising his prerogative to get one of his soldiers back," one official said. He asked not to be identified because he was not authorized to address the issue publicly.
But some members of Congress were unimpressed. "Our joy at Sergeant Bergdahl's release is tempered by the fact that President Obama chose to ignore the law, not to mention sound policy, to achieve it," said a joint statement by Rep. Howard P. "Buck" McKeon, (R-CA), chairman of the House Armed Services Committee, and Sen. James Inhofe, (R-OK), the ranking member of the Senate Armed Services Committee.
There were also questions about the wisdom–and precedent–of freeing five high-ranking Taliban, all of whom were on the list of detainees not eligible for release, in exchange for one American service member.

"These particular individuals are hardened terrorists who have the blood of Americans and countless Afghans on their hands," said Sen. John McCain, (R-AZ), who himself was a POW in Vietnam. "I am eager to learn what precise steps are being taken to ensure that these vicious and violent Taliban extremists never return to the fight against the United States and our partners."
And there were nagging questions about the circumstances of Bergdahl's captivity. How Bergdahl came to leave his base in Afghanistan has never been clear, and some have suggested he should be treated as a deserter, not a captive.
Bergdahl's hometown of Hailey, Idaho, where nearly every tree bears a yellow ribbon in his honor, erupted in jubilation as news of his release spread. A truck with a loudspeaker circled the city announcing that Bergdahl was free, eliciting cheers from residents who'd watched for years as his parents lobbied to make winning their son's freedom a priority for the Obama administration.
The five transferred Taliban were identified as Mohammad Fazl, Mullah Norullah Noori, Mohammed Nabi, Khairullah Khairkhwa and Abdul Haq Wasiq. The possibility of their exchange for Bergdahl had long been rumored, but U.S. officials said it was only a week ago that the detail resulting in Saturday's exchange seemed likely. Obama during his televised remarks said he had thanked the emir of Qatar for his assistance in working on Bergdahl's release earlier this week.
A Pentagon official gave this account of Bergdahl's release:
"A few dozen U.S. special forces received him, supported by multiple helicopters and overhead Intelligence Reconnaissance platforms. There were approximately 18 Taliban on site as well. We have no reports of shots being fired, and Sgt. Bergdahl was returned (to U.S. custody) once contact was made."
At Guantanamo, thousands of miles away, the five Taliban detainees were turned over to Qatari diplomats about 90 minutes later. They were put aboard a U.S. C-17 cargo plane, accompanied by the diplomats, which took off the Caribbean naval base shortly before 2 p.m. EDT.
Bergdahl was able to walk and speak, the defense official said. After receiving medical treatment at Bagram Airfield in Afghanistan, he was to be flown to Landstuhl Regional Medical Center, a U.S. military hospital in Germany, for further medical care, and then was to travel to the San Antonio Military Medical Center, the official said.
"Depending on the wishes of his family, we're working to connect him with his family via telephone or video conference soon, and at this point we expect they'll be reunited in Texas," the defense official said.
(AFP Photo)