Family Releases Letter James Foley Wrote In Captivity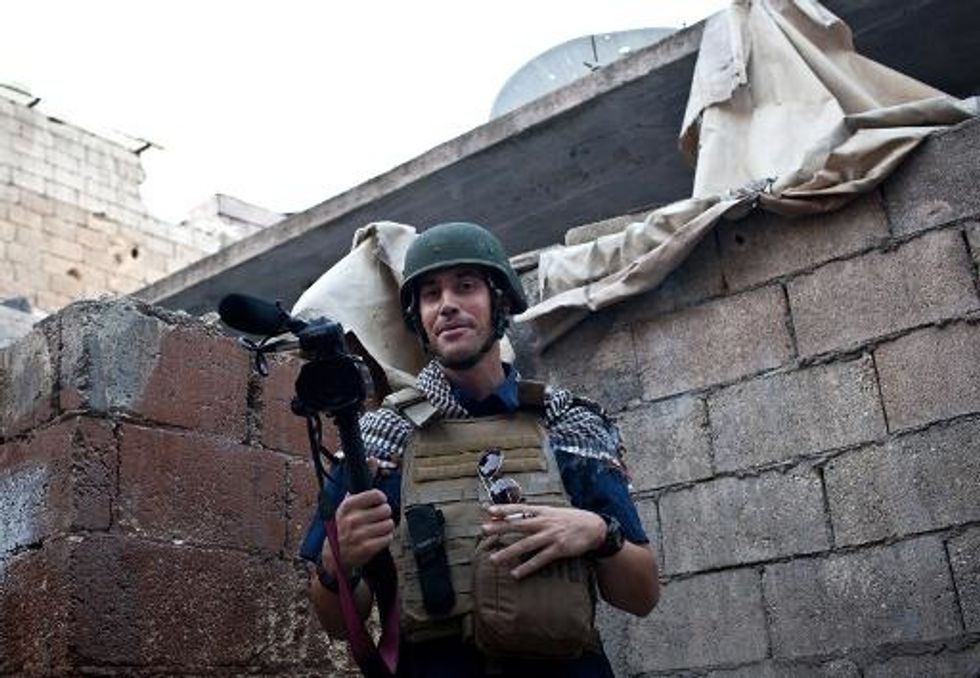 By Alana Semuels, Los Angeles Times
James Foley was held in a cell with 18 other captives, who supported one another and invented distractions like trivia, checkers, and Risk to keep up their spirits, according to a letter released by his family Sunday.
The letter was posted on the Facebook page Free James Foley shortly after a Sunday Mass in his honor at a church in his hometown of Rochester, New Hampshire. A video of Foley being beheaded in the desert surfaced last week; his family has since said they were trying to negotiate with his captors, who had demanded a ransom of $100 million euros.
"I have had weak and strong days," Foley wrote in the letter, which a fellow hostage committed to memory before being released. "We are so grateful when anyone is freed; but of course, yearn for our own freedom. We try to encourage each other and share strength."
Previous letters had been confiscated by jailers, his family said. This time around, a fellow hostage memorized the letter and then read it to Foley's mother, Diane, when he was freed. The hostage was not named, but there was a group of six French and Spanish journalists released by the Islamic State in April.
Much of the letter is intensely personal; Foley encourages his grandmother to keep taking her medication, his little sister to keep helping people as a nurse. He recalled a long bike ride with his mother, a trip to the mall with his father, and a visit to a comedy club with his brother.
"I am so glad we texted just before I was captured," he writes to his sister. "I pray I can come to your wedding … now I am sounding like Grammy!!"
He instructs his parents to give any leftover money in his bank account to his two younger brothers.
Foley's family last heard from him right before Thanksgiving, his mother said on the "Today" show last year. His mother's 104-year-old aunt had died, and Foley had called to tell his mother he was thinking of her. His family stayed on his mind during his second stint in captivity in a few short years.
"Dreams of family and friends take me away and happiness fills my heart," he wrote. "I pray for you to stay strong and to believe. I really feel I can touch you even in this darkness when I pray."
The letter is undated, but it appears to have been written this year. Foley writes that he was being fed better, that he occasionally was given tea and coffee, and that he had "regained most of my weight lost last year."
Foley was also held captive in Libya for 44 days in 2011. Clare Morgana Gillis, who was with him in captivity in Libya, said Foley was constantly distracting her and trying to cheer her up, in a remembrance written before his death.
"We shared a cell for two and a half weeks, and every day he came up with lists for us to talk through," she wrote. "Top 10 movies. Favorite books. The fall of the Roman Empire and the rebirth of Western civilization. Which famous person would you most like to meet? What's your life story? How does war change you? How can we be better people when we get out of here?"
It appears Foley tried the same distractions with his 17 cellmates in the captivity that ended in his death. He wrote in the letter to his family that his fellow captives had long conversations about movies, sports, and trivia. They made up games with things found in their cells, and have tournaments and competitions.
"We repeat stories and laugh to break the tension," he wrote.
The letter was released shortly after the State Department announced that the Qatari government had secured the release of another American in captivity. Peter Theo Curtis had been held in Syria by a cell linked to al-Qaida.
"We are so relieved that Theo is healthy and safe and that he is finally headed home after his ordeal, but we are also deeply saddened by the terrible, unjustified killing last week of his fellow journalist, Jim Foley at the hands of the Islamic State in Iraq and Syria, ISIS," said Curtis' mother, Nancy, in a statement released Sunday.
The Foley family has asked well-wishers to "help carry Jim's indomitable spirit forward" by donating to two causes in his memory. One, the newly created James W. Foley Legacy Fund, will support and protect journalists and provide educational opportunities for disadvantaged youth. The other, the James Foley scholarship at Foley's alma mater, Marquette, will provide financial assistance for a communications student.
AFP Photo/Nicole Tung
Interested in national news? Sign up for our daily email newsletter!