Family Separations Boost Public Support For Immigrants
@AlterNet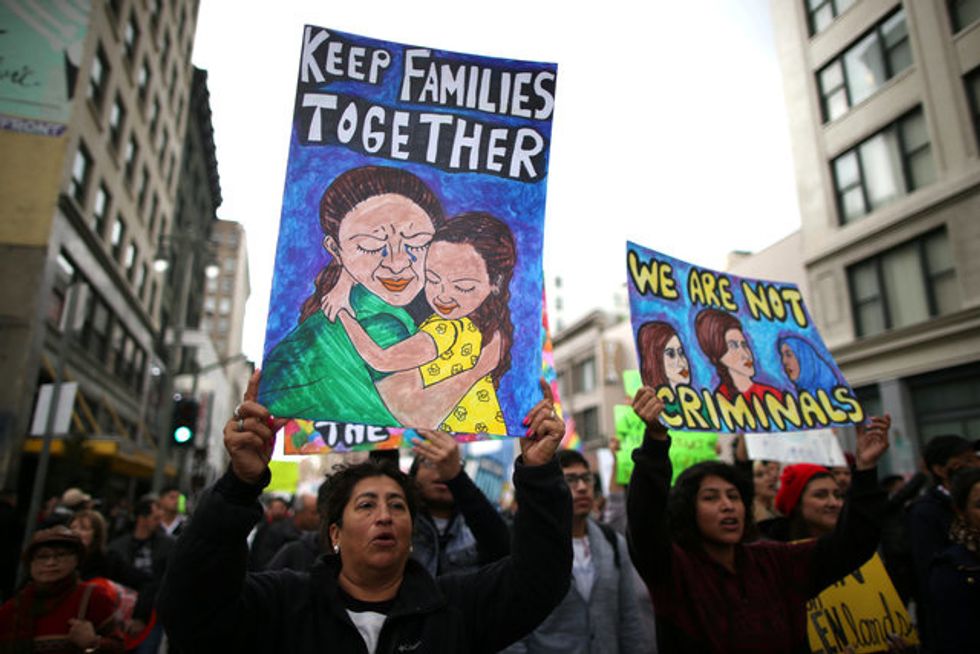 Reprinted with permission from AlterNet.
By Kerry Eleveld / Daily Kos
Donald Trump's barbaric child separation policy appears to have not only raised the issue of immigration in the public discourse but also engendered more sympathy for it among Americans.
A record-high 75 percent of Americans, including majorities across all parties, say immigration is good for the nation, according to the Gallup. That's a four-point increase since last year, while just 19 percent view immigration as bad for the U.S.
Additionally, solid majorities of both parties—85 percent of Democrats/leaners and 65 percent of Republicans/leaners—have a favorable view of immigration.
The nations' increasingly positive view of immigration appears to be one side of a coin that includes the public's overwhelmingly negative view of Trump's child stealing policy on the other side.
Not only have recent national polls shown two-thirds of Americans oppose separating families, the policy has also proven unpopular in states that have key midterms races this fall.
On Wednesday, we noted the swift retreat of Senate Republicans on Trump's barbarism and Texas Senator Ted Cruz, in particular. A new poll from the University of Texas explains why Cruz suddenly experienced a conversion. Only 28 percent of Texas voters overall supported family separation while 57 percent opposed it. And while a plurality of Republican voters agreed with the policy at 46 percent versus 35 percent disagreeing with it, it played especially poorly to Republican women, writes the Texas Tribune:
On the Republican side, however, the differences are stark — and help explain why so many Republican politicians have shifted their positions since the separations became widely known. While 56 percent of Republican men favor splitting parents and children at illegal entry points on the border and 30 percent oppose it, a plurality of Republican women are against the practice: 37 percent favor it and 42 percent oppose it.
Those figures leave 21 percent of GOP women undecided as well—voters Cruz doesn't want to lose in a race where his Democratic challenger, Rep. Beto O'Rourke, has raised more than $6 million and has jumped on the family separation issue.