Panicked 'Fake Electors' Ask Judge To Remove Willis From Georgia Probe
@next2godwin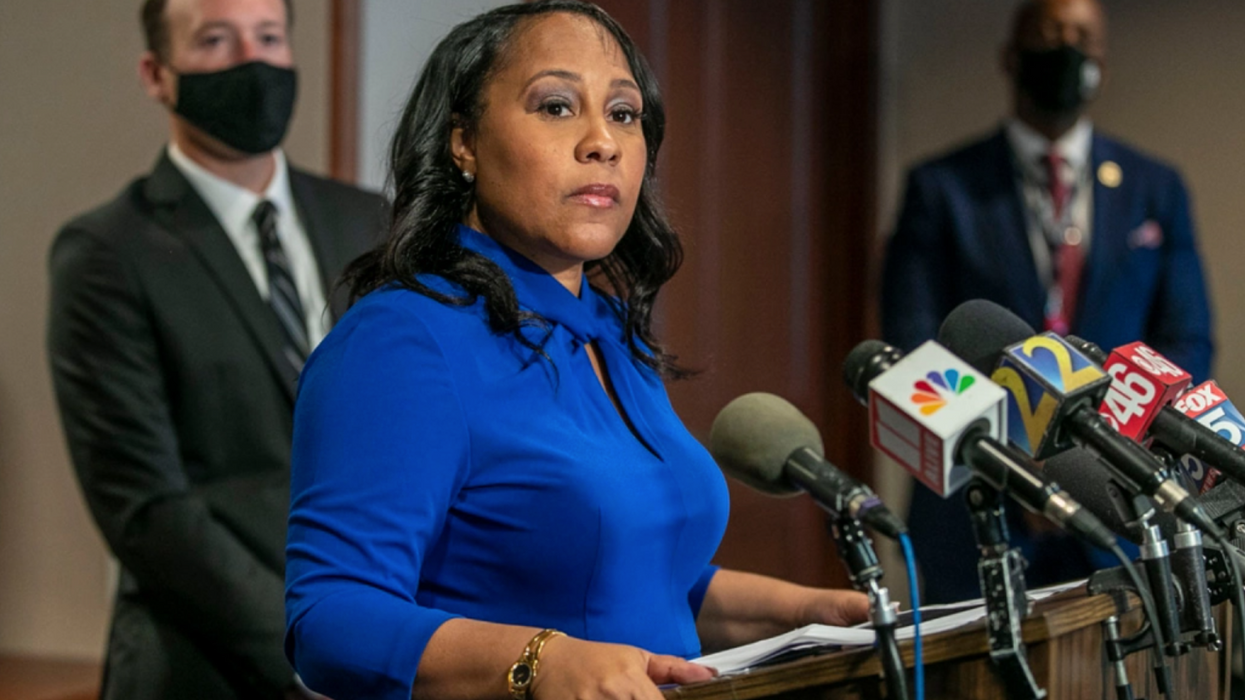 The ongoing investigation in Georgia into the Former President Trump and his associates' efforts to influence the state's general election results has picked up steam in recent weeks, ensnaring seven Trump associates and the fake electors who sought to overturn the electoral college results.
In a recent court filing Tuesday, a group of 11 fake Georgia electors asked a judge to disqualify Fulton County District Attorney Fani Willis from her investigation into Trump and his allies' attempted influence in the state's election result.
Last month, Willis' office alerted all 16 fake electors that they were "targets" of the Georgia election investigation and could face charges. The alternate Republican elector group comprised the Georgia GOP Chair David J. Shafer, Republican candidate for lieutenant governor Burt Jones, county-level Republican officials, a former state lawmaker, and local conservative activists.
The judge presiding over the special grand jury aiding Willis' investigation, Robert McBurney of the Superior Court of Fulton County, previously refused to quash subpoenas for all electors. However, last month, McBurney stopped Willis from investigating Jones because her appearance at a fundraiser for Jones' Democratic opponent constituted a "conflict of interest."
The group seeking Willis' disqualification argued in the court filing that they were "inextricably intertwined" with Jones and beseeched the court to "reconsider its order limiting the scope of the DA and her office's disqualification and instead order that the disqualification applies to the entire investigation and all subsequent proceedings," CNN reported Wednesday.
"Indeed, because Senator Jones has been removed from this investigation, there is arguably an even greater likelihood that the officers of his campaign partners, his running mates, his financial supporters, and his key political allies could be treated even more harshly," the court filing read, according to CNN.
The fake electors asked McBurney to at least curtail Willis' power to investigate them as he reduced her power to probe Jones if he was unwilling to disqualify her from the case.
The request is the latest development in the controversy surrounding Willis' fundraiser for Charlie Bailey, the Democratic candidate for Georgia lieutenant governor, which the district attorney's lawyers argued in previous court filings "provides no basis for disqualification nor amounts to a conflict of interest in overseeing the grand jury," per CNN.
For months, Atlanta-area prosecutors have presented troves of evidence and witness testimony to the special grand jury in an inquiry that has swept up several top Trump allies, including former Trump lawyer Rudy Giuliani, Sen. Lindsey Graham (R-SC), and ex-Trump attorneys Jenna Ellis and John Eastman, both of whom authored memos falsely asserting that former Vice President Mike Pence could overturn electoral college results.
Last month, lawyers for several fake electors decried Willis' investigation as a "publicity stunt" and promised to plead the Fifth Amendment in their depositions. The electors also labeled the investigation as "political interference" born of "local passion and prejudice."
The electors aren't the only Republicans battling to get out of testifying before the special grand jury.
Graham's request to avoid grand jury testimony on immunity grounds was rejected Monday by a federal judge. On Wednesday, Ellis was ordered by a judge to appear for testimony before the special grand jury in Georgia.
Giuliani — who a judge
ordered to testify even if he had to travel by "Greyhound" bus
— appeared Wednesday in a grand jury session that lasted several hours and told reporters outside the courthouse that he had "satisfied his obligation."