Giuliani Must Travel For Georgia Grand Jury -- Even By Greyhound Bus
@next2godwin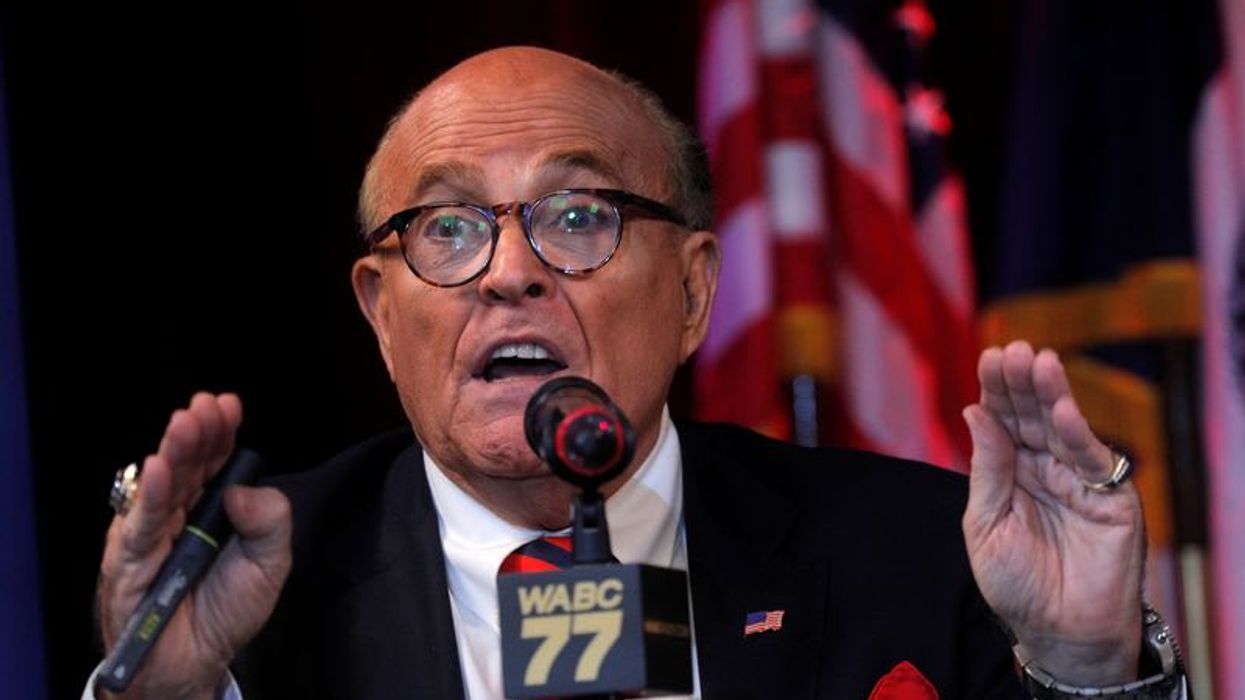 Rudolph Giuliani
Rudy Giuliani, former President Trump's onetime attorney, must appear before a Georgia grand jury on August 17 even if he has to take the "train or a bus or Uber," a judge ruled after Giuliani's last-minute request to delay his appearance.
Giuliani, a former New York Mayor, had been ordered to testify Tuesday before the 23 members of the special grand jury in Fulton County investigating Trump's failed bid to influence Georgia's 2020 presidential election results.
However, Giuliani's lawyers filed an emergency motion on Monday to delay his appearance, citing two letters by a doctor deeming the 78-year-old unfit to fly because he recently underwent an "invasive procedure."
In a hearing for the emergency motion Tuesday, Fulton County Superior Court Judge Robert McBurney, who is overseeing the special grand jury, insisted that Giuliani appear for the grand jury testimony, albeit a week later than initially scheduled.
"The very limited information I have from a doctor, from a very fancy hospital, is that air travel is not compatible with Mr. Giuliani's condition right now. And so that's why I'm saying don't do it by air. That's plenty of time to make the trip — 13-hour drive," McBurney said.
Before the hearing, Fulton County District Attorney Fani Willis slammed Giuliani's effort to stall the hearing, saying her office had reviewed records that showed Giuliani in mid-July bought flight tickets to Rome and Zurich, according to CBS News. In her counter filing Monday, Willis also included a tweet that showed the former mayor in New Hampshire.
"We do not consent to change the date," argued a deputy to Willis in the filing. "We will provide alternate transportation including bus or train if your client maintains he is unable to fly."
The judge agreed and made it clear in Tuesday's hearing that Giuliani had to present himself for deposition, even it meant employing land-based means of travel.
"John Madden drove all the way over the country in his big bus from stadium to stadium, so one thing we need to explore is whether Mr. Giuliani could get here without jeopardizing his recovery and his health, on a train or on a bus or whatever it would be," McBurney said during the hearing.
Giuliani's attorney, Bill Thomas, told CNN after the hearing that his client would "explore all the options" for travel, and that he would be "back here" on the 17th.
"If the court orders that he travel by Greyhound to Atlanta, we are going to do what the court orders him to do," Thomas said at the hearing.
Giuliani was a key member of Trump's inner circle when he attempted to interfere with the results of the 2020 general election in Georgia. In December 2020, Giuliani appeared before the Georgia State Senate and issued bogus accusations of fraud and misconduct by the state's election officials.
Willis launched her investigation early last year, after a January 2, 2021 phone call between then-President Trump and Georgia Secretary of State Brad Raffensperger in which Trump pressured Raffensperger to "find" enough votes to overturn Biden's victory in the state.
"All I want to do is this. I just want to find 11,780 votes, which is one more than we have. Because we won the state," demanded Trump.
It's not yet clear if Giuliani is a target in the grand jury investigation. When Giuliani's lawyers brought it up in a question Tuesday, McBurney said the prosecutors didn't need to respond immediately.