Raffensperger Testifies In Georgia Grand Jury On Trump Election Scheme
@next2godwin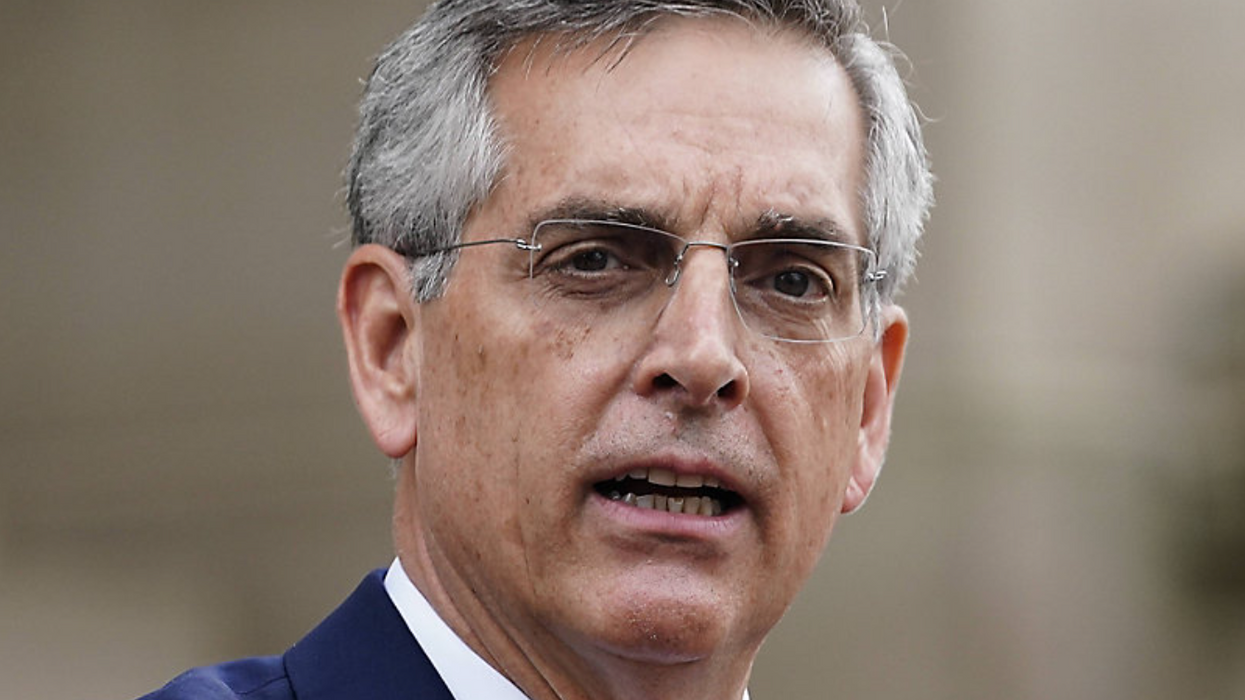 A special grand jury in Fulton County investigating former President Donald Trump's attempt to overturn Georgia's results in the 2020 presidential election heard testimony from Georgia Secretary of State Brad Raffensperger on Thursday.
Raffensperger is one of about 50 witnesses subpoenaed by the special grand jury for depositions in the coming weeks. The secretary of state is a key witness in Fulton Country District Attorney Fani Willis' investigation into possible "coordinated attempts" to influence Georgia's 2020 presidential election results.
Raffensperger's wife, Tricia, and some of his staff members, including chief operating officer Gabriel Sterling, have also been called to testify.
Brad and Tricia Raffensperger arrived at the court house in downtown Atlanta half an hour before his scheduled deposition. Asked by a reporter how the day would go as he headed up the steps into the building, Raffensperger replied, "Hopefully short."
As part of an overarching investigation, Willis is looking into several incidents. The most prominent is the now-infamous January 2, 2021, phone call Trump made to Raffensperger, when he pressed the secretary of state to "find 11,780 votes," or just enough to overturn Joe Biden's victory in the Peach State.
"All I want to do is this. I just want to find 11,780 votes, which is one more than we have. Because we won the state," Trump said on the call, which Raffensperger recorded.
Furious at his defeat in the election, Trump, then already a lame-duck president, and his allies made several attempts to extend their hold on power. They made baseless claims of widespread voter fraud; spent millions of dollars trying to force vote recounts in several states; filed and lost over 50 election lawsuits, and incited a mob of Trump supporters with wild conspiracy theories, causing the crowd to storm the Capitol and force lawmakers to evacuate the building on January 6, 2021.
According to the New York Times, Raffensperger likely faced questions about the phone call with Trump and his interactions with other prominent Republicans — including Senator Lindsey Graham (R-SC), former Trump attorney Rudolph W. Giuliani, and Mark Meadows, former White House chief of staff.
Tricia, his wife, is expected to detail the death threats she and her family received from far-right groups after her husband rebuffed overwhelming Republican pressure to subvert the election results. Last year, Tricia told Reuters that the couple was forced into hiding and rejected visits from everyone, including their grandchildren.
Willis held off on issuing a subpoena to Raffensperger last month until after the state's GOP primaries were completed, according to CNN. The district attorney has subpoenaed several other state officials, including Chris Carr, Georgia's attorney general.
Last week, Willis told the New York Times that she might consider bringing forward other charges, including racketeering, which would widen the scope of her investigation.
Trump blamed Raffensperger for his and other Republicans' losses in the state. The former president backed a challenger in Georgia's GOP secretary of state primary, but Raffensperger won renomination decisively.