So Far, ABC And NBC Are Failing To Note The Link Between Harvey And Climate Change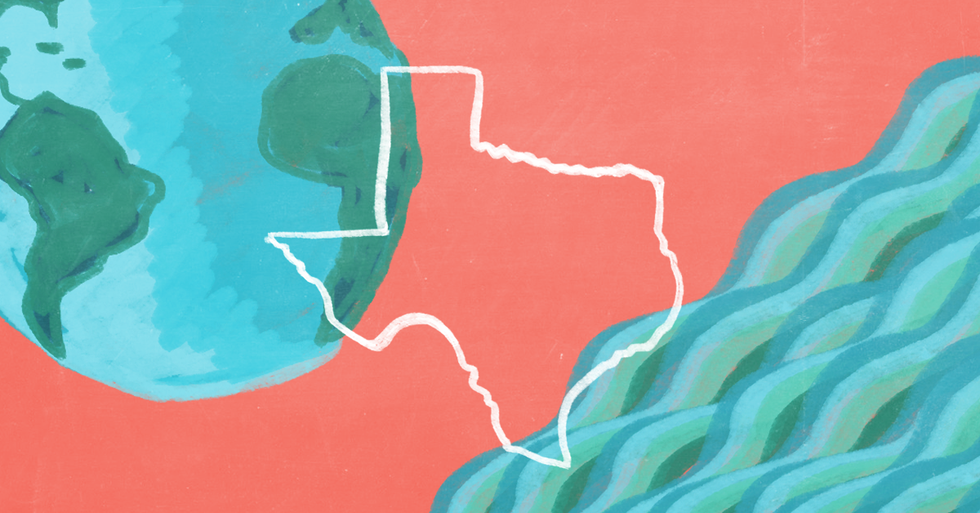 Reprinted with permission from MediaMatters.
Of the three major broadcast networks, CBS is the only one that discussed climate change's role in exacerbating Hurricane Harvey's impacts, while ABC and NBC have overlooked climate change in their coverage of Harvey so far.
Since it made landfall last Friday, Harvey, which has been downgraded from a hurricane to a tropical storm, has brought massive devastation to southeast Texas. By Tuesday, Harvey had already become the most extreme rain event in U.S. history. The storm brought so much rainfall that the National Weather Service had to add new colors to its weather maps to represent Harvey's deluge. An early estimate of the storm's cost stands at $190 billion, which would make it the nation's "costliest natural disaster."
A number of climate scientists have commented on the ways climate change intensifies storms like Harvey. While climate change did not cause Harvey, according to scientists, it made such extreme weather events "more likely to occur." And Kevin Trenberth, senior scientist at the U.S. National Center for Atmospheric Research, said of Harvey: "The human contribution can be up to 30 percent or so of the total rainfall coming out of the storm. It may have been a strong storm, and it may have caused a lot of problems anyway—but [human-caused climate change] amplifies the damage considerably."
CBS was the only major network to discuss this connection, which came up during an interview with physicist Michio Kaku on the August 26 episode of CBS This Morning and an interview with environmental engineering professor Jim Blackburn that aired on both the August 30 episode of CBS Evening News and the August 31 episode of CBS This Morning. Additionally, the August 30 episode of PBS NewsHour featured a segment in which correspondent Miles O'Brien interviewed climate scientists and experts about the connection between climate change and extreme weather events. These experts explained that climate change both warms waters, which fuels hurricanes like Harvey, and increases moisture in the air, which leads to more rainfall. ABC and NBC, however, have ignored the relationship between climate change and hurricanes like Harvey.
Conversely, CNN and MSNBC have both aired multiple segments on Harvey's climate connection, including interviews with meteorologists Jason Samenow and Paul Douglas, who explained the climate science behind Harvey on the August 30 episode of CNN's New Day and the August 26 episode of MSNBC Live, respectively.
The major broadcast networks' nightly news shows air for just half an hour each day compared to their 24-hour cable news counterparts, and thus far, they have focused their reports on updates related to Harvey and ongoing rescue operations. But the broadcast networks have a history of ignoring climate change's impact on major storms. For instance, when a storm that brought record-breaking rainfall struck Louisiana last year, PBS was the only network that aired a segment detailing climate change's connection to extreme rainfall.
Given the magnitude of Harvey's destruction, some journalists have been making forceful calls for a discussion about climate change. Naomi Klein wrote an article in The Intercept headlined "Harvey Didn't Come Out of the Blue. Now is the Time to Talk About Climate Change," and Eric Holthaus wrote in Politico, "If we don't talk about the climate context of Harvey, we won't be able to prevent future disasters and get to work on that better future." Let's hope that when the immediate danger of Harvey passes, broadcast networks will start having that conversation.
Correction: This post originally stated that CBS had run just one segment on the connection between climate change and Hurricane Harvey. A subsequent search found two other such segments that CBS aired in which the impact of climate change is mentioned. The term "climate change" was not mentioned in the transcript, but it was included in Nexis' "subject" category. Media Matters regrets the error.
Header image by Sarah Wasko / Media Matters