Alabama Racists, Thinktank Fascists And The Menace To Democracy
@ninaburleigh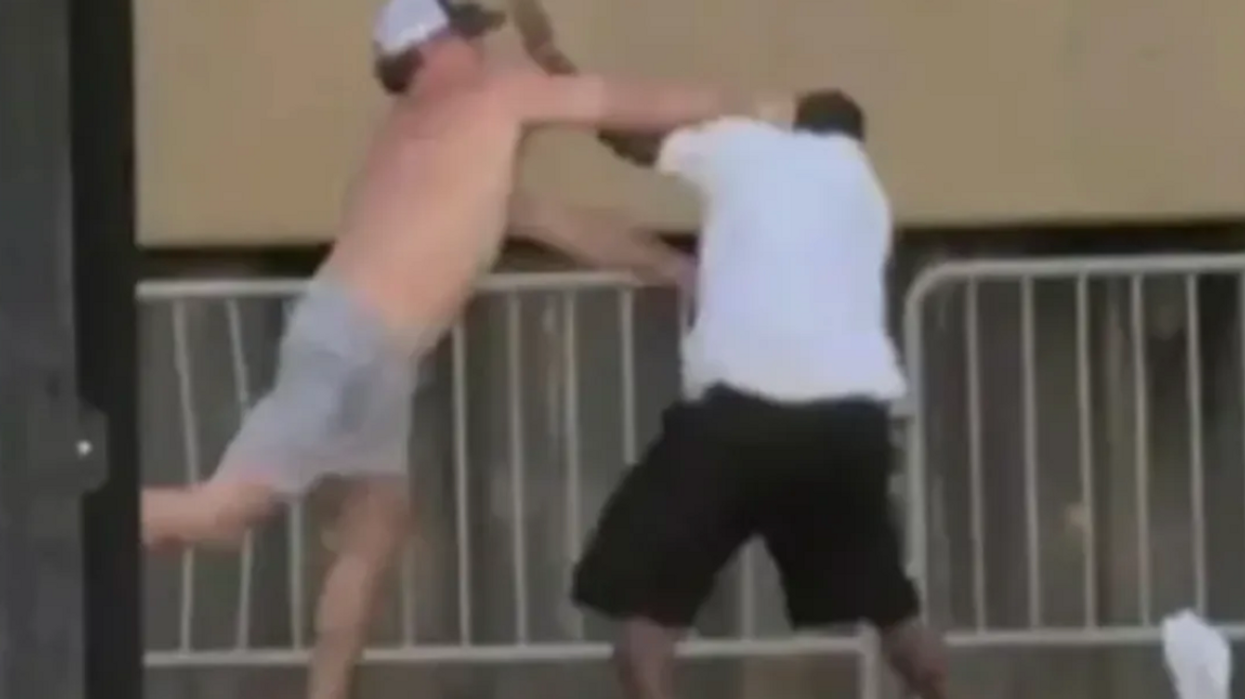 Screen shot from video clip
By now everyone's seen it. A shirtless white dude in shorts attacks a Black man in some kind of uniform, soon joined by several other white men and a woman, who pound and pummel the Black man onto a dock. Then, Black men and women run to the dock and start pummeling the whites. Cops arrive and disperse, arrest, charge a few of the instigators. Video goes viral.
Welcome to summer in America!
Videos like "Alabama dock brawl" are archetypal imagery of the USA, enraging us, and meeting the expectations of the rest of the world. Often viewed out of context, without any understanding of what happened just before the iPhone started to record, or what happened after, they raise righteous rage, provoke online swarms, and often enough, result in job losses or even arrests for the perps (if civilians; if cops, maybe not).
We know exactly what happened on the dock thanks to a precise account delivered by the Montgomery police chief. The brawlers tied their pontoon to a dock berth reserved for a commercial pleasure boat carrying some 200 people on a dinner cruise. When the captain of the cruise asked them by bullhorn to move, they responded with "obscene gestures and curses." After 45 minutes, the commercial captain sent his second in command, the Black man in uniform, to shore, where he untied the party pontoon himself.
Violence ensued.
The Alabama dock brawl happened during the same week that The New Republic published a terrific investigative essay about an association of white men who form the braintrust of America's fascist movement. Hundreds of millions of eyeballs have landed on the viral video, but a minuscule fraction of that number have read Katherine Stewart's article about the Claremont Institute.
And that's too bad because the video and the article belong together.
The Claremont Institute is not affiliated with the Claremont Colleges or the city of Claremont, California, where it is based. It is financed by big rightwing donor cash, one of many rightist think tanks polluting our national politics with lawsuits and normalizing and amplifying extremist influence. While their brethren in the right-wing brain trust business like Heritage and Cato at least nominally toe the democracy line, Claremont is out-of-the-closet fascist. It is run by and offers a platform to white men Stewart calls "pseudo-classicists" for their reverence for the mores of ancient Rome and the Bronze Age, when might made right, dictators ran the world, and the weak or conquered were enslaved.
Claremont's intellects wouldn't dirty their hands punching a man on an Alabama dock, but they do openly advocate for the rights of the racist boaters who would. The essence of the Claremont philosophy is that America is a free country -- free for white men. White men's freedom is hampered by regulations administered by the "bug men" of "the administrative state" which represents women and minorities and which must be smashed so that white men can again dock their pontoons wherever the hell they want. If a Black man in a uniform tells them to move it, they can and even must resort to violence, punch him in the face, because the only people in uniform that they should respect are white and male.
Claremont's men don't walk around in flip-flops and shorts and guzzle beer on cheap pontoons. They wear suits and ties, travel on billionaire dime and probably jet, and write briefs and books and manifestos against racial equality, against democracy, against feminism, and for military dictatorship.
They scorn our multi-cultural, multi-gender, multi-colored society, they celebrate misogyny, they have bizarre ideas about manhood. They are the Josh Hawleys of the American intelligentsia. ("Run Josh Run" is a Claremont hero.) One of their board members, lawyer John Eastman, was a chief Big Lie coup plotter, and is now an unnamed co-conspirator in the January 6 federal case against Trump.
Please read Stewart's brilliant article, which besides revealing shocking and odious views, names the billionaire donors behind these human tools. Reading it, one begins to understand just how a modern nation like Argentina got around to kidnapping and shoving dissidents off helicopters into the ocean. Meet the men creating the legal and ethical framework for turning America into exactly that.
A few choice passages:
On violence
The Claremont Institute's seeming embrace of political violence against the government of the United States is not limited to Eastman's efforts to whip up the mob that gathered at the Ellipse in preparation for the assault on the Capitol, nor can it be excused as mere metaphorical excess in the war of ideas. "Given the promise of tyranny, conservative intellectuals must openly ally with the AR-15 crowd," argues author Kevin Slack, a professor at Hillsdale College, in a lengthy book excerpt published in Claremont's online magazine, The American Mind. "Able-bodied men, no longer isolated, are returning to republican manliness in a culture of physical fitness and responsible weaponry. They are buying AR-15s and Glock 17s and training with their friends, not FBI-infiltrated militias or online strangers but trustworthy lifelong friends to build a community alongside."

On Women
Boise State University political philosophy professor named Scott Yenor [delivered] a speech at the National Conservatism Conference in Orlando, Florida, in which he characterized women with professional aspirations as "medicated, meddlesome, and quarrelsome." Yenor's views could hardly have been news to Claremont. Six months previously, the institute had invited him to deliver a keynote on "Feminism and the American Future." Yenor seized the opportunity to inveigh against women's pursuit of economic security and a satisfactory sex life. He maligned the "pernicious trajectory of feminism" and argued that it is "fatal to family life and fatal to the country." … Claremont hired Yenor to be the think tank's inaugural senior director of state coalitions for its new center in Tallahassee, Florida.

On race and a master race
In an interview with Jack Murphy, who was a Lincoln Fellow at Claremont, REN has this to say about the Black Lives Matter protesters of 2020: "All of these people look the same. I mean, they are hideously ugly, malformed people." REN's publisher, as it happens, is Antelope Hill Publishing, otherwise known for its Nazi and white nationalist titles, such as Michael, a novel written by the young—I kid you not—Joseph Goebbels ("Antelope Hill Publishing is proud to present a new English edition….").



Please consider subscribing to American Political Freakshow, from which this is reprinted with permission.
Nina Burleigh is a a journalist, author, documentary producer, and publisher ofAmerican Political Freakshow, a Substack on politics. Her journalism has been published in The New York Times, The New Yorker, Airmail, and New York. She is the author of seven books including most recently Virus: Vaccinations, the CDC, and the Hijacking of America's Response to the Pandemic and an adjunct professor at New York University's Arthur L. Carter Journalism Institute.