Fast-Food Workers Across U.S. Push For Higher Wages
@AFP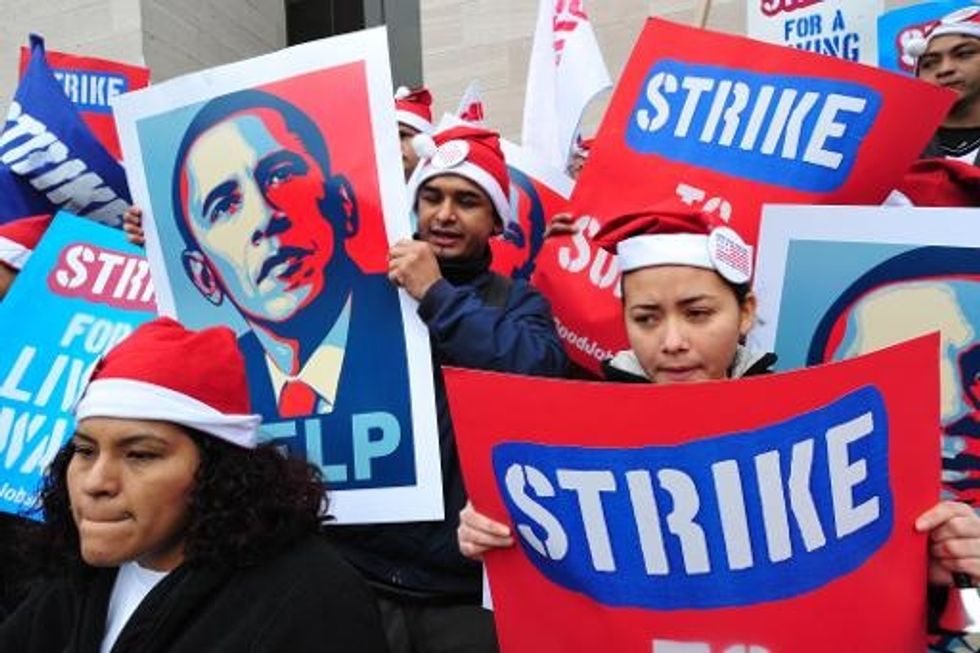 Washington (AFP) – Fast-food workers across the United States launched day-long strikes Thursday to push for what they called a "surviving" wage.
The strikes affected chains such as McDonald's and Dunkin' Donuts and played out across a wide swathe of American cities, from New York and Pittsburgh, Pennsylvania, to Charleston, South Carolina.
Organizers said strike lines were planned in 100 cities coast-to-coast.
The workers seek a pay hike to $15 an hour whereas fast-food jobs typically are paid the federal minimum wage of $7.25 an hour.
"I'm struggling and I'm still dependent on government assistance to help take care of me and my family," said Shementia Butler, 33, who works at McDonald's in Washington and has two children.
"I'm not making enough," she added.
"Everyone must fight this injustice. We work hard, but they don't pay us enough to survive," added Yaya Badji, a 29-year-old from Senegal who earns around $800 a month at Au Bon Pain in Washington. Badji, who arrived in the U.S. a year ago, added he was "really surprised" to find wages so low.
Thursday's strikes come on the heels of previous demonstrations at the end of 2012 and last August urging higher wages at fast-food chains.
Labor organizers also coordinated "Black Friday" protests last Friday in Chicago, Dallas and other cities to push for higher pay at Wal-Mart Stores on one of the most important shopping days of the year.
Protesters Thursday urged President Barack Obama and Congress to act.
"Listen to us, Obama! We're in the street," said a group of strikers who marched in downtown Washington not far from Capitol Hill.
On Wednesday Obama reiterated his call to hike the minimum wage, asserting that "it's well past time" to raise a wage that in inflation-adjusted terms lags the level where it stood in the 1940s.
"If you work hard, you should make a decent living," Obama said "If you work hard, you should be able to support a family."
A McDonald's spokeswoman said Thursday's demonstration should not be called a "strike" because restaurants remained opened.
"Outside groups are travelling to McDonald's and other outlets to stage rallies," she said. "Our restaurants remain open thanks to our dedicated employees serving our customers."
The McDonald's spokeswoman hailed the chain's record of providing employees with "opportunities to succeed" with strong pay, advancement opportunities and training.
The National Restaurant Association rated Thursday's events as "a coordinated PR campaign engineered by national labor groups" in which the "vast majority" of participants are "paid demonstrators" and not real restaurant workers, said Scott DeFife, a vice president for the group.
"The restaurant industry has been one of the few industries that continued to create jobs during the recession and economic recovery," DeFife said. "Dramatic increases in a starting wage such as those called for in these rallies will challenge that job growth history… and lead to fewer jobs created."
DeFife noted that business owners already face "great uncertainty due to a lack of a clear economic plan from Washington and the health care law's implementation.
"Calls to double the minimum wage only intensify the challenges faced by job creators."