Fast-Food Workers Strike For Higher Wages In New York City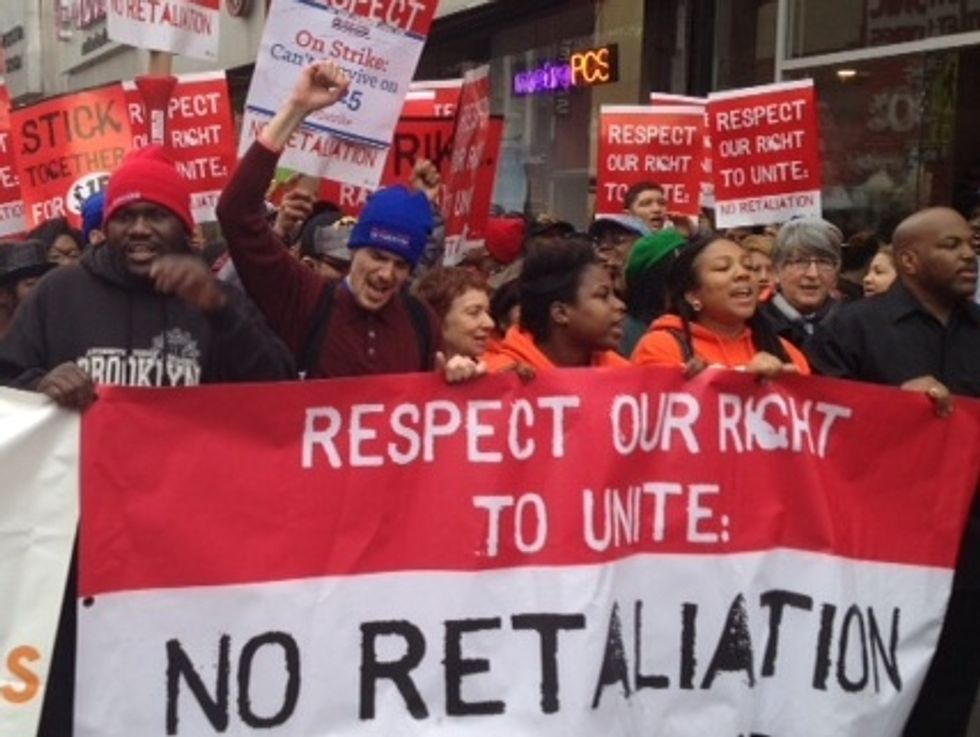 More than 100 fast-food workers, members of clergy, organizers, and elected officials packed a busy Brooklyn street in protest on Thursday. The crowd was energized, but not rowdy. And their message was clear: Fast-food workers deserve an hourly pay rate of $15.00. A living wage.
The protest and strike in Brooklyn was one of over a hundred such events planned in cities throughout the United States. Fast-food chains such as Dunkin' Donuts and McDonald's were targets of strikes, and in Brooklyn, workers vented their frustration at a Wendy's restaurant in a busy shopping district.
As in other cities, the protest was organized by a hodgepodge of progressive community groups. The Service Employees International Union (SEIU) provided technical support and helped train organizers and volunteers. "Fast-Food Forward," a community group leading the campaign to raise New York fast-food workers' pay rate to $15 per hour and New York Communities For Change (NYCC) organized protesters and communicated with police. And New York City Council members, rabbis, and fast-food workers delivered speeches to the crowd throughout the day.
"It's a broad coalition of groups with a vested interest in seeing fast-food workers win," Kendall Fells, Organizing Director of Fast-Food Forward, told The National Memo.
Support for organized labor among the strikers and protesters was evident.
"Of course," fast-food worker Naquasia LeGraed said when asked if she supports the idea of a union for her colleagues in the industry. "We need to be protected. Right now my boss could fire me just for eating a fry on the line. We need people who work for the people and open our eyes to what corporations are getting off our backs."
The protesters say they are not willing to budge on their request for a $15-per-hour pay rate, so President Obama's proposal to raise the minimum wage to $9 an hour is not particularly popular with this crowd.
"It's not enough," New York City councilmember Matheui Eugene told The National Memo. "Life is so expensive these days. People need fair wages for assisting their families." He added that a $15-an-hour wage "will put power in strengthening New York and strengthening the United States."
LeGraed said about Obama's proposal, "It's a step in the right direction. It makes me think he's hearing us, but not hearing us all the way. Nine dollars an hour is not enough."
Since proposing a $9-per-hour rate in his most recent State of the Union address, the president has signaled his support for a Democratic bill that would raise the minimum wage to $10.10 per hour (although he has shown no indication that he would endorse raising the minimum hourly rate to $15).
One of the most popular critiques of the $15-per-hour wage for fast-food workers is that it might raise the prices of the food itself. If workers earn $15 an hour at McDonald's, a $3 hamburger could go up to $3.60.
Carroll Hart-Alexander, a political liaison for New York Communities For Change, offered a pointed rebuke to that line of thought: "If they have to add 10 cents to each Happy Meal, they can pay for it," she said.
Photos by Ben Feuerherd