Fearing Right-Wing Fury, Trump Threatens Veto And Shutdown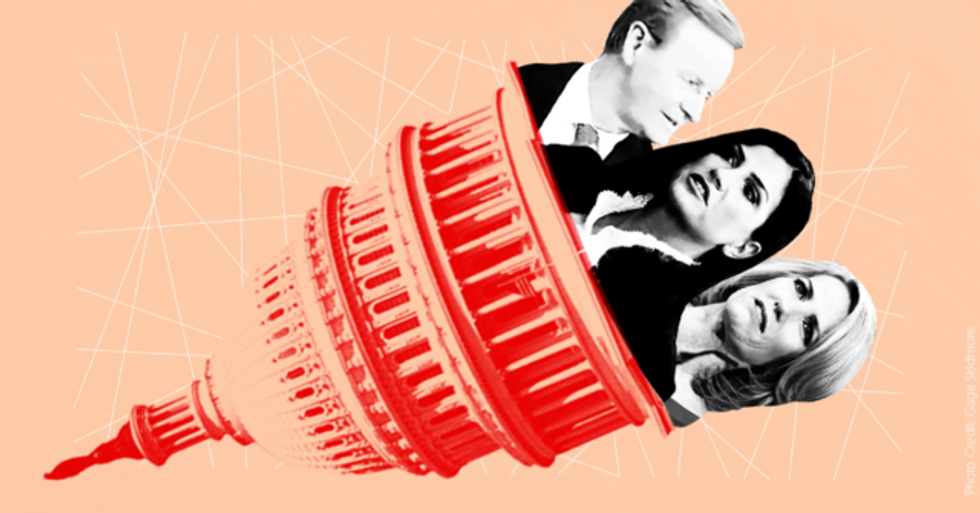 Reprinted with permission from MediaMatters.
After criticism from right-wing figures who usually push pro-Trump propaganda, President Donald Trump has backed away from previous plans and instead set up a potential government shutdown by demanding money for a border wall be included in any stopgap government funding bill.
Fox News spent last week pushing for a government shutdown, cheering on Trump when he firmly declared that he would be "proud to shut down the government." But after the White House signaled earlier this week that it would back off its $5 billion demand to fund a wall at the U.S.-Mexico border in a resolution to keep the federal government funded until next year, right-wing media figures began criticizing Trump and goading him into shutting down the government.  Many of his most ardent supporters began to perceive his decision to sign the bill as weak, calling on the president to change his mind and refuse to sign any proposed spending bill that does not include funding for the wall.
Responding to these criticisms, Trump sent a flurry of tweets adamantly defending his position just one day after CNN reported that the president "has become increasingly sensitive to criticism" from his base over the border wall. Trump then renewed his call for funding, telling lawmakers that he will not sign any bill that does not include funding for the border wall in an apparent nod to his supporters.
Here is a timeline of some of that recent criticism:
December 19
Fox Nation host Tomi Lahren, who has previously made it clear where she stands on the border wall, said on Fox & Friends that "if we need a government shutdown" to build a wall, "then a shutdown is exactly what we need."
Fox & Friends co-host Steve Doocy declare that "effectively, the Democrats win because they didn't want any money for wall. And the swamp wins because runaway spending, which is in the current budget, continues."
Steve Doocy: "It looks as if he's not going to get any wall money. … effectively, the Democrats win. Because they didn't want any money for wall. And the swamp wins, because runaway spending, which is in the current budget, continues." pic.twitter.com/yOJPXkxziJ

— Bobby Lewis (@revrrlewis) December 19, 2018
Doocy later in the show said that Trump will "look like a loser" to his supporters who "drew that line in the sand and said, 'This is worth shutting down.'"
Fox & Friends guest Michelle Malkin said that she's "not going to sugarcoat it" and "not going to spin it" if Trump backs down, describing his decision as "a cave" and "a blink."
2000s has-been and Fox & Friends mainstay Michelle Malkin: "I'm not going to sugarcoat it and I'm not going to spin it. I wish I could but I can't. This was a cave. This was a blink. … because [Mitch McConnell's] afraid of a shutdown" pic.twitter.com/tSkVNCE96m

— Bobby Lewis (@revrrlewis) December 19, 2018
On Fox's Outnumbered, Fox Business host David Asman emphasized the importance of the wall to Trump's supporters, saying that "if [Trump] is viewed by his base as caving on the issue, no matter how they try to spin at the White House, already some of the base is beginning to fray a little bit." Referring to the White House's pledge to find funding for the wall elsewhere, Fox host Lisa Kennedy Montgomery claimed that "if this were the Obama administration … we would all be up in arms."
Rush Limbaugh attacked the Senate-passed resolution, saying, "Trump's gonna get less than nothing because this compromise strips out the $1.6 billion for the wall that the Senate Appropriations Committee had already approved weeks ago." He added, "You can't say for four years, 'Well, I gotta do this and this and this and this and this before I can accomplish this … He doesn't have limitless time to do this."
Ann Coulter unloaded on Trump in a podcast with The Daily Caller, accusing him of being "a joke presidency who scammed the American people." Coulter said that she will not vote for Trump in 2020 without a border wall, adding, "nor will, I think, most of his supporters." (Coulter had also vowed earlier in the week to not support Trump in 2020 if the wall was not built.) Within hours of these comments, the president unfollowed Coulter on Twitter.
Fox regular and former NRATV host Dan Bongino filled in as guest host for Sean Hannity's prime-time Fox News show on Wednesday, discussing the spending bill and the border wall, which he described as "essentially the Trump-MAGA agenda." Matt Schlapp, chair of the American Conservative Union, claimed that "the fact is is this: The president should veto this bill. This breaks the promise with his supporters." Though Schlapp admitted that a shutdown "doesn't mean you get all you want, but you send a message to the liberals" and "that's why it's critical for the president to not sign a bill which is a white flag."
Erick Erickson criticized the negotiating skills of Trump and Republicans:
No wall.
Central America gets $10.6 billion.
Planned Parenthood still funded.
ISIS gets a reprieve in Syria.
Well done, Republicans.

— Erick Erickson (@EWErickson) December 20, 2018
On her Fox News show, Laura Ingraham chastised Trump for not getting the funding, declaring that "not funding the wall is going to go down as one of the worst, worst things to have happened to this administration. … It's a scandal that it hasn't been built." Fox regular and Trump legal adviser Joe diGenova agreed with Ingraham, saying: "I hope that when this thing runs out in February, the president says, 'That's it, no more. A wall or I'm shutting it down.'"
Breitbart's Joel Pollak said that he would prefer a shutdown:
On the wall: first, I've stated I prefer Trump to follow through on his threat of a shutdown over it because he made a threat and must follow through on threats if they are to be credible again — as they will have to be when he tries to wield his veto against a Democratic House.

— Joel B. Pollak (@joelpollak) December 20, 2018
December 20
Fox News contributor Mike Huckabee said on Fox & Friends that Trump "has got to look in the mirror and remind himself he ran … on the idea of we're going to secure the border." Huckabee also downplayed the impact of a shutdown, saying that "the things that really matter to most Americans day-by-day will be funded." Guest co-host Jedediah Bila responded by saying that "this is his signature issue, this is what arguably he won on," claiming that she doesn't "understand how he survives this personally, for his own legacy."
Fox host Pete Hegseth, who is known to speak directly to Trump, called for Trump to shut down the government.
(2 of 3) …Don't listen to squish advisors. Your instincts are right. Dig in and fight. Veto a crap CR bill w/ no WALL funding. Make Dems own "open borders". Disrupt Washington, DC. Make them all squirm. The American People are behind you.

No WALL = SHUT IT DOWN…

— Pete Hegseth (@PeteHegseth) December 20, 2018

On Fox & Friends, NRA spokesperson Dana Loesch called on Trump to shut down both the government and the border until he receives funding, saying that she "would love to see the president … just go ahead and shut down the border, and then shut down the government."

On Fox's America's Newsroom, James Freeman of The Wall Street Journal downplayed the significance of a government shutdown, claiming that "if you look at recent history, shutdowns don't actually do that much political damage."

On Fox's America's Newsroom, Fox contributor and former acting Director of Immigration and Customs Enforcement Thomas Homan said that Trump "needs to veto any sort of continuing resolution" so that "he can stand up and say, 'I have done everything I can to protect our border.'"

Ben Shapiro said Trump should veto "any funding that doesn't include the wall."

BTW, I'm in favor of Trump vetoing any funding that doesn't include the wall. I'm also in favor of Trump vetoing any funding for Planned Parenthood. He should have done this over the past two years. https://t.co/3aBHXwz6la

— Ben Shapiro (@benshapiro) December 20, 2018

Shortly after it was announced that Trump would refuse to sign the bill to keep the government open, Limbaugh said that "the president has gotten word to me that he is either getting funding to the border or he's shutting the whole thing down." Earlier in the show, Limbaugh had told him to do exactly that in order to be "a hero" to the far right.

Header image by Melissa Joskow / Media Matters