Federal Judge Upholds Billboard Slamming Jindal On Medicaid Expansion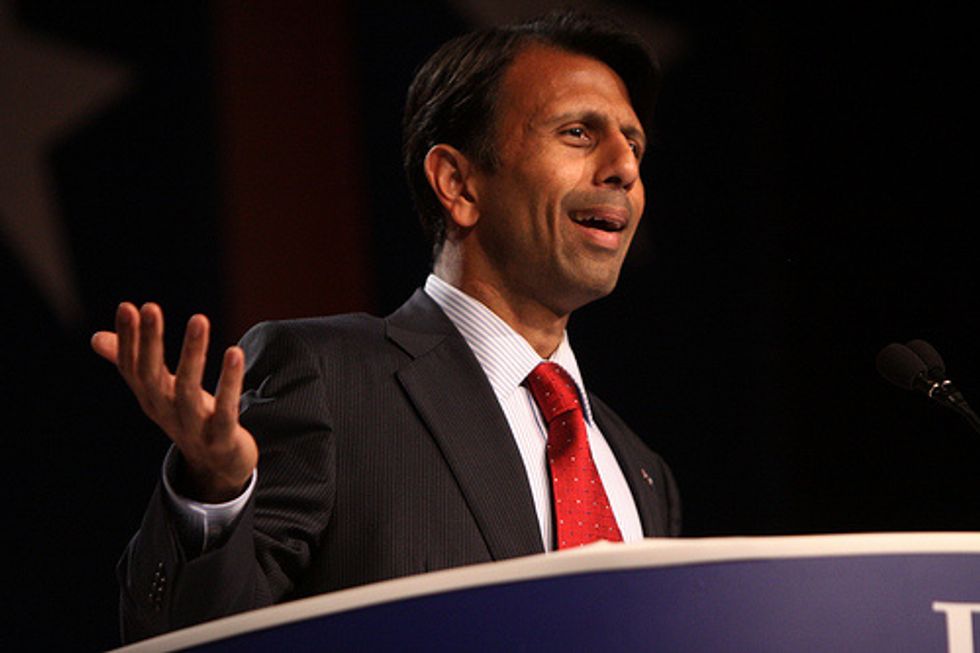 Disappointing — and slightly embarrassing — news arrived on Tuesday for conservative Louisiana governor Bobby Jindal, when a federal judge ruled in favor of MoveOn.Org, the liberal organization that put up a billboard in the state slamming Jindal's refusal to expand Medicaid.
MoveOn had been sued in March by lieutenant governor Jay Dardenne, whose office runs the state's tourism industry. Dardenne, representing the state of Louisiana, accused the group of slandering the "Louisiana: Pick Your Passion" motto when it set up a billboard in the Baton Rouge area that read, "LOU!SIANA: Pick Your Passion! But hope you don't love your health. Gov. Jindal's denying Medicaid to 242,000 people." According to the suit, because MoveOn.org used the tourism campaign logo to blast an elected official, it had violated trademark laws.
MoveOn.org, however, has refused to take down the billboard, arguing that it represents an exercise of the group's free speech.
U.S. District Court Judge Shelly Dick sided with the organization, using the First Amendment in her rationale against Dardenne — and, by extension, Jindal.
"The State has not demonstrated a substantial likelihood of prevailing on its burden of proving confusion by viewers of the billboard," Dick explained in her ruling. "Furthermore, the State has failed to demonstrate a compelling reason to curtail MoveOn.org's political speech in favor of protecting of the State's service mark."
MoveOn.org hailed the ruling on what the group called the state's "baseless lawsuit."
"Lieutenant Governor [Jay] Dardenne should apologize to the taxpayers for this waste of time and money – time and money that could have been better spent finding ways to get Louisianians access to healthcare," MoveOn.org's civic action executive director, Anna Galland, said.
According to TheHuffington Post, Galland says the group is "expanding our billboard campaign in Louisiana."
The campaign – part of a larger, nationwide campaign against Republican governors who have rejected Medicaid expansion – will likely continue to ruffle feathers in the only state to actually file a lawsuit against one of these billboards.
Dardenne cannot appeal the ruling, but he can file a request for a permanent injunction. Even then, a victory would prove difficult, considering that the state would have to provide evidence of "irreparable injuries" to the state's tourism campaign as a direct result of the organization's exercise of free speech.
Still, Dardenne argues that "the governor does not control me or control the Office of Tourism," and therefore "to use our brand to parody another figure" infringes on the office's own trademark campaign.
The lieutenant governor – who might run for governor in 2015, and has said that he would not expand Medicaid under Obamacare — adds that there is a "difference" or "distinction" between his office and the governor's.
For MoveOn.org and proponents of the health care law, however, the ruling is a "victory for common sense," as Galland put it.
Photo: Gage Skidmore via Flickr
Photo 2 via MoveOn.org