Fed's Yellen Gets Medical Attention After Struggling With Speech
@reuters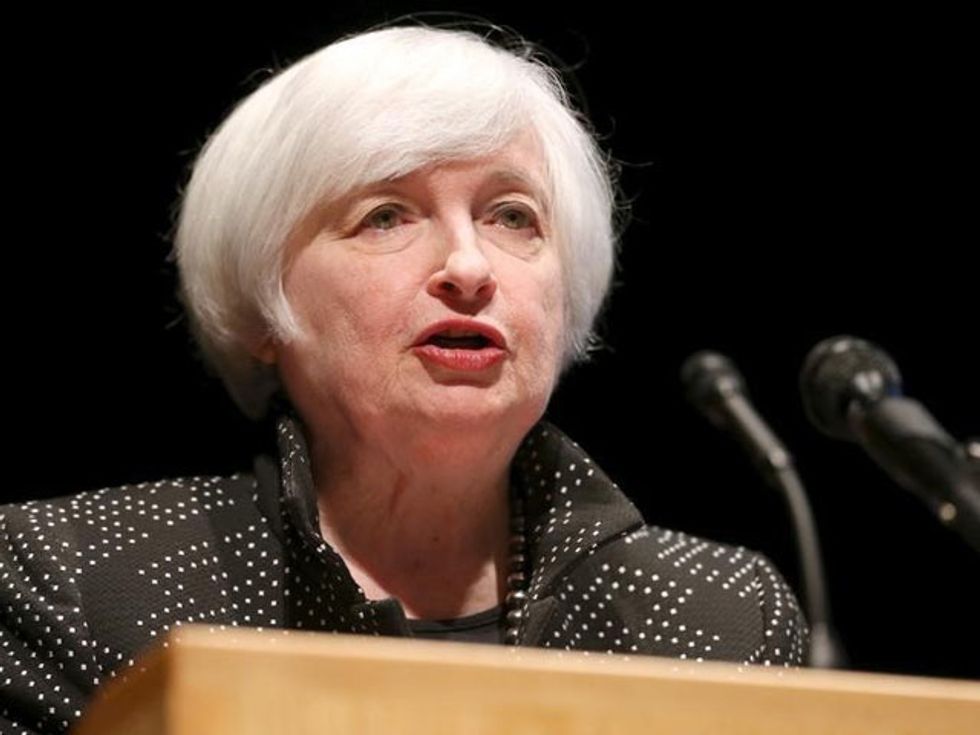 By Jonathan Spicer and Svea Herbst-Bayliss
AMHERST, Mass. (Reuters) — Federal Reserve Chair Janet Yellen received medical attention on Thursday after coughing, pausing and struggling to finish a speech in which she said the U.S. central bank was on track to raise interest rates this year for the first time in nearly a decade.
The 69-year-old Fed chief, who had been speaking for nearly an hour before a packed university auditorium here, appeared to lose her place in reading the last few lines of her speech on inflation. She abruptly said: "Let me stop there."
As head of the world's most powerful central bank, Yellen plays a major role in the global economy and has been at the center of speculation over when the Fed would finally raise rates after being at near zero for almost seven years now, a move that would reverberate through financial markets worldwide.
The frightening few moments, in which Yellen appeared to lose her concentration a few times in a speech at the University of Massachusetts, Amherst, came in her first public comments a week after she explained the Fed's decision to delay the much-anticipated policy tightening.
"Chair Yellen felt dehydrated at the end of a long speech under bright lights," Fed spokeswoman Michelle Smith said in an email. "As a precaution, she was seen by (emergency medical) staff on site at UMass Amherst. She felt fine afterwards and has continued with her schedule Thursday evening."
A university spokesman said she was attending a dinner event as planned.
For Yellen it had been a long day at the university that started with a breakfast with graduate students and faculty, according to three people who were there.
Nearing the end of her speech, she began to slow and then lost her place in reading her notes, before pausing for 20 seconds, beginning again and then taking another 25-second break.
The audience sat in silence as she coughed and appeared slightly flushed before awkwardly concluding.
As she struggled, two people rushed from the audience to the stage door to help her. Michael Ash, chairman of the school's economics department, quickly joined Yellen on stage, whispering: "Are you ok?" He gave her a plaque and followed her off stage, with Yellen smiling faintly and walking slowly but without assistance.
As people departed the auditorium, one was heard saying, "That was scary."
Minutes later, two medical workers standing near the backstage doors said they attended to the Fed chair. One of the workers was carrying oxygen equipment.
The Fed declined to comment on whether Yellen, who has not been known to suffer from any health problems, intended to seek a medical check-up.
RATE HIKE EXPECTED THIS YEAR
Any questions about Yellen's own health could unsettle financial markets that have been skittish about the health of the global economy and the impact of a Fed rate hike, which could rock bond markets and suck capital from emerging markets.
In her speech, Yellen said she expects to begin tightening policy later this year as long as inflation remains stable and the U.S. economy is strong enough to boost employment.
Recent global economic and financial market developments do not significantly affect the U.S. central bank's policy, she said.
That message, along with Yellen's contention that recent inflationary weakness is likely transitory, may come as a surprise to some investors who took last week's policy decision by the Fed as a sign that a U.S. policy tightening was no longer imminent and would likely come next year.
Much of the recent price weakness, Yellen said, is due to special factors such as a strong dollar and low oil prices, which are likely to fade, allowing U.S. inflation to rise to a 2 percent goal over the next few years.
Yellen said that both she and the policy-making Federal Open Market Committee (FOMC) expect the world's largest economy to be strong enough to achieve maximum employment and to keep expectations for prices stable.
"Most FOMC participants, including myself, currently anticipate that achieving these conditions will likely entail an initial increase in the federal funds rate later this year, followed by a gradual pace of tightening thereafter," Yellen told hundreds of students and local residents at the University of Massachusetts, Amherst.
As it stands, she said, U.S. economic prospects "generally appear solid."
The Fed's decision to hold off raising rates for the first time in nearly a decade was somewhat expected, given a recent selloff in global financial markets that was sparked by fears that China's economy is weaker than expected.
But economists and investors reacted to Yellen's cautious tone last week by complaining of mixed messages and pushing expectations of a rate hike out to March of next year, from December previously, based on futures markets.
Yellen, however, said it was best not to delay "too long" what should be a "quite gradual" pace of future rate hikes. "The more prudent strategy is to begin tightening in a timely fashion and at a gradual pace, adjusting policy as needed in light of incoming data," she said on Thursday.
LONG DAY IN AMHERST
The Fed has two more chances to tighten this year, with policy meetings set for October and December.
Yellen cautioned that inflation may rise more slowly or rapidly than anticipated, which would prompt policy adjustments.
But she warned that letting inflation rise too much could lead the Fed to tighten so forcefully it could roil financial markets "and perhaps even inadvertently push the economy into recession."
She also hinted at what would give the Fed assurance that inflation would return to target, clearing the way to a rate hike.
"We need," she said, "to be reasonably confident that we will see continued solid economic growth and further gains in resource utilization, with longer-term inflation expectations remaining near their pre-recession level.
The Fed's preferred inflation measure, the personal consumption expenditures price index, should rise to 1.5 percent or higher next year, from 1.2 percent now, "barring a further substantial drop in crude oil prices and provided that the dollar does not appreciate noticeably further," she said.
She even floated the benefits of pushing unemployment, below its long-run level of about 4.9 percent for a time, saying that would help drive inflation higher, draw discouraged workers back into the workforce and improve Americans' living standards.
Before the speech several people said they had spent time with Yellen during the busy day in this college town. At the breakfast, Yellen spent a lot of time discussing how the Fed works and answered some questions, according to those who were there.
In 2004, at age 57, she ran the Avenue of the Giants half marathon, in the redwood forests of Northern California.
(Reporting by Jonathan Spicer and Svea Herbst-Bayliss; Editing by Chizu Nomiyama, Howard Goller and Leslie Adler)
Photo: U.S. Federal Reserve Chair Janet Yellen speaks at the University of Massachusetts in Amherst, Massachusetts September 24, 2015. REUTERS/Mary Schwalm