How Felix Sater — Former Mob-linked Hustler And Ex-Trump Adviser — Sought To 'Protect' Ukraine's Nuclear Plants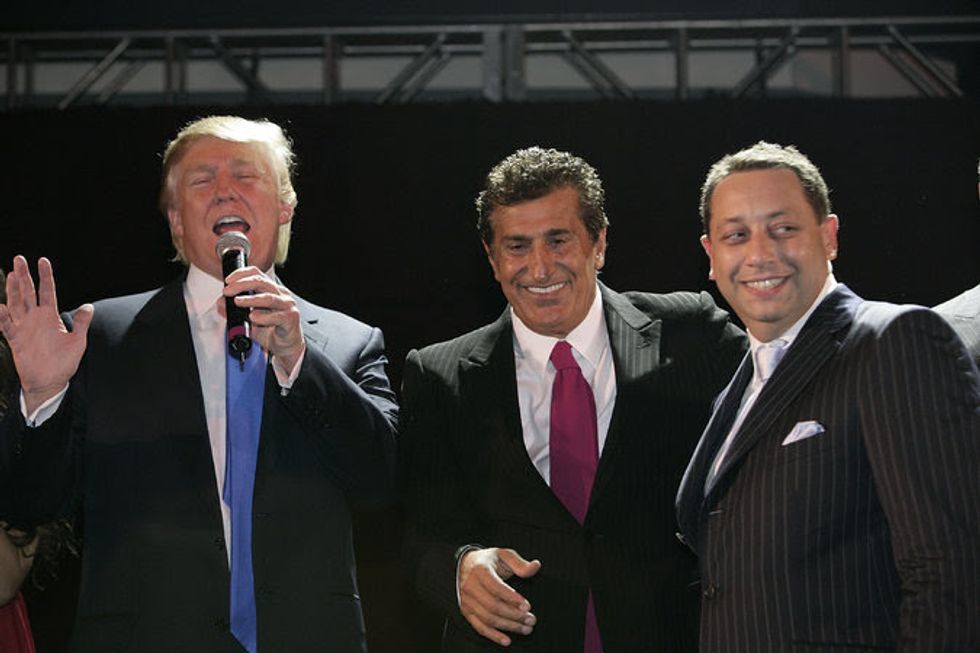 The saga of Felix Sater — a twice-convicted one-time Mafia associate, real estate developer, sometime partner and former "senior adviser" to Donald Trump — continues to grow more complicated and bizarre. Details have now emerged of a second attempted diplomatic intervention by Sater, supposedly to prevent a possible nuclear power plant conflagration in Ukraine.
In a recent investigation for DC Report , (reprinted here by The National Memo ), I explored a series of controversial financial transactions that involved Sater and another former Trump Organization associate named Daniel Ridloff, which involved accusations that the two men had absconded with nearly $43 million from the sale of an Ohio shopping mall to Neil Bush, son and brother of the former presidents.
While that case was settled (with Sater and Ridloff receiving roughly half of the contested money), and there was no evidence implicating Trump in those transactions, the president's business appears to have benefited from them. Several condominiums in his troubled Trump Soho building were purchased with $3.1 million in cash that may have come from the same sources, with roots in Kazakhstan. Investigators have long suspected that figures seeking to hide illicit cash have used Trump businesses, including his casino and real estate holdings, whether or not Trump or his executives were cognizant of such suspicious transactions.
Aside from Sater's criminal past, which was cited by Trump critics during the 2016 election, he drew front-page attention last February, just one week before Michael Flynn resigned as national security adviser over his concealed discussions with the Russian ambassador, when news outlets revealed that Sater had hand-delivered a Kremlin "peace proposal" for Ukraine to Flynn's office. The proposal suggested a way that President Trump could lift sanctions against Russia as part of a negotiated settlement
between Kiev and Moscow.
Behind that proposition, according to the New York Times , were the Russian-born Sater; Michael Cohen, the president's personal lawyer; and Andrii Artemenko, a Ukrainian parliament member leading a political opposition movement that was forged in part by former Trump campaign manager Paul Manafort.
According to the Times , Sater, Cohen and Artemenko met in January in private conference rooms and the restaurant bar at New York's Regency hotel to discuss the plan before it was delivered to the White House.
Now I have learned that Sater and Artemenko met last October 7 for breakfast at the St. Regis Hotel in New York to discuss another major problem in Ukraine: Its aging cohort of nuclear power plants, which may pose safety risks as grave as the 1986 Chernobyl disaster. The meeting was convened a month before the U.S. presidential election. Sater declined to comment and Artemenko — whose parliamentary status and citizenship were revoked by the Ukraine government after the "peace plan" fiasco –could not be reached.
Evidently Sater and Artemenko were seeking the assistance of a third person who attended the breakfast, Robert Armao — a well-connected international businessman who served as labor counsel to the late Vice President Nelson Rockefeller in the early 1970s. Armao says that Sater, whom he'd never met or spoken with prior to last fall, reached out to him through a mutual friend.
"He said that Artemenko was in Washington meeting with members of Congress because of the worldwide effort to deal with nuclear power plants in Ukraine," recalls the former Rockefeller aide. "Many are falling apart, like at the Chernobyl-level, and the plants need to be refurbished."
Armao was invited to the New York meeting because he's a longtime expert on Ukraine. He says he once advised individuals who were working with former Ukrainian president Viktor Yushchenko during the Orange Revolution protests of 2004-2005. During the October 7 breakfast, Armao says he was asked whether he could intercede with Ukraine's current energy minister in an attempt to revive a contract that Kiev had signed with South Korea to bring the nuclear plants up to global standards.
Armao has also enjoyed close dealings in the past with the government of the Republic of Korea, he says, and has done business there for decades. "I said, have you officially asked [the Ukraine energy minister]?," recalls Armao, but "[Artemenko] was sketchy on that. I told Sater and Artemenko that I'd find out what's going on."
According to Armao, he reached out to sources and learned that the Ukrainian government was "in discussion with the Koreans and all was under control. So that was it."
In fact, just five weeks before the breakfast meeting, Korea's state-controlled nuclear power utility reached an agreement with Ukraine to resume construction of two reactors. But it's unclear whether that deal involves the servicing of the existing reactors that apparently concerned Sater and Artemenko.
Armao admits that he was impressed by the former Trump associate. "When you talk to the guy, he wants to save the world. He said, 'You know, [Ukrainian nuclear plant safety] is a big Washington concern.' I do say, the man is brilliant. You sit with him, he talks about real estate, he talks about everything. And he can charm the pants off you, Sater."
Not always, perhaps. In 1993, Sater served a year in prison for stabbing a man in the face with a margarita glass during a bar fight. In 1998, he pleaded guilty to racketeering as part of a mafia-driven "pump-and-dump" stock fraud and then escaped jail time by becoming a highly valued government informant. From 2002-2008, he ran the day-to-day operations for Bayrock Group, one of Trump's biggest real estate development partners during that period.  (In his current Linked-In bio, he refers to himself as Bayrock's co-founder and vice-chairman.) The Bayrock offices were located a floor below Trump's own office in the Trump Tower. In 2010, Sater was given an office down the hall from Trump and made his "Senior Advisor."
Sater and Trump have been doing an odd dance around each other during the past few years, regarding how much they've interacted. Trump consistently has testified in civil cases that he barely knew Sater, barely dealt with him and "wouldn't recognize him if he was sitting in this [deposition] room." However, Sater, in a different civil case, testified that he would often pop his head into Trump's office to give him updates on a Moscow hotel deal they had in the works. (It doesn't appear that project ever came to fruition.) Last September, I half-joked to Sater that he must have a photo album filled with pictures of himself with Trump.  " A photo album?" he responded. "How about six! "
The Trump-Sater relationship is likely to receive sharp scrutiny soon in Washington, both in Congressional probes and perhaps even by special counsel Robert Mueller, who will investigate possible collusion between Russia officials and the Trump campaign in the 2016 election.
In late March, then-FBI director James Comey was asked about Sater's relationship with the FBI when he appeared before the House Intelligence Committee. Comey declined to comment, presumably because Sater spent a decade as a secret government cooperator for both the FBI and at times, the CIA. But in 2015, during her confirmation hearing for the post of U.S. Attorney General, Loretta Lynch offered a teaser. In response to a written question about Sater by Senator Orrin Hatch, she stated that his [decade-long] assistance as a federal cooperator was "crucial to national security."
For national security reasons, it is now crucial that the public learn all the details of Sater's work for the government– and much more.
IMAGE: Donald Trump with Felix H. Sater (right) and Tevfik Arif at the official unveiling of Trump SoHo in September 2007, when it was still under construction. Credit Mark Von Holden/WireImage
Richard Behar is the Contributing Editor of Investigations for Forbes magazine. Susan Radlauer provided research assistance.