Ferguson: Burned Buildings, 61 Arrests In Wake Of Grand Jury Decision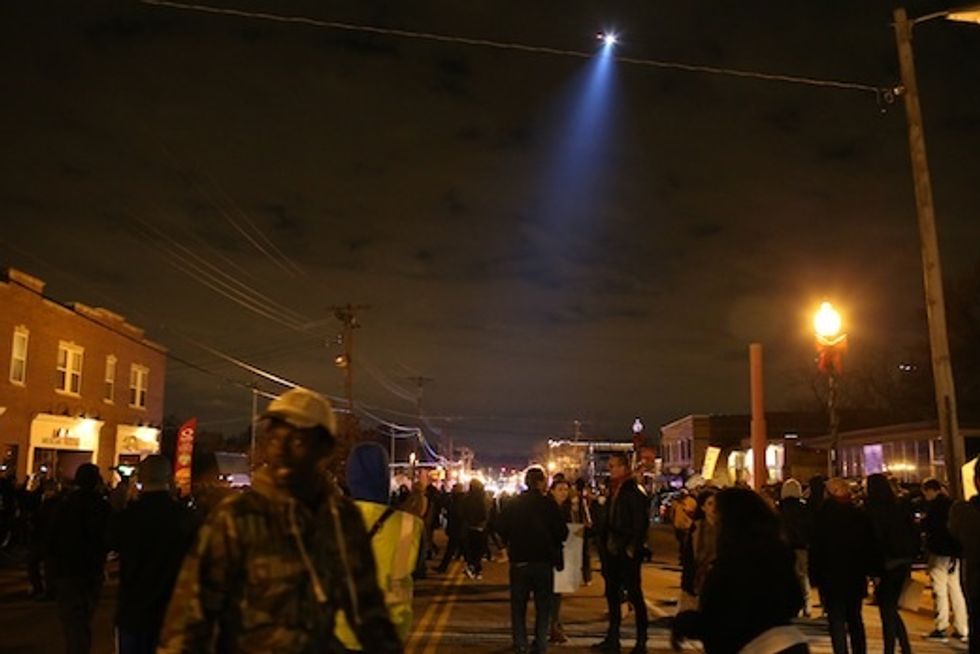 By James Queally, Cathleen Decker, Lauren Raab and Matt Pearce, Los Angeles Times (TNS)
FERGUSON, Mo. — At least a dozen buildings were burned and 61 people arrested during a night of violence and chaos in Ferguson, Mo., that followed a grand jury's decision not to indict a white police officer in the killing of an unarmed black man, police said early Tuesday.
St. Louis County Police Department officials said those arrested could face charges of arson, burglary, possession of stolen property, unlawful possession of a firearm, and unlawful assembly. Only nine of those taken into custody were from Ferguson, authorities said.
During an early morning news conference held while flames still rose from some cars and buildings in Ferguson, St. Louis County Police Chief Jon Belmar said Monday night's unrest exceeded what happened in the days after Ferguson Police Officer Darren Wilson killed Michael Brown on Aug. 9.
Belmar told a news briefing that he heard about 150 gunshots during the night.
"I'm disappointed in this evening. … I didn't see a lot of peaceful protests out there tonight," he said.
Police were pelted with rocks and batteries as soon as the St. Louis County grand jury's decision was announced, he said. Two police cars were set afire and "melted" on West Florissant Avenue, the scene of many protests, and at least a dozen buildings were torched, he said.
As day began to break, police still had no accurate count of the damage or the losses.
"What I've seen tonight is probably much worse than the worst night we had in August," Belmar said. "There's not a lot left" on a section of West Florissant ravaged by arson and looting.
But there was no loss of life, he said, and no serious injuries among police or protesters have been reported. "The good news is that we have not fired a shot," Belmar said of law enforcement.
Missouri Highway Patrol Capt. Ron Johnson lauded law enforcement's restraint. "The officers did a great job tonight," he told reporters. "They showed great character."
Like Belmar, Johnson said the night's violence dismayed him: "Our community has got to take some responsibility for what happened tonight. … We talk about peaceful protests, and that did not happen tonight."
Belmar confirmed that an officer in University City, another St. Louis suburb, had been wounded by gunfire Monday night, but he said that "as far as I know, that is totally unrelated to events here in Ferguson."
St. Louis County police said the officer was hit in the arm and would be OK.
Belmar said he looked forward to getting more National Guard troops in the community, as Gov. Jay Nixon ordered earlier in the evening, but he defended police preparedness.
"I don't think we were underprepared," he said, adding, "I don't think we can prevent folks who are really intent on destroying a community."
"I didn't foresee an evening like this," he said. "I'll be honest with you."
(Queally reported from Ferguson, Pearce from St. Louis and Decker and Raab from Los Angeles. Staff writer Connie Stewart contributed to this report.)
TNS Photo/Armando Sanchez/Chicago Tribune