Ferguson Police Chief Thomas Jackson Resigns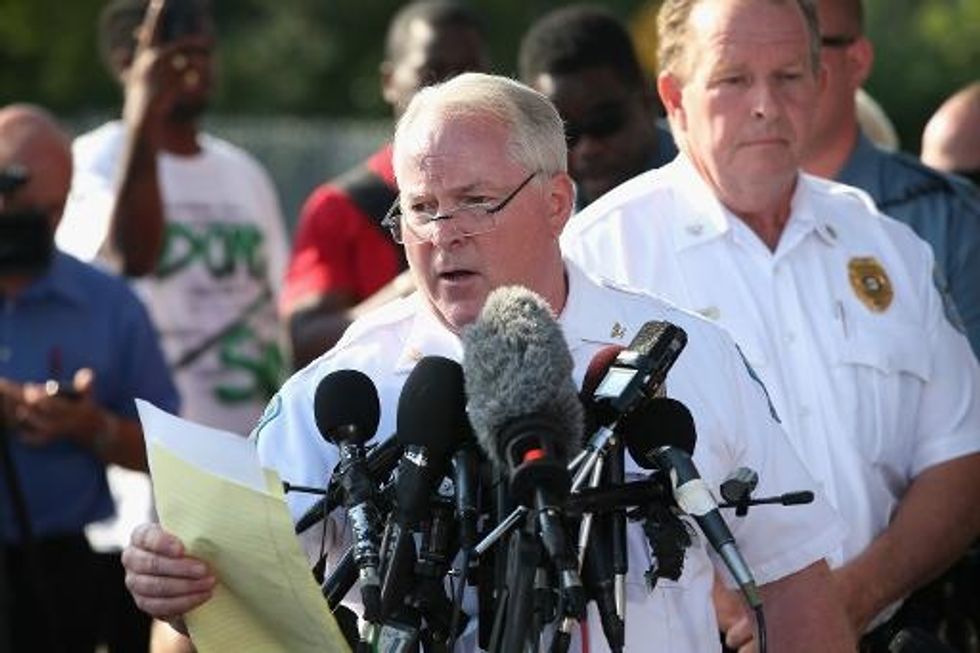 By Christine Byers, St. Louis Post-Dispatch (TNS)
FERGUSON, Mo. — Police Chief Thomas Jackson has resigned from the Ferguson Police Department effective March 19, the St. Louis Post-Dispatch has learned.
Sources say Lt. Col. Al Eickhoff will be appointed as the department's interim chief until a national search for a permanent chief can be conducted.
Jackson, 57, is the sixth city employee to leave in the wake of a scathing federal Department of Justice report that alleged racist police and court practices that aim only to raise the city's revenue instead of protecting its citizens.
In an exclusive interview, Jackson said he felt it was time for the city to move on.
"I believe this is the appropriate thing to do at this time," Jackson said. "This city needs to move forward without any distractions."
In his emailed resignation letter sent to Mayor James Knowles III at about 12:45 p.m. Wednesday, Jackson wrote:
"It is with profound sadness that I am announcing I am stepping down from my position as chief of police for the city of Ferguson Missouri. It has been an honor and a privilege to serve this great city and to serve with all of you," his letter continued. "I will continue to assist the city in anyway I can in my capacity as private citizen."
A press conference was called for City Hall later Wednesday.
Rumors also swirled Wednesday that Knowles was to resign, but he said he did not have plans to do so.
Jackson initially told the city his resignation would be effective March 19. City officials then contacted him Wednesday afternoon and said it should take effect immediately. After discussion about the need for a transition team, both sides settled on March 19 as his official departure date.
Last week, the Justice Department also concluded there was no evidence with which to charge former Ferguson Police Officer Darren Wilson in the fatal shooting of Michael Brown, 18.
But in a separate report, the department report revealed racist emails that were sent by court and police officials, and portrayed a police department and court that discriminated against African-Americans from the initial traffic stop to how they were treated in court.
Since then, the city fired Court Clerk Mary Ann Twitty. Police Capt. Rick Henke and Sgt. William Mudd resigned after they were tied to the emails.
Both police commanders had more than 30 years on the force. Mudd had won the Medal of Valor for his actions in taking down a killer in bloody courthouse shooting in Clayton in 1992. He was most recently Wilson's supervisor.
Municipal Judge Ronald J. Brockmeyer resigned Monday, and City Manager John Shaw resigned during Tuesday's council meeting. Shaw was criticized in the Justice Department report for praising Brockmeyer as a money maker and revenue generator for the city.
The report also heavily criticized Jackson for his role in using the city's police force to generate revenue, quoting emails in which he lobbied to switch to 12-hour shifts that would put more officers on the streets and increase traffic enforcement. The report said such schedules are shown to diminish community policing efforts.
The report also quoted unnamed Ferguson police officers who expressed concerns about the department's emphasis on ticket writing.
In addition, the report criticized the police department for not having adequate accountability systems in place for documenting use-of-force incidents and pedestrian checks.
The report also takes the department and Jackson to task for holding people in jail for more than 72 hours at a time as well as using canines only on African-American suspects.
The federal investigation also found that city police officers stop African-Americans at higher rates than the city's African-American population.
Photo: Ferguson Police Chief Thomas Jackson announces the name of the police officer responsible for the August 9 shooting death of teenager Michael Brown on August 15, 2014 in Ferguson, Missouri (AFP/Scott Olsen)