Filmmaker Cautions: Donald Trump Is Nothing To Laugh About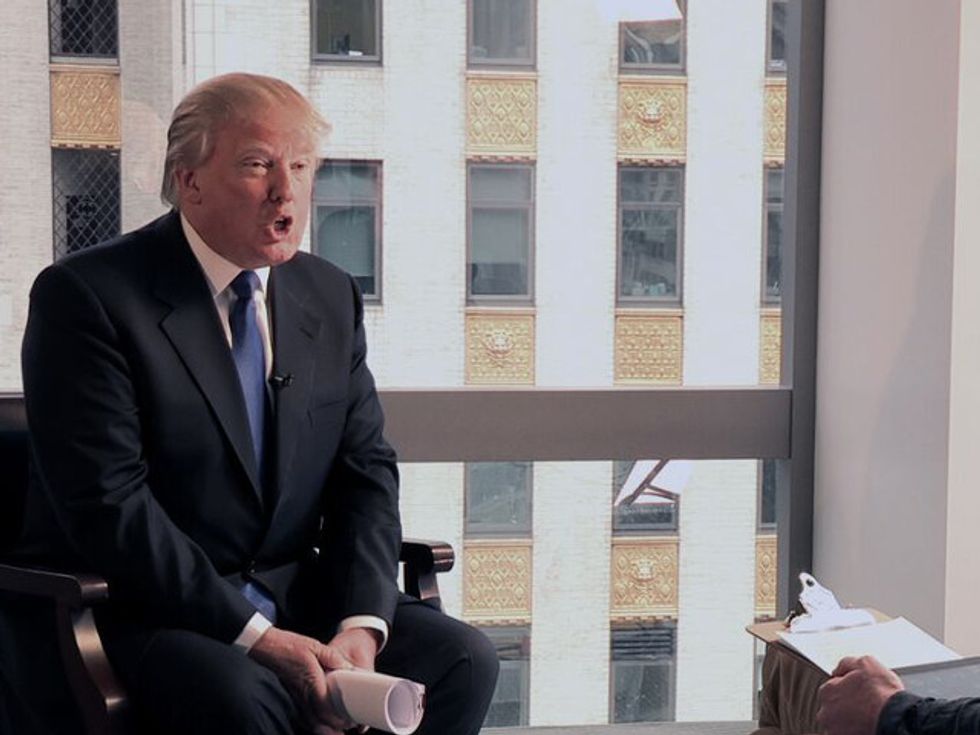 Documentarian Anthony Baxter has some words of caution for voters inclined to treat Donald Trump like a big joke. Despite his bombastic, occasionally laughable persona, Trump is dangerous, Baxter said.
"The main thing," Baxter said in a phone interview, is that even though he "provides fodder for late-night talk shows" with his "ludicrous statements," he is not a laughing matter.
"He's amusing and quite a ridiculous figure," Baxter said, "but he can be quite a dangerous man, and it's important for people to realize that."
Baxter has devoted two films to Trump. The first, You've Been Trumped, documented The Donald's building of a luxury golf course on an environmentally delicate stretch of Scottish coastline. The second, a sequel of sorts, titled A Dangerous Game, widens the scope to include golf course developments taking place all over the world, where local residents are similarly being harassed by developers, ignored by their local governments, and left to deal with the economic and environmental fallout. The new film will be released in the United States on Tuesday.
Golf, Baxter explains, was once a game for everyone: Courses were built in harmony with the natural landscape and the game was open to all walks of life. In the modern state of the sport, however, Baxter found a locus to examine a host of issues related to unchecked capitalism: rising income inequality, eminent domain abuse, and the plundering and poisoning of natural resources (especially water).
The scenario he documented in Scotland in the first film plays itself out in Croatia, Dubai, and China in A Dangerous Game: local governments in thrall to private developers build what are essentially playgrounds for the super-rich in environmentally fragile regions, against the wishes of local residents. As Baxter discovered, there are Donald Trumps all over the world.
When You've Been Trumped was first aired on BBC 2 in 2012, its depiction of local residents being bullied, by legal action and the threat of eminent domain, into selling their property to Trump's organization prompted enormous backlash from viewers. (Baxter himself was arrested in the course of making the film.) It also galvanized Trump, who had previously spurned Baxter's request for an interview, to sit down for a one-on-one meeting that forms the climax of the new film.
In the interview, he stands by his work, saying he hopes the documentary will include mention of the accolades his new course is receiving.
Regarding Trump's risible, rambling speech announcing his candidacy, Baxter said what troubled him most was Trump's assertion that he would be "the greatest jobs president that God ever created."
But as to Trump's record on job creation, "the facts speak differently." Despite his promises to invest heavily in Scotland's infrastructure, and create 6,000 new jobs, according to Baxter, fewer than 200 were actually created.
"It's dangerous to give him too much power," Baxter said. "He makes promises and claims about jobs and investment that don't stand up to scrutiny."
"The facts speak for themselves," he continued. "He does bad things."
You can view a trailer for A Dangerous Game below. The film will be released in the United States on Tuesday, June 23, and is currently available on iTunes and at www.adangerousgamemovie.com.
Still via A Dangerous Game