Fired EPA Staffer Reveals Fresh Pruitt Outrages
@EricBoehlert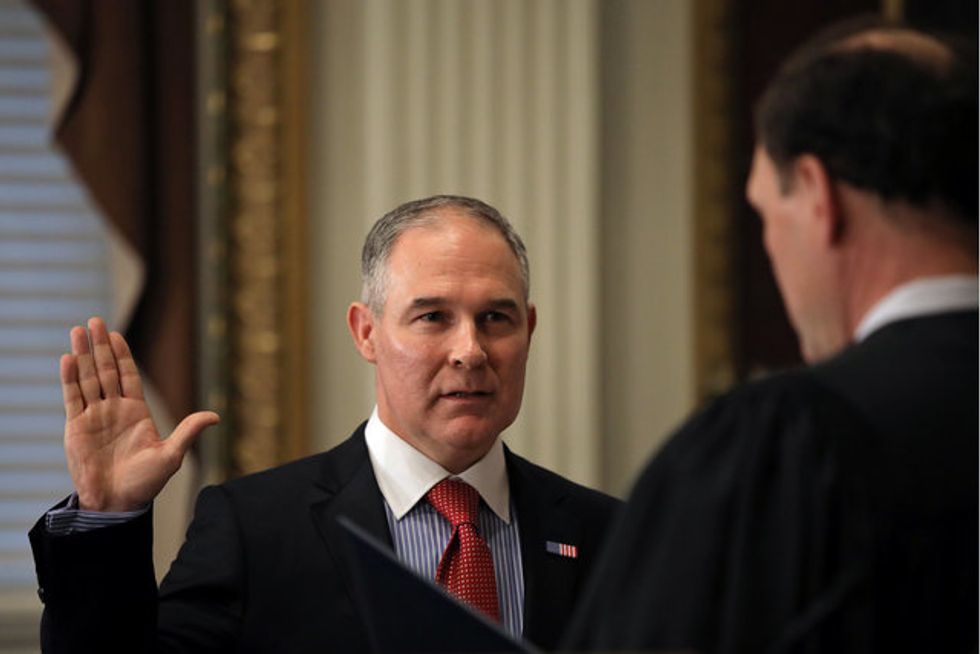 Reprinted with permission from Shareblue.com
EPA chief Scott Pruitt gave his staff a set of simple instructions when he had an urge to travel: "Find me something to do."
Needing at least some sort of justification, Pruitt told his staffers to go hunting for excuses so he could write his personal trips off as official, government-related excursions.
Pruitt's trips included spending taxpayer dollars to repeatedly fly home to Oklahoma on the weekends, as well as visit other destinations, last year. Pruitt also regularly demanded that his flights be booked on Delta airlines — even when the federal government didn't have a government carrier contract with Delta — because Pruitt wanted to bank as many frequent flyer miles as possible.
Those are among the revelations detailed in a new, six-page letter from Senate Democrats, who recently interviewed the EPA's former deputy chief of staff Kevin Chmielewski, who was removed from his post after objecting to Pruitt's runaway spending habits.
"Mr. Chmielewski also provided details about how Mr. Pruitt had assigned one of his aides, Millan Hupp, to 'act as your personal real estate representative, spending weeks improperly using federal government resources and time to contact rental and seller's agents, and touring numerous properties in which you might wish to reside,'" the New York Times reports.
The shocking disclosures add to the mountain of unethical behavior on Pruitt's part. Last year he spent a staggering $3 million on travel, and today he's reportedly protected by security force of 19 agents and a fleet of at least 19 vehicles, paid for by taxpayers, even though the EPA can't explain why Pruitt needs unprecedented protection like that.
On Thursday, two Democratic senators also claimed that Pruitt has maintained "secret" email accounts while head of the EPA.
Still, after waging a public relations campaign last week, exclusively via the conservative media, Pruitt has been able to hang onto his job by portraying himself as a would-be martyr of the Trump era.
Pruitt's fans think he's the real victim and that he's being targeted unfairly by liberal critics who will "use any means" to stop the Trump agenda.
Pruitt's outlandish spending has been noted for many months, but the story exploded anew when he was caught "leasing" a luxury Washington, D.C., condo on a per-night basis from the wife of an energy lobbyist at far below market value, even while the EPA approved a pipeline extension for a company represented by that lobbyist's firm.
Pruitt's daughter also benefited from the sweetheart condo deal, which cost just $50 a night. But even with the discount, Pruitt didn't pay the rent and the lobbyist landlord had to change the locks on him.
Meanwhile, the pressure on Pruitt continues to mount. Rep. Trey Gowdy (R-SC), who's retiring after this year, is pushing to get more documents about Pruitt's sweetheart lease deal, as well as his costly plane travel.
It looks like Pruitt will even have to explain to Republicans what he meant by "Find me something to do."