Five Tea Party Favorites Headed For Defeat In GOP Primaries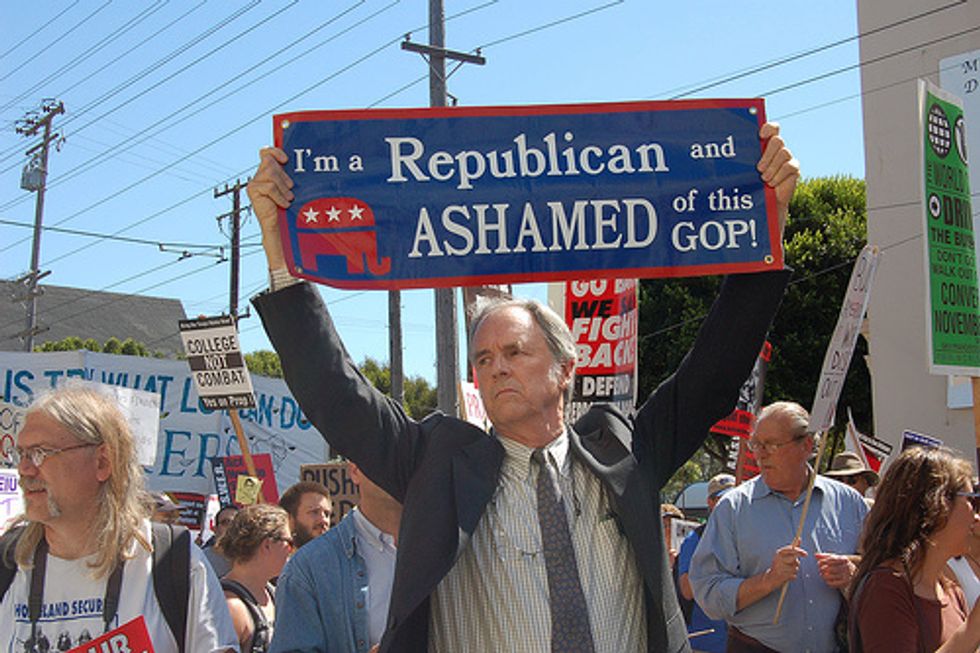 The 2014 midterm elections are kicking into high gear, with GOP primaries throughout the nation being watched closely as "establishment" Republicans and Democrats alike anticipate the defeat of several Tea Party candidates.
Just four years ago, the Tea Party emerged as a powerful and, for some, fresh force in the Republican Party. Today, however, ultraconservatives are struggling to maintain their foothold against party leaders. As a result, the GOP's ongoing civil war has been exposed, as the far-right faction battles "establishment" Republicans for control of the party.
The political impact of this infighting is especially transparent ahead of the midterm elections: The Republican Party is increasingly more conservative as even its more moderate members recognize the threat posed by their Tea Party challengers.
But even as Tea Partiers enjoy their influence on the GOP platform, establishment Republicans seem likely to run up the score in primaries across the nation.
Read on to learn which Tea Party candidates are headed for defeat in 2014.
Photo: Steve Rhodes via Flickr
Matt Bevin
In Kentucky, Democrat Alison Lundergan Grimes is more of a threat to Republican Senate Minority Leader Mitch McConnell's re-election hopes than his primary challenger, Matt Bevin.
Ahead of Tuesday's primary, incumbent McConnell enjoys support from 55 percent of his state's likely Republican voters, according to the most recent Bluegrass Poll. Bevin holds only 35 percent of likely voters' support.
Photo: BevinForSenate via YouTube
Bryan Smith
U.S. Representative Mike Simpson (R-ID) is seeking a ninth House term and his once-hyped Tea Party challenger, Bryan Smith, seems unlikely to stop him.
Backed by other prominent Republicans like House Speaker John Boehner (OH) and former Massachusetts governor and GOP presidential candidate Mitt Romney, Simpson's widely anticipated victory over Smith, a local attorney, could mark one of the greatest establishment victories over the far right as it takes back control over the state previously labeled as "ground zero" for the GOP's civil war.
Photo: Bryan SmithID2 via YouTube
Milton Wolf
Tea Partier Milton Wolf did the impossible when he launched a campaign to the right of conservative senator Pat Roberts of Kansas. In an effort to completely remove his rival from the race, Wolf then unsuccessfully challenged Roberts' Kansas residency.
And with Roberts still on the ballot for the August primary, Wolf's campaign is expected to be equally unsuccessful. According to a February poll, Roberts leads Wolf 49 to 23 percent.
Photo: Milton Wolf via YouTube
Paul Broun
In Georgia, five Republicans are battling it out to succeed retiring senator Saxby Chambliss (R). Among them, U.S. Representative Jack Kingston and businessman David Perdue – both of whom have embraced the GOP establishment while maintaining ultra-conservative positions on an array of issues — seem like the top two contenders for the nomination.
Meanwhile, U.S. Rep. Paul Broun has launched harsh Tea Party-themed attacks on both candidates. Broun may be doing the Tea Party's dirty work, but just two months before the primary, he is hardly a threat to win the race. According to the most recent polling data collected by Morris News Service/Fox5, Broun enjoys only 10 percent support from likely voters — leaving him in last place among the five candidates.
Photo via Paul Broun
Tim Donnelly
Prominent Republicans are uniting in their fight to ensure that Tea Party favorite Assemblyman Tim Donnelly goes nowhere in California's gubernatorial race.
Donnelly is up against Bush administration official Neel Kashkari in the June primary. Even though Donnelly has enjoyed a solid lead over Kashkari for months, the GOP is fighting back hard against his campaign. Even if Donnelly wins the primary, he hardly stands a chance against incumbent Jerry Brown for California's governorship.
Photo: Ernie Tyler via Flickr
Want to keep up with the 2014 midterm elections? Sign up for our daily email newsletter!