Florence Hitting Homes Already Bailed Out By Taxpayers
@lisalsong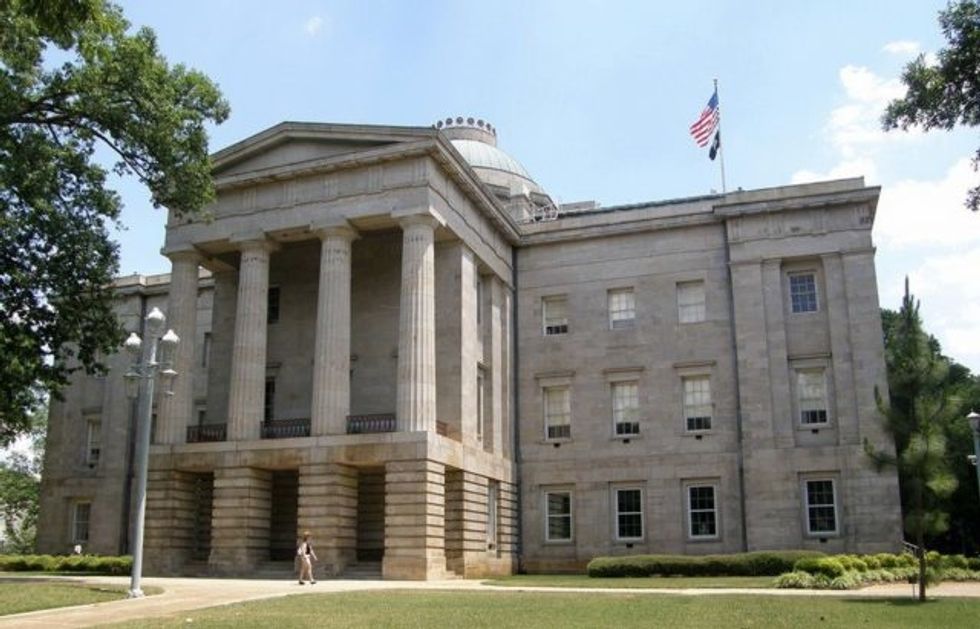 Reprinted with permission from ProPublica.
Though the flooding from Hurricane Florence is predicted to be unprecedented, residents of the coastal North Carolina towns threatened by the storm surge know what it's like to take on water. Some homes in these areas have been repeatedly flooded — and repeatedly bailed out by federal flood insurance.
ProPublica examined storm surge predictions by the National Hurricane Center, layering a map of areas expected to be affected by Florence over a map of the most flood-prone properties tracked by the Federal Emergency Management Agency, which provides most of the flood insurance for U.S. homeowners.
Critics have long argued that the program subsidizes risky development, but efforts at reform inevitably stall because raising premiums would make flood insurance unaffordable for lower-income residents. The insurance is required for federally backed mortgages of homes in flood-prone areas. The program is more than $20 billion in debt.
Looking at some of the towns, it's easy to see why.
High-risk areas include communities along the Pamlico River and North Topsail Beach, which is on a barrier island near Wilmington. Homes there have gotten multiple flood payouts from FEMA's National Flood Insurance Program going back as far as 1978. One property in North Topsail Beach has received nine separate payments, totaling $77,000, though the building is worth just $37,125. Another in nearby Topsail Beach has received 10 payments worth $467,000. That building is worth $300,000.
FEMA places buildings like these — including 1,132 across North Carolina — on a special list called "severe repetitive loss" structures because they've been flooded and rebuilt again and again with FEMA flood insurance. Properties that qualify for the list have made at least four claims of more than $5,000 each since 1978, or two claims with a combined value that's worth more than the building itself. There are more than 35,000 such properties nationwide.
Collectively, the buildings in North Carolina are worth at least $280 million, and they've received $164 million in payments, according to FEMA data provided by the Natural Resources Defense Council, an environmental advocacy group. The list undoubtedly will grow after Hurricane Florence, placing additional strain on a debt-ridden program that experts say is in desperate need of reform.
The areas facing the worst impact from Hurricane Florence are among the most vulnerable in the country when it comes to sea-level rise; parts of North Topsail Beach, for instance, are eroding at 5 feet per year.  And a team of scientists concluded on Wednesday that climate change had supercharged the storm — increasing its projected rainfall by roughly 50 percent and its size by 50 miles.
Rob Moore, a senior policy analyst at the Natural Resources Defense Council, said these homes are "perfect examples of what we'll see as sea levels continue to rise."
North Carolina has a rocky history of confronting sea-level rise. In 2012, after scientific advisers for the state predicted up to 39 inches of rising sea levels over the next century, state legislators passed a law saying North Carolina would only base policies on studies that exclusively used historical data, effectively outlawing climate science. The current governor has backtracked, and North Carolina has joined a multistate effort to tackle climate change.
Moore said the government should fund more property buyouts to permanently remove homes from risky areas. Nationwide, a majority of the homes on the list belong to low-income and middle-class residents, he said, and since buyouts often take years to process, most homeowners can't afford to wait and are forced to use insurance claims to rebuild in the same place.
The slow-moving hurricane will linger over the Carolinas through the weekend.
We're interested in talking to homeowners on the "severe repetitive loss" list. If you think your house is on this FEMA list, and if you've been affected by Hurricane Florence, please contact us at lisa.song@propublica.org or al.shaw@propublica.org.
ProPublica is a Pulitzer Prize-winning investigative newsroom. Sign up for their newsletter.