Florida Agency Opens Probe Of Bannon-Backed 'We Build The Wall'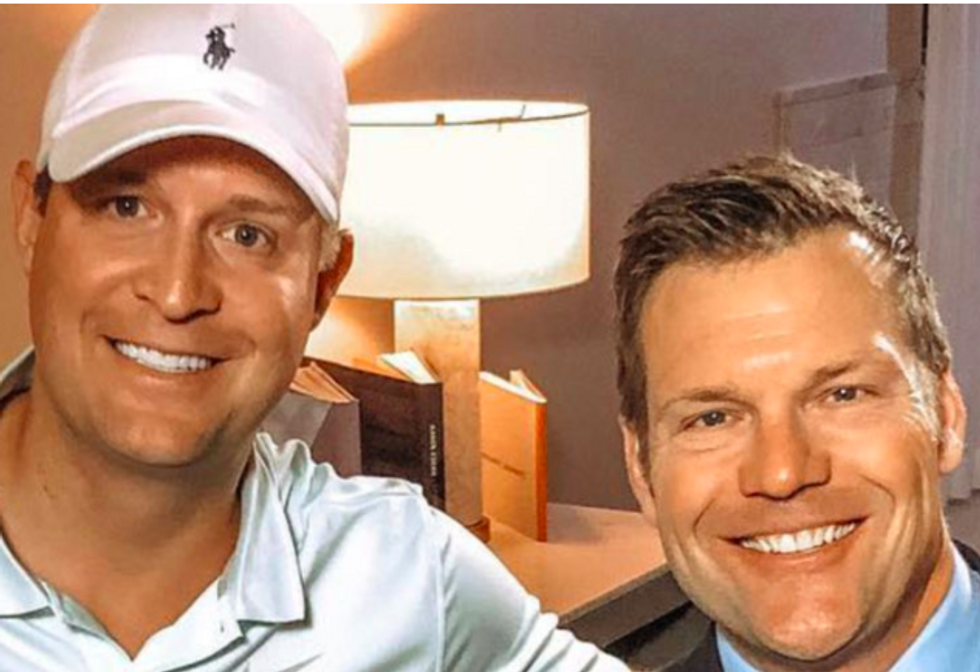 Reprinted with permission from DCReport.
A public record request just revealed that the charity started by a Florida man who raised more than $22 million on GoFundMe to build a private border wall just fell under potentially criminal investigation by a state consumer protection regulator.
Florida's Department of Agriculture and Consumer Services (known as AgDept.) oversees charities which solicit funds from the public. It began investigating Brian Kolfage, who raised millions on GoFundMe before incorporating Florida nonprofit WeBuildTheWall Inc. (WBTW) after public officials received complaints and saw Snopes.com's reporting about the questionable uses of over $1.7 million of the funds intended for its project. Public budget disclosures from the state-regulated charity indicate unusual expenditures may have been made by the well-endowed WBTW, which operates out of a post office box storefront in Panama City Beach, Fla.
WBTW also has an apparent problem following the corporate formalities that allow it to accept tax-free donations by lacking the minimum number of directors. It also has filed false statements about those issues with its regulator, the Florida AgDept.
"We have received a media inquiry about a company called We Build The Wall [sic], started by Brian Kolfage," wrote Scott Hunt, chief of the Special Investigations Unit under Ashley Moody, a Republican who is Florida's attorney general. Hunt's letter was sent to the director of the Florida AgDept.'s Compliance Bureau, Liz Compton. In turn, Compton alerted her boss.
"Have you received any inquiries or launched any investigations re: this company?" Hunt asked. He shared three consumer complaints against WBTW, one of which cited a complete lack of corporate governance to manage over $20 million tax-free dollars.
"We're opening an investigation on them," replied Amy Topol a mere 50 minutes later. She is the Florida AgDept.'s director of Consumer Services, which oversees charities that solicit the public.
One of Topol's bosses confirmed to the DC Report that the state will look into whether Kolfage caused materially false statements to be made in required charitable disclosures. The disclosure, filed with the assistance of counsel, states the charity has three directors. Yet it has only one listed director, Brian Kolfage, its president.
"We have an ongoing investigation into WeBuildTheWall Inc.," said Franco Ripple, the StateAg spokesperson.
Kolfage has told numerous media outlets, including Snopes, that former Kansas Secretary of State and Trump acolyte Kris Kobach is on his board. That is also what he told the Florida AgDept., along with naming a third director, Dustin Stockton. Articles of incorporation filed with Florida's Secretary of State and a copy of the complete archive of corporate filings contradict that story.
Florida law prohibits filing materially false statements with the AgDept. charitable registration. If the department decides that materially false statements have been submitted, it has the power to impose administrative fines of $10,000 per occurrence. It's a third-degree felony crime for anyone to knowingly and willingly submit a false filing to the department or lie to its investigators, which can result in up to five years imprisonment.
The Florida AgDept.'s Compliance Bureau first contacted Kolfage in January, demanding that he comply with state charitable solicitations law and register WBTW with them by completing a detailed questionnaire disclosing its board members, its activities and a sample budget. Kolfage responded by filing registration paperwork in February with help from his first lawyer. The AgDept. found the paperwork incomplete. Then in March a new lawyer, based in Texas, responded to the deficiency notice and corrected the filing.
However, both the original and revised filings by WeBuildTheWall Inc. contain materially false information about the nonprofit's board of directors.
WeBuildTheWall Inc. still only has a single director, its president, Kolfage.
That disclosure is likely considered a material fact because Florida law says that the nonprofit "corporation must never have fewer than three directors."
The revelation that WBTW only has a single director could have led to a further investigation because the three director minimum is considered the first line of oversight to ensuring that charitable funds are properly directed.
Without other directors, Kolfage could open banking accounts on his own, a major avenue for potential fraud and abuse.
Florida's AgDept. also regulates charity raffles. In response to a public records request, the department's general counsel, Steven Hall, provided a consumer complaint about an apparently illegal raffle run by WBTW in May.
The raffle requires a mandatory donation for entrants to be eligible to win a trip to meet what it advertised as its "MAGA all-star board of advisors." The raffle reads "TO ENTER: Please fill out the 'raffle ticket' with your name and email address."
Requiring a cash donation violates Florida law on charity raffles. It instructs entrants that "to win you must be a donor, and we will verify this with our records."
When asked if WBTW registered its raffle, Hall said he could not locate any responsive records but did identify the state's criminal law prohibiting entry fees or mandatory donations to enter raffles. Violation is a second-degree misdemeanor.
The AgDept. has the power to issue a cease and desist order to WeBuildTheWall Inc. for its false filings. It could also fine the charity or revoke its registration to solicit funds. It also could place the charity on probation, or some combination of all of those remedies, if it decides that the disclosure filings were illegal.
Without three directors, a Florida nonprofit cannot conduct any lawful business. In the case of WeBuildTheWall Inc., there is a further complication in that there is no apparent way for Kolfage to add new directors because he incorporated without a quorum of directors, and his articles state that the only way to add new directors, "shall be provided in the by-laws of the corporation."
Without a quorum of directors already, Brian Kolfage cannot call an organizational meeting to adopt new bylaws.
That could be a major problem for real estate deals that Kolfage has in the works. "We are under multiple land contracts," Kolfage wrote by email two weeks ago.
"It's a Catch-22," says Florida lawyer Sree Reddy. "How can he cure the defects without a quorum? There's no ability to take votes or anything. His big issue is that he already took the money, which makes it harder now. WeBuildTheWall Inc. might have to seek a remedy from the courts in order to add new directors. In addition, without a functioning corporation, the charity can't obtain title insurance in a real estate acquisition transaction."
Two other Florida lawyers told the DC Report that Kolfage might need to go to court and get a "court order" to amend his articles of incorporation to add new directors so this new board can adopt bylaws and conduct lawful business. However, these actions would not be retroactive.
"If there is a single member board in a not-for-profit corporation then there is no multiple-member board to vote on changes," according to attorney Harris Gilbert of Gilbert & Smallman, which has offices across the Sunshine state.
"The single member would likely have to petition the court on any amendments and a judge would have to review the proposed amendments, determine if they are legally sufficient and then issue a court order to allow for any changes to have proper legal effect," Gilbert said.
That hasn't stopped Kolfage from claiming that the bylaws of WBTW prevent him from profiting off his private wall efforts.
"My time with WBTW is volunteer, I will never take a penny from it. It's even in our bylaws that I receive no compensation," Kolfage wrote by email. But he refused to provide a copy of his bylaws or corporate records showing they were adopted at a proper meeting.
A purported copy of the bylaws documents provided to the Snopes.com fact-checking website states that say Kolfage will receive no salary as a corporate officer. However, Snopes published only a portion of the purported bylaws.
The nonprofit's articles declare that it would seek tax-exempt status under section 501(c)4 of the IRS code as a social welfare organization.
Donations to so-called C4 organizations are not tax deductible because a C4 is not a charity.
Accordingly, the Internal Revenue Service confirmed that WBTW applied for nonprofit status in January. But the IRS is backed up in processing new applications. The IRS is currently processing August 2018 applications, and will not release any of WBTW's records until a determination of tax status has been made. Social welfare organizations may not make politics their primary purpose and could be taxed on any funds used for political purposes.
WBTW is associated closely with Kobach; former Trump campaign chairman Steve Bannon who went on a midwest road show to Detroit and to Cincinnati to tout the private wall charity; and former Milwaukee Sheriff David A. Clarke. It's wall GoFundMe page is emblazoned with "Trump Approved" across its photo which raises the specter of involvement in the 2020 Republican primary campaign. Florida law prohibits a charity from advertising any personal endorsement unless it is consented to in writing.
"One of the biggest debates right now at the Federal Election Commission (FEC) is what qualifies as a political committee. This group probably falls somewhere in the grey area," wrote the nonprofit Campaign Legal Center spokesman Corey Goldstone about WBTW's seemingly political activities, "a nonprofit organization cannot engage in political campaigning on behalf of or in opposition to a candidate for office, or it may risk its tax-exempt status."
Kolfage claims to have audit committees on the board of WBTW, but under email, questioning refused outright to say who sat on those boards and refused by email to name his claimed external auditor either.
Kolfage's charity reported a salary budget of $690,000, a "fringe benefits" budget of $78,864, alongside a $500,000 budget to acquire land or easements (perpetual use rights) with $1 million set aside in the first year just for legal services.
"Don't need to explain anything wall related," Kolfage said by email when asked for land records. "You aren't privileged to this information."
It's unknown whether Kolfage collects any of the "fringe benefits."
Kolfage denies improper use of corporate funds for reasons other than his organization's plan to erect a wall along America's southern border, but refused to provide any records in 13 emailed replies to this author.
"We have hired and paid a major construction firm and are under contract with them," Kolfage wrote by email two weeks ago, when he refused to provide any records to rebut earlier news stories. "We don't owe you anything."
Public boat registration records indicate that Kolfage lives in a $1 million country club home in Miramar Beach, Fla., with no apparent income except a "coffee company."
"Also, if we were doing anything wrong GoFundMe would pull the plug," he added. "GoFundMe is fully aware of what we are doing…"
GoFundMe did not reply to an emailed request for comment sent through its press contact page.
Sunland Park, N.M., is where the group attempted to build its wall and got stopped by City of Sunland Park officials on May 28 for a code violation. Mayor Javier Perea says that city staff issued a cease and desist order against WBTW until they apply for proper permits which Sunland Park believes will take at least two weeks to process. Kolfage held a media day and celebration on June 4 outside his project, even while Sunland Park's Mayor Perea told the local Fox News outlet that they still do not have valid building permits.
No deeds or land easements or any records constructively indicating site control for wall activities were found in public records during a search of the Dona Ana County clerk's website. The mayor noted that city zoning requires a 6-foot maximum fencing height, while WBTW was constructing an 18-foot-tall fence before ordered to stop.
WeBuildTheWall Inc. has numerous apparent deficiencies in the way that it is managing a charity with $20 million in known funds, which were solicited from over 260,000 Americans across the United States. However, it did not tell the Florida Agriculture and Consumer Protection Department about those corporate problems, instead claiming a full complement of directors. It also filed a budget citing unusual items like "fringe benefits" and a bloated legal budget, even though charities are not allowed to let their incomes inure to the benefit of insiders.
Several Florida attorneys agreed that Kolfage's charity has a procedural problem dating to its incorporation. Although the charity did file its required registration paperwork to be a social welfare organization with the IRS, it's not clear whether f it disclosed its single-member board to the tax agency.
Featured image: Brian Kolfage (left) with Kris Kobach. (Source: Kolfage's Instagram page.) Special thanks to American Oversight.
Follow Grant Stern on Twitter @grantstern and check out his first book, Meet the Candidates 2020: Elizabeth Warren on sale now, as part of his Meet the Candidates 2020 Series.