Florida County Puts The Confederate Flag Back Up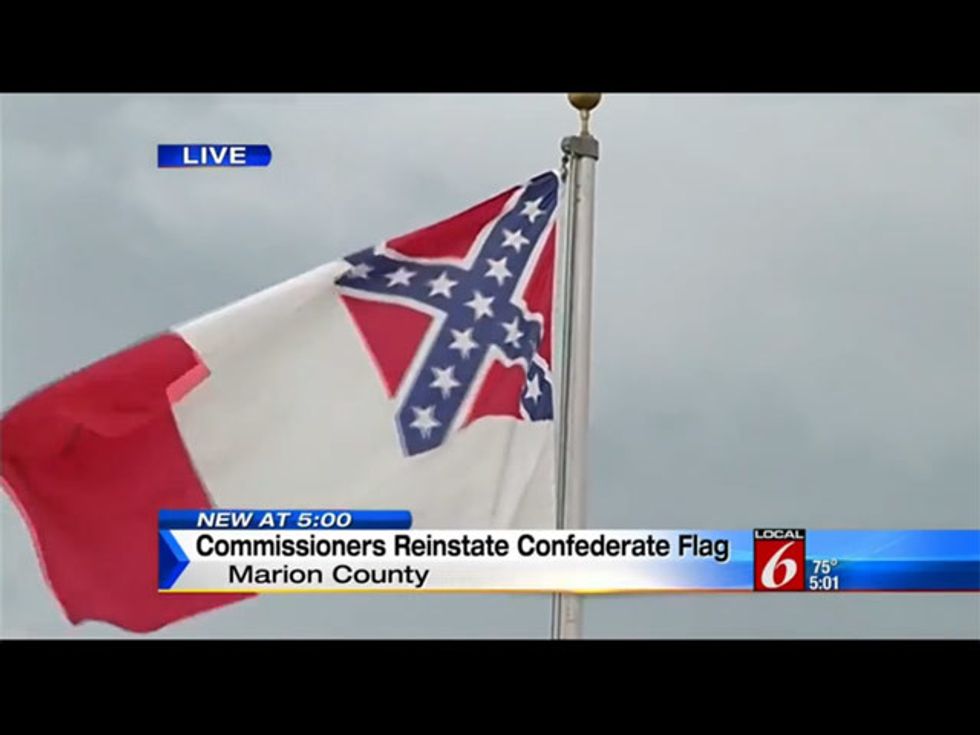 Now here's something you don't expect to see in the current national climate: A local government that takes down the Confederate flag — and then puts it back up.
The site is Marion County, Florida, which is home to the city of Ocala. The county administrator and county board chairman had decided to take the flag down, in the wake of the high-profile racially motivated mass murder at a historic black church in Charleston, South Carolina, and the subsequent public backlash against displays of the Confederate flag on public property.
However, on Tuesday the County Board of Commissioners voted against approving this decision, and the flag is now flying again. The local CBS affiliate has the story — complete with local (white) residents expressing their approval — as well as a Republican state legislator from the area who said: "We are all exposed to messages and symbols that may not connect for us, but we should all honor our ancestors and protect free expression."
The Confederate national flag appears to be flying in a row alongside other historical banners of countries that controlled Florida: the United Kingdom's Union Jack; the royal standard of the Crown of Castile from Spain; and the flag of the pre-revolutionary Kingdom of France. The American flag is placed at the center, making five flags in all.
The specific flag there is the final official national flag of the Confederacy, adopted in 1865, sometimes also known as the "Blood-Stained Banner." It added a red stripe to the previous national flag of the Confederacy, the "Stainless Banner," which placed the familiar battle emblem inside an all-white field — in order to emphasizes the new country's commitment to "the heaven-ordained supremacy of the white man over the inferior or colored races," according to the man who designed it and championed its official adoption. (That newspaper editor, William T. Thompson, also sought to have this banner be known as "the white man's flag.")
The red stripe was later added so that the flag, with its large white field, would not be mistaken for a flag of truce or surrender — though of course, this modified flag was adopted very shortly before the Confederacy lost the Civil War itself.