Florida Judge Overturns State's Ban On Gay Marriage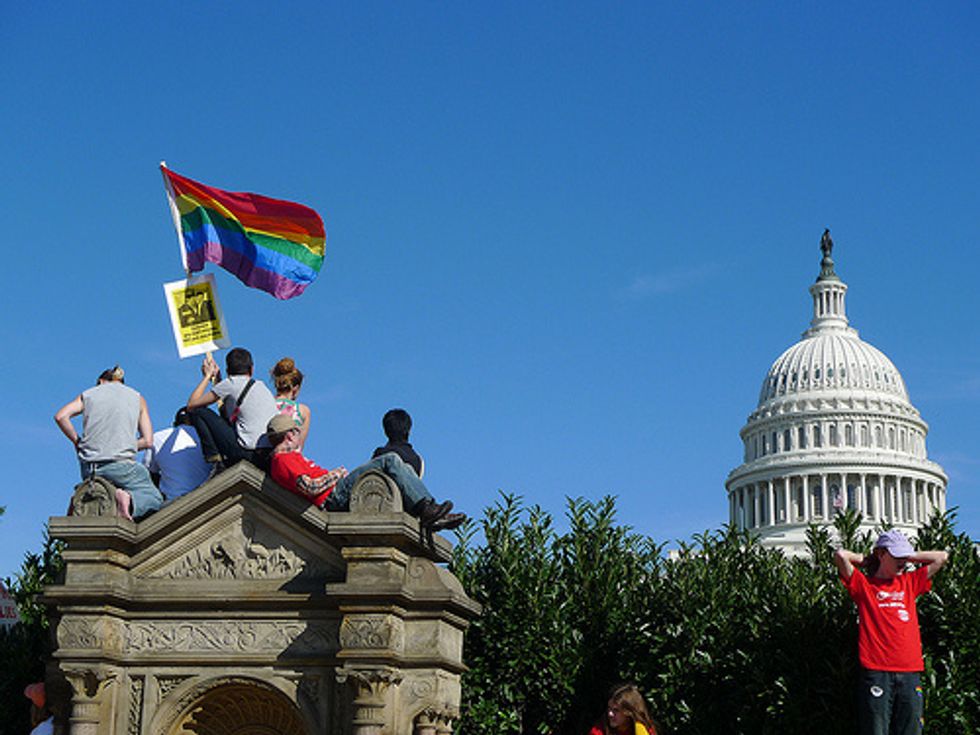 By Steve Rothaus, The Miami Herald
Monroe County Circuit Judge Luis Garcia overturned Florida's 2008 constitutional gay-marriage ban on Thursday, and ordered that two Key West bartenders be allowed to wed but not before Tuesday.
"The court is aware that the majority of voters oppose same-sex marriage, but it is our country's proud history to protect the rights of the individual, the rights of the unpopular, and rights of the powerless, even at the cost of offending the majority," Garcia wrote in his opinion, released about 1 p.m. Thursday.
Aaron Huntsman and William Lee Jones, who met at a gay pride celebration and have been a couple for 11 years, sued Monroe County Clerk Amy Heavilin in April for a marriage license. Their case mirrors a similar suit in Miami-Dade County, in which six same-sex couples and LGBT advocacy group Equality Florida Institute sued County Clerk Harvey Ruvin for the right to marry.
In both cases, Florida Assistant Attorney General Adam Tanenbaum argued that Garcia and Miami-Dade Circuit Judge Sarah Zabel should not dismiss Florida's constitutional gay marriage ban, which passed in 2008 with the support of 62 percent of voters.
"It remains for this court simply to respect the policy decision made by voters," Tanenbaum told Garcia at a hearing for summary judgment on July 7 in Plantation Key.
Zabel has yet to rule on whether to allow the Miami-Dade plaintiffs to wed or go to trial in their suit against Ruvin. The six couples are Catherina Pareto and Karla Arguello of Coconut Grove; Dr. Juan Carlos Rodriguez and David Price of Davie; Vanessa and Melanie Alenier of Hollywood; Todd and Jeff Delmay of Hollywood; Summer Greene and Pamela Faerber of Plantation; and Don Price Johnston and Jorge Isaias Diaz of Miami.
The gay-marriage battle is being waged across the nation. A federal judge last week ruled Kentucky's same-sex marriage ban unconstitutional. According to the group Freedom to Marry, LGBT advocates have won 23 times in federal, state, and appellate courts since June 2013, when the U.S. Supreme Court threw out a key portion of the 1996 Defense of Marriage Act.
Last year, Supreme Court justices determined the federal government must recognize same-sex marriages, but did not address whether state marriage bans are legal.
Conservative activists in Florida, who campaigned six years ago for the constitutional gay marriage ban, have fought to keep it in place.
The groups were not allowed to join the Miami-Dade and Monroe cases as defendants. Instead, Garcia and Zabel allowed them to speak as friends of the court.
"The plaintiffs' argument with regard to same-sex marriage has no boundaries," Mathew Staver, founder of the conservative Liberty Counsel, told Garcia. "The plaintiffs' argument is not to just redefine marriage to include two people of the same sex, the implications of that is if you include two people of the same sex, then why can't you have a person of the opposite sex, that also brings in a same-sex partner into the marriage."
Monroe plaintiffs' co-counsel Elena Vigil-Farinas told Garcia that Staver's legal argument — which included a graphic written description of heterosexual and homosexual sex acts — "embarrassed" her.
"I'm embarrassed to have a member of the bar write something like this as an excuse to support the bigotry of the voters of Florida," Vigil-Farinas said. "Because in his mind, this court should allow mob rule. If the majority — the one that has the most money, the one that has the most position — don't like a certain segment of society like our friends over here, they get to rule. And you don't get to even evaluate whether it's even constitutional."
Vigil-Farinas, who argued the case with law partner Bernadette Restivo, asked the judge, "What would this state be like if we allowed mob rule?"
"Today, it's against Aaron and Lee. Tomorrow it could be against me. I wasn't born here," added Vigil-Farinas, who is from Cuba.
After the hearing, Staver seemed outraged that Tanenbaum spoke for about five minutes at each of the South Florida hearings, and never actually argued in favor of the gay marriage ban.
Staver said Tanenbaum's boss, Florida Attorney General Pam Bondi, "is giving only window dressing to the Florida Marriage Amendment."
If Bondi "does not want to present a vigorous defense, she owes it to the voters of Florida to step down and allow someone else to represent the interests of the State," Staver said in a news release.
Susan Melkisethian via Flickr
Interested in national news? Sign up for our daily email newsletter!