Florida Residents Sue DeSantis For Inflicting 'Damage' On Taxpayers
@alexvhenderson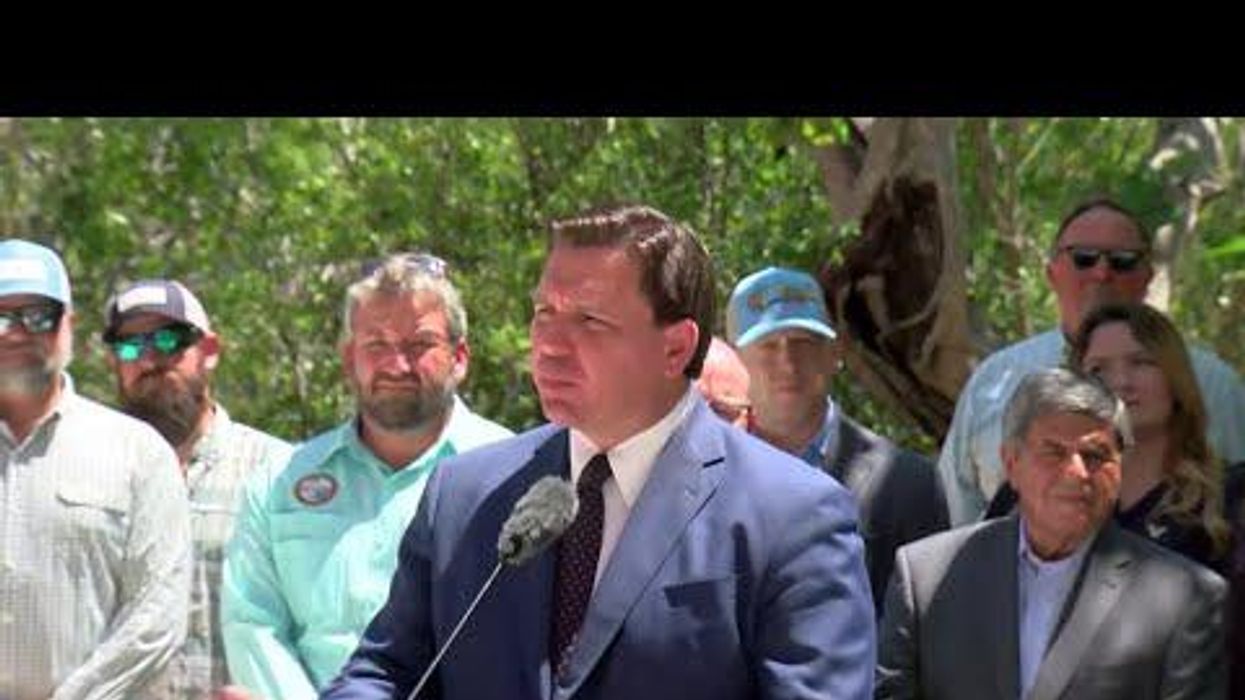 Youtube Screenshot
When Disney spoke out against Florida's blatantly anti-gay and anti-trans "Don't Say Gay" bill, Gov. Ron DeSantis retaliated by ending the special tax/business arrangement that Disney has had in the Orlando area for 55 years. DeSantis' act of revenge, according to some economists, will cause economic hardship for residents of Osceola County and Orange County — as those counties will have to absorb Disney's bond debt and can expect to pay higher property taxes (possibly, 25 percent higher). And three residents of Central Florida have filed a lawsuit against the state because of the economic pain DeSantis is inflicting on them.
DeSantis is insisting that Disney will pay the bond debt, not property owners in Osceola County and Orange County. But the three Florida taxpayers who filed the lawsuit, one from Orange County and two from Osceola County, obviously don't believe him. And their lawsuit challenges the Florida bill that was signed into law by DeSantis and ended the Reedy Creek Improvement District and dissolved Disney's special tax/business arrangement with the Sunshine State.
"In a lawsuit filed in federal court," ClickOrlando's Christie Zizo reports in an article published on May 4, "the plaintiffs say the bill should be declared unconstitutional because it violates taxpayers' federal constitutional rights, and say the bill will lead to 'significant injury to taxpayers.' (In April), the Florida Legislature passed a law dissolving six special districts in the state, including the Reedy Creek Improvement District. The RCID governs Disney property, handles utilities, fire and EMS services, writes permits and takes out bonds to finance infrastructure projects."
Zizo adds, "The lawsuit cites media reports featuring experts and political officials who say RCID's $1 billion to $2 billion in bond debt will have to be absorbed by local governments, along with the cost to maintain utilities, infrastructure and other services that the RCID provides the area. That could mean higher taxes for county residents without the approval of those residents, which the suit alleges is a violation of Florida's taxpayer bill of rights."
The lawsuit describes DeSantis' actions against Disney as an act of revenge and specifically mentions the Parental Rights in Education Act of 2022, a.k.a. the "Don't Say Gay" law, which will go into effect on July 1.
The lawsuit reads, "It is without question that defendant Governor DeSantis intended to punish Disney for a 1st Amendment protected ground of free speech. Defendant's violation of Disney's 1st Amendment rights, directly resulted in a violation of plaintiffs' 14th Amendment rights to due process of law."
DeSantis, who narrowly defeated Democratic nominee and former Tallahassee Mayor Andrew Gillum in Florida's 2018 gubernatorial race, is up for reelection in the 2022 midterms —and polling from the Florida Chamber of Commerce and Cherry Communications released in early April indicated that he is likely to be reelected. That poll found that in hypothetical head-to-head matchups, DeSantis enjoyed double-digit leads over his potential Democratic challengers, including Rep. Charlie Crist (a former Florida governor and ex-Republican), Florida Agricultural Commissioner Nikki Fried, and Florida State Sen. Annette Taddeo.
Reprinted with permission from Alternet.